Syncope patient information
We provide information and support about different aspects of treatment for patients who have been referred to our syncope service.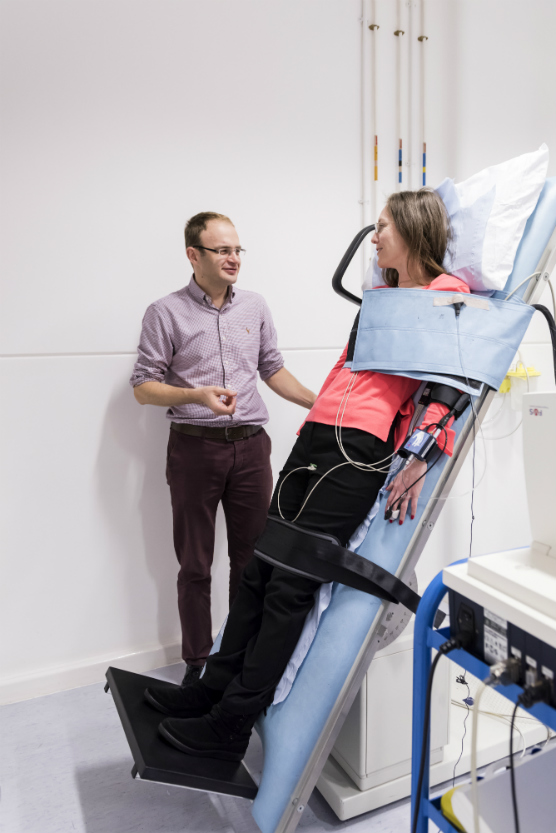 If you have been referred to our syncope service, you may be asked to have a tilt test. This is a non-invasive test. One of our nurse specialists will ask you to lie on a tilt table, which looks like a normal examination couch, except that it has a foot rest at one end. It also has two safety straps that fit around your upper body and just above your knees to keep you safe throughout the test. After the first five minutes where you will lay flat, the head of the tilt table will then be tilted up to a 60 degree angle. This means that you will now be standing almost upright. You will then remain in the standing position until the end of the test.
The nurse will stay with you the whole time. While you are having the test, we will continually measure your heart rate, respiration and blood pressure. It is important for you to tell us during the test if you do have any symptoms such as lightheadedness and if they are familiar or not.
Please continue reading for more information about how to prepare for your tilt table test.
Before your appointment
Please do not eat or drink for four hours before your tilt test, however you can take all your regular medications as per normal.

You may wish to bring someone to your appointment with you who has witnessed one of your events, or someone who can escort you home after your test. This is not essential and is something you may want to discuss with the syncope nurse ahead of your visit.

To enable us to attach the necessary heart, respiration and blood pressure monitoring equipment used during the test, you are asked to wear clothes that allow your chest to be accessible, eg, trousers and a top without a high collar or tight sleeves.
Before the tilt test you will be sent an information sheet which explains in more detail what the test involves and how to prepare for it. We strongly encourage you to keep a diary of your symptoms or faints in the weeks leading up to your appointment. If you have any concerns or questions do not hesitate to contact the nurse before the day of your test.
Please remember to check your appointment letter for anything specific you have been asked to take with you. In addition, it would be helpful if you could bring the following:
Your full address and telephone number(s)
Your appointment card and appointment letter
Your GP's name and address
Money to pay for any prescriptions, or an exemption card
During your appointment
Upon arrival, check in at the reception area of the cardiac investigations centre. Please note that we are a teaching hospital, so medical students may be present for some appointments. If you do not wish to have them in the room please let the nurse or doctor know and the students will be asked to step outside.

You should expect to be with the syncope nurse for up to two hours when attending for a tilt test. A tilt test is the main way we determine if you are having faints or near faints and the particular cause of those events. It is non-invasive and performed in an outpatient setting by the syncope nurse specialist. The tilt test plays a central role in planning appropriate management and future care for patients.

The tilt test itself lasts up to 40 minutes, but the overall appointment including the detailed consultation, discussion and preparation takes between one and a half and two hours.

During the test you may feel faint and the nurse will make sure you have recovered completely before leaving. We conduct the tilt test in a controlled environment within a highly experienced cardiology department so that we can deal with any symptoms that occur during the test.

The tilt test may also involve carotid sinus massage where the carotid artery on the side of your neck is rubbed. At the end of your tilt test you will receive immediate feedback and advice from the syncope specialist nurse.
After your appointment
Once diagnosed we will provide you and your referring clinician with guidance on strategies for handling your symptoms, which can often be managed through changes to your lifestyle. A full written report will be sent to you and your doctor.

Some patients may benefit from the introduction of medication, and in a small minority of cases other treatments such as pacemaker implantation or other therapies may be considered.