Our syncope service is managed by a team of consultants and syncope nurse specialists.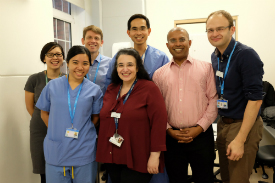 Consultants
Dr P Boon Lim, consultant cardiologist and clinical lead for syncope
A nationally and internationally recognised electrophysiologist and syncope specialist with an active research interest in syncope, who is frequently invited to lecture on mechanisms and novel treatments for syncope. Dr Lim's full profile can be found in our consultant directory.
Prof Darrel Francis, consultant cardiologist
An internationally renowned academic who continues to take a lead in clinical and scientific innovation and research in syncope and cardiovascular medicine in London.
Syncope nurse specialists
Andreas Dirksen
A dedicated syncope nurse who aims to improve patient care through excellent communication and understanding mechanisms of syncope.
Patricia Taraborrelli
An experienced syncope nurse, she is committed to the care and education of her patients and the exploration of new care and treatment options through research.
Team secretary
Deborah Bourke
A dedicated and experienced secretary who is committed to providing a smooth patient journey.
Clinical researchers
Dr Chiao Wen Lim, clinical research registrar in cardiology
A clinical research registrar working on the understanding of vasovagal syncope, the delivery of high quality care and best practice syncope treatments for patients.
Dr Szabolcs Nagy, clinical research fellow in cardiology
A clinical research fellow working on electrophysiological background and complex, holistic management of syncope patients and the role of the autonomic nervous system in patients who suffer with recurrent fainting that is not treatable with current medical management.
Dr Alina Hua, clinical research fellow in syncope
A clinical fellow who is part of the research team at Imperial College London, participating in clinical trials within the cardiovascular unit.