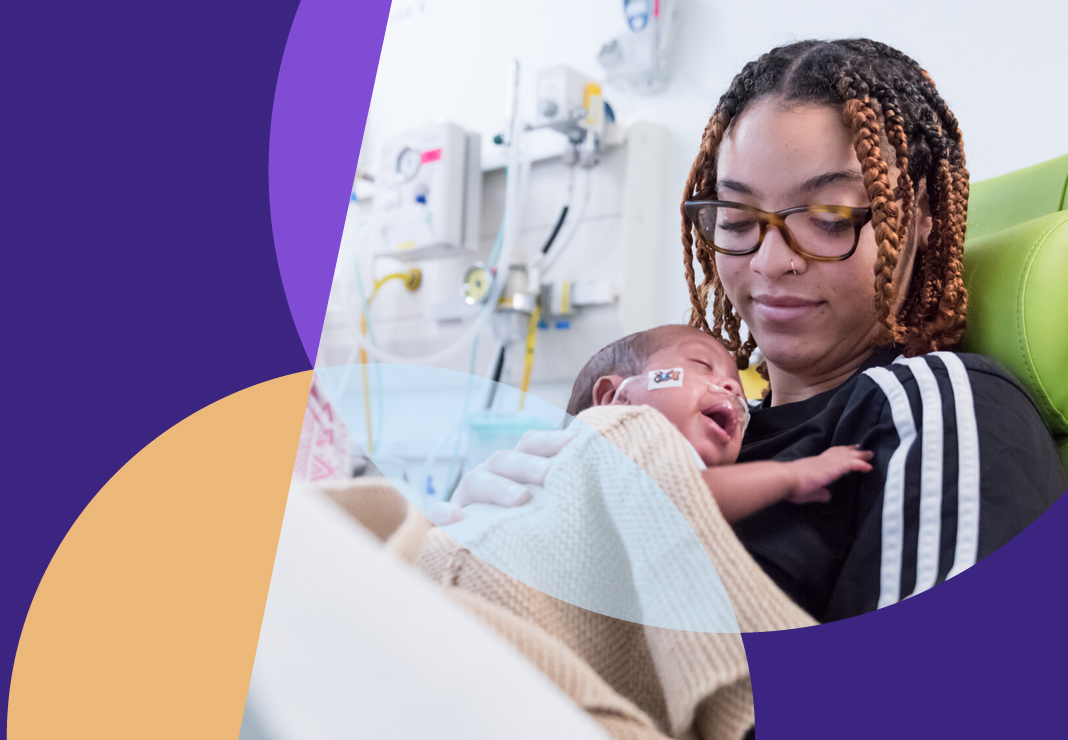 Neonatal care
Leading care for preterm babies and newborns with complex medical needs
Based at Queen Charlotte's and Chelsea Hospital and St Mary's Hospital, we are one of the largest neonatal services in the UK, caring for extremely preterm babies and newborns with complex medical needs.
You and your baby may require specialist medical support if you have had previous complications during pregnancy or issues have arisen during your current pregnancy, or perhaps your little one may need extra care after birth.
If you are having a multiple birth or if your antenatal scans reveal any issues, your consultant, surgeons and midwives will work together and with you, to make the best possible plan to care for your baby or babies as soon as they are born.
Services we offer
Premature babies
At Queen Charlotte's & Chelsea Hospital, we care for babies born from 23 weeks' gestation or 27 weeks at The Lindo Wing.
We also have a specialist service to support you if you have recurrent miscarriages or early pregnancy concerns.
Cooling treatment
In rare circumstances, full-term babies can have complications and very prompt action will give the best outcome for your child. We provide a highly effective cooling technique which helps to minimise the impact of a traumatic birth on the brain. The technique reduces a baby's temperature and slows their metabolism for the first 72 hours, giving their brain time to recover.
Research into cooling babies starved of oxygen originated at our Trust and set the national standard. We remain one of just a few centres in London to offer this gentle, non-invasive treatment where it is required.
Neonatal care
The neonatal intensive care units at Queen Charlotte's & Chelsea Hospital and St Mary's Hospitals provide care for newborn babies with complex medical needs, including cardiac and neurological problems.
MRI scanning of newborn babies
We pioneered the world's first neonatal magnetic resonance imaging (MRI) scanner, We carry out highly detailed, non-invasive scans of vulnerable newborn babies to help us identify injuries to, or conditions with, the brain and other organs, understand the causes and explore treatments.
Why choose us
Our affiliation to Imperial College Healthcare NHS Trust gives you access to one of the UK's largest and most advanced neonatal intensive care services. We are able to care for the most premature and sickest babies, with the Trust caring for babies transferred from all over the country.

We use the latest in innovative neonatal methods through our research and academic affiliations. We were the first neonatal intensive care unit in the UK to develop and implement the pioneering Integrated Family-Delivered Neonatal Care model, empowering parents to be part of their child's care while they in hospital.
Research and innovation
Research is at the forefront of innovative neonatal care and has the potential to improve the quality of care for all our babies. There are number of research studies within our neonatology service and parents will be offered the opportunity to participate. The main focus of the research is brain development, neuroprotection and haemodynamic. Other interests include gastrointestinal microbiota, neonatal cardiology and haematology.

Both the neonatal units are supported by COSMIC charity that funds equipment and resources that are beyond the scope of NHS funding. The charity manages the parent accommodation that are adjacent to the units for parents to room in during their babies stay on the neonatal unit.