Imperial College Healthcare NHS Trust has redesigned its heart failure pathway and developed some resources to support colleagues
We've recently been working with patients, GPs, Cardiologists, Pharmacists and Heart Failure Specialist Nurses to transform our end-to-end heart failure. Our objectives have been to:
Create a more integrated pathway across primary and secondary care#
Reduce unplanned hospital admissions
Improve efficiency of the service so more time of specialists can be spent on clinical priorities
And ultimately, improve patient experience and outcomes
Watch the video to find out how we have been transforming heart failure care:
We've made 13+ changes to the pathway to date, with our interim findings already showing that we have:
- Increased referrals to specialist heart failure services
- Improved system coding of heart failure patients so they can receive better careDemonstrated saved hospital admissions
- Made improvements to save cardiologists' and nurses' time
As well as piloting new technology, like remote monitoring for heart failure patients, we have focused on improving the way we communicate between primary and secondary care, and with patients, using our electronic health record system (Systm One). For more information on these changes you can download the following documents: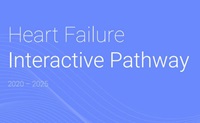 Interactive pathway map
Explore the interactive Heart failure PDF, showing detail of the pathway in 2020, in 2021 and further in the future, 2023-2025
Heart failure templates from SystmOne
2. Heart failure referral form
5. Follow-up assessment letter
For more information on our heart failure pathway transformation programme please email imperial.hfu@nhs.net.
About this page
Last updated

Author

Nadine Silverside