The nursing associate role is a support role that bridges the gap between healthcare support workers and registered nurses, helping with the delivery of care under the supervision of a registered nurse.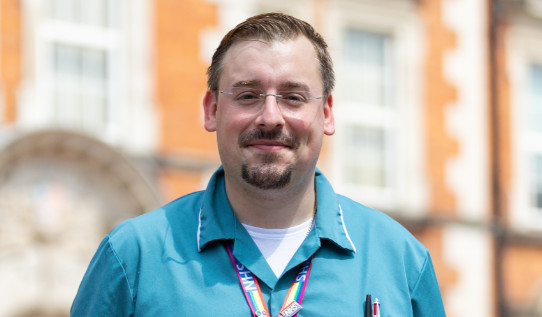 At Imperial College Healthcare, nursing associates are valued members of our clinical teams. Our nursing associates deliver high quality care for our patients, supporting registered nurses and doctors to make decisions about patient care plans. They also enable registered nurses to focus on the most complex aspects of clinical care with our most unwell patients.

We currently employ nursing associates across many of our services. In the next four years, we have plans to grow our nursing associate workforce across many more specialties, which means more opportunities for newly qualified and more experienced nursing associates across our Trust.
The role of the nursing associate
Nursing associates work as part of a care team, under the supervision of a registered nurse.

Registered nursing associates contribute to patient care in a variety of ways, including:
Performing and recording clinical observations, including blood pressure, temperature, pulse and respirations
Taking bloods
Administering ECGs
Monitoring blood glucose levels
Escalating issues to the registered nurse in charge
Observing patients' condition, activity and behaviour, and reporting back to the nurse in charge
Administering (though not prescribing) medicines in line with NMC code and Trust guidelines for the role
Supporting patients and their families and carers, particularly when faced with difficult news or life-changing diagnoses
Educate patients about their conditions or illnesses, under the direction of the registered nurse
The difference between a nursing associate and a registered nurse
Nursing associates provide and monitor patient care, supporting their wider care team to evaluate patient care and make decisions about care plans. Nursing associates also contribute to maintaining a clinical environment that provides a positive experience for patients, promoting privacy and dignity at all times.

Like registered nurses, nursing associates can enhance their knowledge and skills within their scope of practice throughout their career as long as they have received appropriate training and been deemed competent.
The Nursing and Midwifery Council has set out the main differences between nursing associates and registered nurses in the table below. To learn more, read this blog post and the full standards of proficiency for nursing associates on the Nursing and Midwifery Council's website.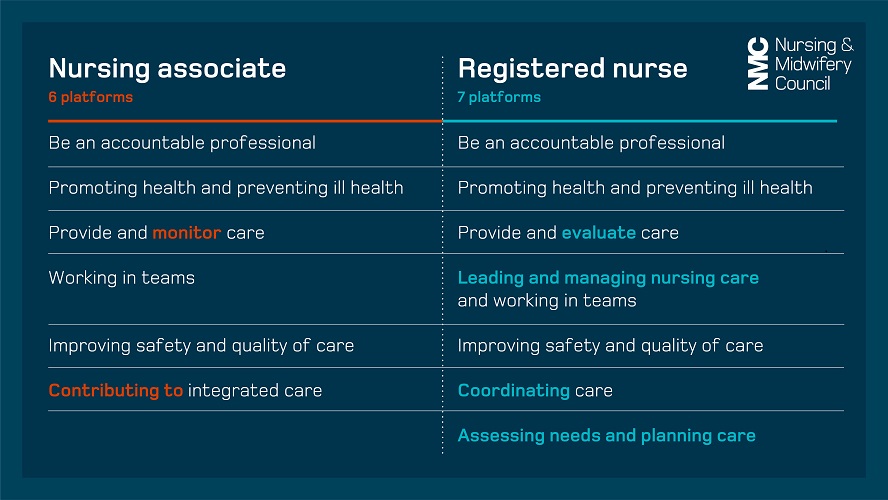 Progression from nursing associate to registered nurse
As well as being a valuable role in its own right, qualification and registration as a nursing associate can provide a progression route into graduate level nursing. Those who have completed a level 5 foundation degree as a nursing associate or assistant practitioner can complete an accreditation of prior learning registered nurse degree apprenticeship.

The two year course is a combination of a home placement (place of work), university theory modules and clinical placements. The main advantage of an apprenticeship scheme is that you will be paid whilst learning.

In order to be eligible certain eligibility criteria must be met:
A visa for the duration of the course or UK residency
Completed level 5 foundation degree in nursing associate or assistant practitioner and transcript confirming the stage of the programme that has been awarded (e.g. 120 credits at level 4 and 5)
Maths and English GCSE grade A-C or functional skills level 2 maths, English and science at grade C or above
Line manager support
An employment contract of a minimum of 30 hours per week
We are very pleased to support this programme at Imperial College Healthcare and our first group of current nursing associates will soon start this programme.