Put yourself at the forefront of pioneering developments in medicine and clinical care.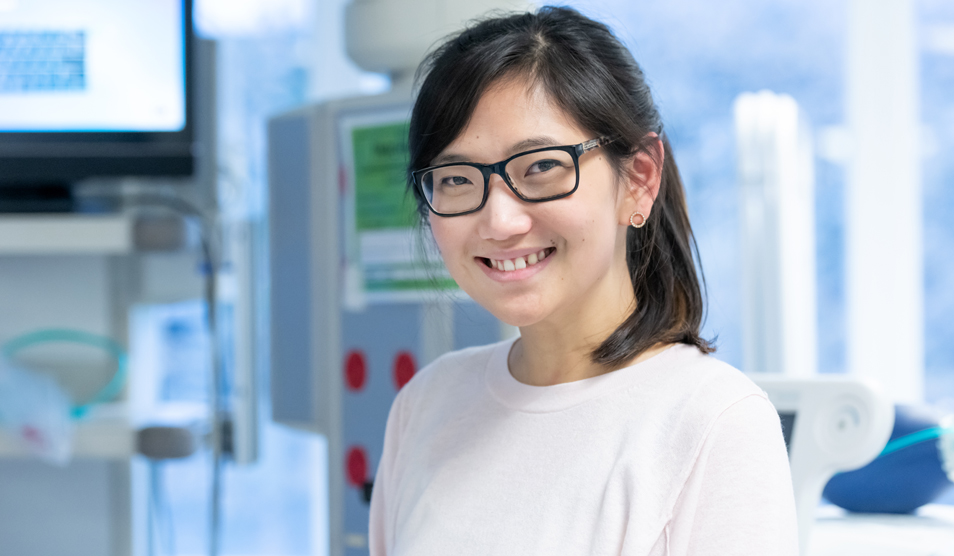 Join over 2,700 doctors at Imperial College Healthcare NHS Trust and gain extensive experience at a Trust with over 50 specialties and a reputation that is second to none. Consistently develop your specialist clinical skills in a variety of environments across five hospitals.
Be part of a diverse international team renowned for its exceptional standards of teaching. As a junior or middle-grade doctor, we'll encourage you to explore your individual clinical interests and lead on quality improvement projects. You'll enjoy flexible working options and access to overnight accommodation, a doctor's mess and rest areas at each of our sites.
Become part of our active research community where we'll support you to develop your academic career among some of the leaders in your field.
Supervision
If you join us as trainee, we aim to ensure you have the best possible experience with us so you can make the most of the training and learning opportunities that are on offer. Throughout your time with us, you'll be assigned an educational supervisor to support you. For trainees who rotate through different departments, you'll be assigned a clinical supervisor who will give you feedback throughout your placements and keep your educational supervisor up to date on your progress. you'll have a named clinical supervisor. Your clinical supervisor is responsible for providing you with feedback during your placement and for keeping your educational supervisor updated on your progress.
Working hours
We are reviewing all the junior doctor rotas to make sure they meet the new contractual arrangements. The average maximum working week for junior doctors is 48 hours. If you decide to opt out of the working time regulations (WTR), your hours are capped at a maximum average of 56 working hours a week. As far as possible, we make sure doctors are not rostered to work more than one in three weekends.
Flexible working
We support our doctors to work part-time and flexibly. Whether you are combining clinical training with research, caring responsibilities, managerial or educational roles, there are opportunities to maximize your experience. Most doctors take a break from clinical medicine for one reason or another during their career. We have a programme of activity to help you plan any absence, and a named champion to support trainees and their trainers when they return to practice.
Doctors' accommodation
We provide overnight accommodation free of charge to staff who are resident on-call overnight. If you are non-resident on-call, we can also provide free sleeping accommodation if you live too far away maintain a safe response time. If you are staff member who lives within an acceptable distance to maintain a safe response time, but would like to book overnight accommodation, we charge £25 per night. We always prioritise places in sleeping accommodation for staff who are resident on-call. If you are a doctor working a full-shift, you can access rest facilities too.
The Doctors' Mess and rest facilities
The mess is a physical space for doctors to take breaks and socialise away from clinical areas; we have a Doctor's Mess on three of our sites. Facilities at the mess include: computers, a television, sofas and a kitchen area with supplies of tea, coffee, milk and bread. There are also quiet rest facilities with reclining chairs and fresh linen stores plus changing rooms and showers.
Research
There are plenty of opportunities open to you to pursue your research interests at the Trust. Together with Imperial College London and two other NHS trusts, we form one of six academic health science centres in the UK – focussed on translating research into better patient care. We also host one of 20 National Institute for Health Research biomedical research centres in partnership with Imperial College London.
Every quarter you'll be welcomed to join one of our AHSC seminars where clinicians and researchers present on ground-breaking discoveries that are changing the face of healthcare.
Fellowships
Our clinical teaching fellowships have become increasingly popular in recent years, offering trainees the chance to develop skills in medical education alongside clinical experience. For many, these posts provide a welcome period of work outside formal clinical training.
Teaching opportunities
A wide range of teaching opportunities are available at the Trust, from mentoring medical students to teaching foundation and IMT trainees, and getting involved with journal clubs.
Simulation training
We run 90 different simulation and skills programmes. The programmes are wide and varied involving almost all medical specialties, as well as allied healthcare services. Many of our programmes are multi-disciplinary and focus on human factors skills in a group setting. Simulation and skills occur across all five of our sites. Queen Charlotte's and Chelsea Hospital houses the 1st national obstetric-only simulation centre
Educational resources
We offer a range of educational resources to support you in your working life. We are partnered with Imperial College London and provide library services to all staff members at the Trust.
Have your say
Junior doctors' forum:

We run monthly forums, chaired by our guardian of safe working, to give junior doctors the opportunity to air their views and ensure working conditions for junior doctors are acceptable. They give junior doctors the opportunity to air their views and suggest changes.

Local faculty group meetings:

we have regularly (LFG) meetings to discuss training and education, which are chaired by the unit training lead and attended by a post-graduate medical education manager, and trainee representatives and all trainees and consultants in the department are invited
Support to transition from medical school
All our Foundation Year 1 doctors have an induction at the Trust that takes place over three days. The first day is run by outgoing F1 doctors who pass on their tips and tricks that they have picked up throughout the year. On the third day, there is an opportunity to meet the outgoing F1 representatives who provide a handover for each of the F1 jobs within the trust. These include relevant contacts and some others tips and tricks. New doctors will shadow their outgoing F1 for two days –making sure there is a smooth handover and the new doctor feels comfortable and confident to take on the job.
Support for your mental health
We offer a range of support services to our staff including free counselling via our in-house service CONTACT – where you can discuss issues both professional and personal. We also offer Schwartz Rounds – facilitated open meetings for all staff, where a panel and audience share stories and reflect together on personal aspects of work
Social life
The Trust has an active mess committee who organise events and parties such as Pay Day events and Balls, which will be subsidised for members.
SAS doctors
We employ a number of SAS doctors across our Trust – including Specialty Doctors, Associate Specialist and Specialists. Becoming an SAS Doctor at Imperial College Healthcare can give you a broad and varied career with a great work-life balance.
Gain a wide range of skills and experience
There is a wide ranging Trust SAS development programme to support all our SAS doctors in developing their roles. There are in-Trust training opportunities in the Medical Education Faculty Development Programme, leadership and management courses, and there are additional bursary funds to support specialty specific learning. Those that wish to undertake a CESR application (Certificate of Eligibility for Specialist Registration) are well supported with a peer support network and opportunity for CESR bursaries.

We have a Trust SAS tutor who is responsible for providing support and guidance to the group.

Through national initiatives, there are an increasing number of continuing professional development (CPD) opportunities for SAS doctors. SAS doctors are regularly involved in teaching, management, service development and research and we encourage our SAS doctors to pursue these leadership roles within their specialty and beyond.
Apply online
See current vacancies in medical and dental
Find out more about middle-grade doctor roles in the emergency department
If you have any questions or would like to speak to someone about our current vacancies you can email imperial.Nurse.Recruiters@nhs.net.