Gain new qualifications and fulfil your potential with an apprenticeship.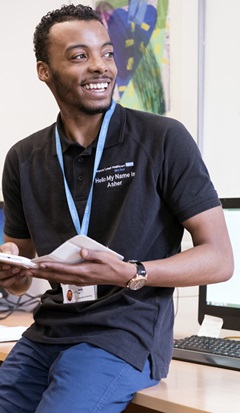 An apprenticeship is a great opportunity to earn while you learn in the workplace. There are no entry requirements or age restrictions, so whether you're looking for an alternative to university study or you're pursuing a career change, an apprenticeship could be for you.

As one of the largest acute NHS trusts in the UK, our apprentices have the opportunity to work in a diverse range of settings. There are a number of opportunities available across our five hospitals.
You could become:
An administrator dealing directly with patients and clinical staff
An administrator in an office function, keeping systems running for our clinical staff
A therapy support worker
A laboratory science assistant
Wherever you work and learn in our Trust, you'll be making a difference to the lives of more than a million patients every year.
Why apply?

As part of your 14 – 18 month apprenticeship you will complete a structured development programme to ensure you successfully complete the programme and achieve a level two qualification in customer service or healthcare science (this is equivalent to 5 GCSEs at grade 4-9).

You will also have additional support and mentoring from your line manager and our partner apprenticeship training providers, so you will always have someone to go to with questions or concerns.

During your apprenticeship, you will earn £16,539. Based on meeting our performance standards, you will then have a guaranteed opportunity to transition into a full-time role in the Trust, with a minimum starting salary of £22,052. There will then be opportunities for you to continue to develop your career further if you wish.


From the date you start your apprenticeship you will also be entitled to the same staff benefits as all Trust employees. Benefits include a generous pension scheme, staff accommodation, on-site nurseries, a childcare voucher scheme, season ticket loans, on-site gym facilities, a cycle to work scheme and a host of high street discounts. Apprentices also enjoy a 30% discount on Oyster travel cards and NUS benefits.
What are the benefits of an apprenticeship?
Our programme offers you the opportunity to work full-time, learn on the job and gain formal qualifications at the same time.

Apprenticeships can lead to varied and unexpected career opportunities, so whether you know your career aspirations or you want to take time to work out which career path you want to pursue, an apprenticeship could be a great place to start.

Our apprentices have joined us from all sorts of different backgrounds. Hear more about their stories here.
How to apply:
There are no formal entry requirements for our apprenticeship scheme and no maximum age limit.

We are looking for people who are enthusiastic, eager to learn, enjoy meeting people from diverse backgrounds and who want to know that their work makes a difference.

Our current apprenticeship vacancies are advertised on NHS Jobs. If your application is successful you will be invited to an informal interview day where you will find out about available job roles, meet the managers and showcase your skills and interests.

For further information please email imperial.apprenticeships@nhs.net