Real stories of people living with and beyond cancer
Here people who have been treated at Imperial College Healthcare NHS Trust share their experiences of living with and beyond cancer.
Androulla's story
"I was diagnosed with breast cancer two days before I was due to start a new job. My last radiotherapy session took place in 2008, however it has taken me up until a couple of years ago to feel 85-90 per cent back to how I felt before the cancer treatment.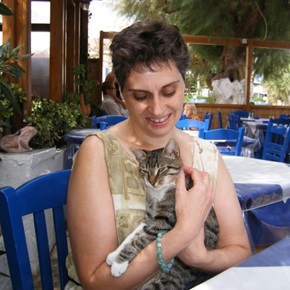 "I think that when a person is undergoing cancer treatment they are in a sort of 'cancer cocoon'. What no one prepares you for is that when you emerge you might not be the same person as before. After my treatment ended, I felt like a 'watered down' version of myself. Aside from the physical changes to my body, I felt I had changed. I wasn't a 'hospital patient' any more but nor was I the 'me' before the cancer and treatment.
"I also noticed the worry in the faces of those closest to me; worrying that the cancer might come back… but none of them talked about how they felt because they didn't want to worry me.
"My employer held my new job open for me, so I was able to return to work after my treatment. It involved working five days over four days. Unfortunately I struggled with dreadful insomnia as well as fatigue and other side-effects of the treatment and medication. I didn't feel like I could tell anyone at work about it even though my boss was wonderfully kind. I felt as though I had to prove that I could do my new job. Ideally I would like to have reduced my working pattern to three days a week, but that wasn't really possible as I had financial commitments that had accrued while I was on long-term sick leave.
"It also came as a shock that I couldn't manage IT and office tasks as quickly and naturally as I had previously in the workplace and this knocked my confidence a great deal. Soon after returning to work, I went on an IT course and I struggled to understand the training. I ended up leaving the room, going into the toilets and crying. I then went home! I began to realise more and more that something wasn't quite right mentally, and even those closest to me noticed a change. Eventually I found out about brain fog, or 'chemo brain', and that many people struggle like I did. This helped me enormously and made a massive difference to how I felt.
"After the treatment ended, there was no one to turn to for immediate support and advice on lifestyle changes, nutrition, how to cope with returning to work and practical adjustments I would need to make. I spent years asking questions, doing my own research and reading. I wish someone had explained what I might feel and expect after my treatment — it would have saved a lot of time and energy.
"Thanks to the support of my partner and all my loved ones, as well as several organisations, my life is so much better as the years have gone by and I am immeasurably grateful for all the care I have had. I continue to make adjustments and can work comfortably on a part-time basis now.
I only wish that more people realised that cancer doesn't stop when treatment ends."
Rob's story
"I was first diagnosed with prostate cancer in 2007. At that time I had a number of treatment options, but ultimately I decided to receive radiotherapy. I remember that at the time it was hard to find useful information about my treatment options and their side effects. My consultant was fantastic, but a lot of the information was horribly clinical. I just wish I could have sat down with another guy who had been through it.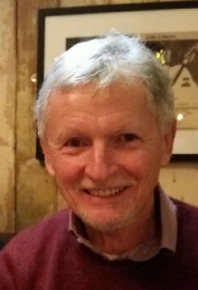 I undertook 35 sessions of radiotherapy at Charing Cross Hospital. At the time, I was doing quite a high-pressured job, but I felt like this helped me to keep a sense of myself through all the chaos that cancer treatment can cause so I carried on working throughout.
My radiotherapy was a success, although for the next seven years I still had to return to the hospital every six months for tests on my prostate-specific antigen (PSA) levels. Each time I returned for my test and was told my levels were normal it felt like a stay of execution. It is a bit of a rollercoaster and because of that it never really feels like cancer is out of your life.
In 2015 I was told that my PSA levels were increasing and that the cancer had returned. This time I decided that I would undergo surgery to remove my prostate. It meant there was a much lower risk of my cancer returning, but it has left me with some side effects. Again, I wish I had been able to talk to other men who had been through it before I decided on which treatment option to go for.
After my surgery, my clinical nurse specialist (CNS) referred me onto an eight-week course to help me to recover after cancer. This included 45 minutes of physical activity each week, which suited me perfectly as being active and taking part in sports like cycling, golf and tennis is really important to me. If I hadn't been able to be as active after my surgery I think I would have struggled much more than I did.
The operation was a success but I'm having to deal with some on going side effects of my treatment, including continence issues. My CNS is helping me to get on top of these. They are manageable and I have the support of my family and the medical team are great. But it's true that the cancer stays with you after the actual cancer treatment ends. It makes it difficult to 'go back to normal'. I have to plan ahead more now to ensure I can manage my continence. Things like long rounds of golf can be problematic and going on long-haul holidays is on hold for the moment. Even if it wasn't for the side effects of my treatment, the cost of insurance after you have had cancer rockets.
I found out about a group run by Maggie's for men who are living with and beyond prostate cancer. I've found it immensely helpful to be able to chat to other men who have been through what I have. It's helped me to realise that everyone's cancer experience is different. Having an open forum to chat means you glean information from others, share stories, support each other. It helps you to realise you are not the only one going through this and you can learn from their experiences. I think my cancer experience would have been easier if I had been a member of this group from when I had my initial diagnosis, especially when I was deciding on treatment options. But I had no idea the group existed.
I think there is a lot to be said for trying to maintain a positive attitude. You have a lot of down moments when you are living with and beyond cancer, but being able to talk to someone who has walked the path ahead of you, and having on going access to my CNS, is helping me to adapt to my 'new normal'."