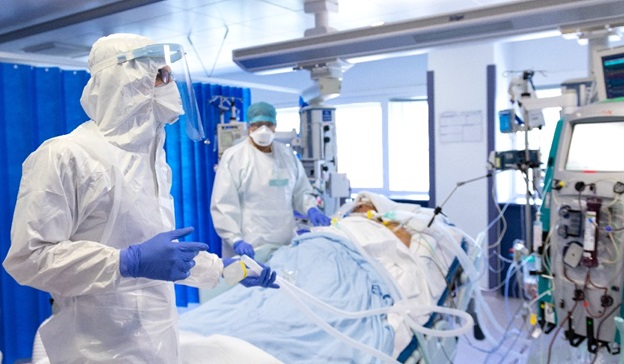 DEVELOPING NEW TREATMENTS FOR COVID-19
REMAP-CAP is an international, adaptive platform trial led in the UK by Professor Anthony Gordon, Professor of anaesthesia and critical care at Imperial College London and critical care consultant at Imperial College Healthcare NHS Trust.
The ongoing trial has recruited nearly 7,000 patients in Europe with suspected or proven Covid-19 since March 2020. It has evaluated 28 interventions, involving 217 sites, including the intensive care units at Imperial College Healthcare. It has delivered some of the most important treatments of the pandemic. This includes, in January 2021, demonstrating the effectiveness of the interleukin-6 inhibitors tocilizumab and sarilumab for treating patients with severe Covid-19.
Our involvement in REMAP-CAP and many other Covid-19 trials helped our clinicians to reduce critical care mortality from Covid-19 in our hospitals by 27 percent between the first and second waves of infections.
Find out more about our vision for Paddington Life Sciences
Talk to us now and get involved