Dr Alexander Miras
Senior clinical lecturer and consultant in endocrinology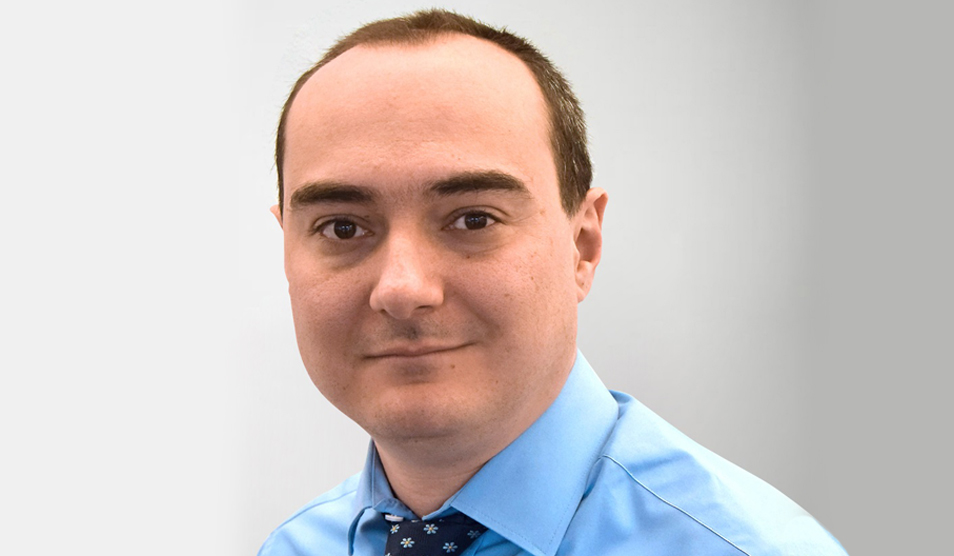 Patient age group

Adults

Consultant registered on

06/08/2003

Primary medical qualifications

MRCP PhD

Foreign languages

Gender

Male

Services

Hospitals
Background
Dr Alexander Miras is currently a senior clinical lecturer and consultant in endocrinology at Imperial College London. He is interested in the mechanisms through which lifestyle interventions, pharmacotherapy, bariatric surgery and medical devices improve weight, metabolic control and diabetes-related microvascular complications.
Expertise
Obesity, type 2 diabetes mellitus, endocrine disorders
Research & publications
Key publications
Miras AD, Kamocka A, Patel D, Dexter S, Finlay I, Hopkins JC, Khan O, Reddy M, Sedman P, Small P, Somers S, Cro S, Walton P, le Roux CW, Welbourn R. Obesity surgery makes patients healthier and more functional: real world results from the United Kingdom National Bariatric Surgery Registry. Surg Obes Relat Dis. 2018 Jul;14(7):1033-1040
Miras AD, le Roux CW. Metabolic Surgery in a Pill. Cell Metab. 2017 May 2;25(5):985-987.
Miras AD, Herring R, Vusirikala A, Shojaee-Moradi F, Jackson NC, Chandaria S, Jackson SN, Goldstone AP, Hakim N, Patel AG, Umpleby AM, le Roux CW. Measurement of hepatic insulin sensitivity early after the bypass of the proximal small bowel in humans. Obesity Science and Practice, 2017 Mar;3(1):95-98.
Goldstone AP*, Miras AD*, Scholtz S, Jackson S, Neff KJ, Pénicaud L, Geoghegan J, Chhina N, Durighel G, Bell JD, Meillon S, le Roux CW. Link between increased satiety gut hormones and reduced food reward following gastric bypass surgery for obesity. J Clin Endocrinol Metab. 2015 Nov 18 (*equally contributing authors).
Miras AD, Chuah LL, Khalil N, Nicotra A, Vusirikala A, Baqai N, Graham C, Ravindra S, Lascaratos G, Oliver N, le Roux CW. Type 2 diabetes mellitus and microvascular complications 1 year after Roux-en-Y gastric bypass: a case-control study. Diabetologia. 2015 Apr 18.
Miras AD, Mogford JT, Wright J, Mendoza NN, Xekouki P, Lakhani A, Pellegata NS, Stratakis CA, Roncaroli F, Russell-Jones D. Ovarian hyperstimulation from ectopic hypersecretion of follicle stimulating hormone. Lancet. 2015 Jan 24; 385(9965):392.
Miras AD, le Roux CW. Metabolic surgery: shifting the focus from glycaemia and weight to end-organ health. Lancet Diabetes Endocrinol. 2014 Feb; 2(2):141-51.
Miras AD, le Roux CW. Can medical therapy mimic the clinical efficacy or physiological effects of bariatric surgery? Int J Obes (Lond). 2014 Mar;38(3):325-33.
Scholtz S, Miras AD, Chhina N, Prechtl CG, Sleeth ML, Daud NM, Ismail NA, Durighel G, Ahmed AR, Olbers T, Vincent RP, Alaghband-Zadeh J, Ghatei MA, Waldman AD, Frost GS,
Bell JD, le Roux CW, Goldstone AP. Obese patients after gastric bypass surgery have lower brain-hedonic responses to food than after gastric banding. Gut. 2014
Miras AD and le Roux CW. Mechanisms underlying weight loss after bariatric surgery. Nature Reviews Gastroenterology and Hepatology, 2013 Oct;10(10):575-84.
Miras AD, Chuah LL, Lascaratos G, Faruq S, Mohite AA, Shah PR, Gill M, Jackson SN, Johnston DG, Olbers T, le Roux CW. Bariatric surgery does not exacerbate and may be beneficial for the microvascular complications of type 2 diabetes mellitus. Diabetes Care, 2012 Dec; 35(12): e81
Miras AD, Jackson RN, Jackson SN, Goldstone AP, Olbers T, Hackenberg T, Spector AC, le Roux CW. Gastric bypass surgery for obesity decreases the reward value of a sweet-fat stimulus as assessed in a progressive ratio task. American Journal of Clinical Nutrition, 2012 Sep; 96 (3): 467-73.
Additional publications
Dimitriadis GK, Adya R, Tan BK, Jones TA, Menon VS, Ramanjaneya M, Kaltsas G, Miras AD, Randeva HS. Effects of visfatin on brown adipose tissue energy regulation using T37i cells. Cytokine. 2018 Jul 27.
Dimitriadis GK, Kaur J, Adya R, Miras AD, Mattu HS, Hattersley JG, Kaltsas G, Tan BK, Randeva HS. Chemerin induces endothelial cell inflammation: activation of nuclear factor-kappa beta and monocyte-endothelial adhesion. Oncotarget. 2018 Mar 30;9(24):16678-16690.
Pérez-Pevida B, Miras AD. Latest Developments and Future Perspectives in the Field Of Obesity. Eur Endocrinol. 2017 Apr;13(1):17-18.
Miras AD, le Roux CW. Surgery: The new gold-standard - medical gastric bypass. Nat Rev Endocrinol. 2018 May;14(5):257-258.
Kelm M, Seyfried F, Reimer S, Krajinovic K, Miras AD, Jurowich C, Germer CT, Brand M. Proximal jejunal stoma as ultima ratio in case of traumatic distal duodenal perforation facilitating successful EndoVAC(®) treatment: A case report. Int J Surg Case Rep. 2017 Nov 16;41:401-403.
Pérez-Pevida B, Díaz-Gutiérrez J, Miras AD, Silva C, Romero S, Salvador J, Escalada J, Frühbeck G. High Body Adiposity Drives Glucose Intolerance and Increases Cardiovascular Risk in Normoglycemic Subjects. Obesity (Silver Spring). 2018 Apr;26(4):672-682.
Hankir MK, Seyfried F, Miras AD, Cowley MA. Brain Feeding Circuits after Roux-en-Y Gastric Bypass. Trends Endocrinol Metab. 2018 Apr;29(4):218-237.
Abdeen GN, Miras AD, Alqhatani AR, le Roux CW. Sugar Detection Threshold After Laparoscopic Sleeve Gastrectomy in Adolescents. Obes Surg. 2018 May;28(5):1302-1307.
Glaysher MA, Mohanaruban A, Prechtl CG, Goldstone AP, Miras AD, Lord J, Chhina N, Falaschetti E, Johnson NA, Al-Najim W, Smith C, Li JV, Patel M, Ahmed AR, Moore M, Poulter N, Bloom S, Darzi A, Le Roux C, Byrne JP, Teare JP. A randomised controlled trial of a duodenal-jejunal bypass sleeve device (EndoBarrier) compared with standard medical therapy for the management of obese subjects with type 2 diabetes mellitus. BMJ Open. 2017 Nov 15;7(11).
Dimitriadis GK, Randeva MS, Miras AD. Potential Hormone Mechanisms of Bariatric Surgery. Curr Obes Rep. 2017 Sep;6(3):253-265.
Tharakan G, Behary P, Wewer Albrechtsen NJ, Chahal H, Kenkre J, Miras AD, Ahmed AR, Holst JJ, Bloom SR, Tan TMM. Roles of increased glycemic variability, GLP-1 and glucagon in hypoglycaemia after Roux-en-Y gastric bypass. Eur J Endocrinol. 2017 Aug 30. • Dimitriadis GK, Randeva MS, Miras AD. Potential Hormone Mechanisms of Bariatric Surgery. Curr Obes Rep. 2017 Aug 5.
Vimalesvaran S, Narayanaswamy S, Yang L, Prague JK, Buckley A, Miras AD, Franks S, Meeran K, Dhillo WS. Using kisspeptin to assess GnRH function in an unusual case of primary amenorrhoea. Endocrinol Diabetes Metab Case Rep. 2017 Mar 27;2017
Panteliou E, Miras AD. What is the role of bariatric surgery in the management of obesity? Climacteric. 2017 Jan 4:1-6.
Tharakan G, Scott R, Szepietowski O, Miras AD, Blakemore AI, Purkayastha S, Ahmed A, Chahal H, Tan T. Limitations of the DiaRem Score in Predicting Remission of Diabetes Following Roux-En-Y Gastric Bypass (RYGB) in an ethnically Diverse Population from a Single Institution in the UK. Obes Surg. 2016 Sep 10.
Kumar P, Hamza N, Madhok B, De Alwis N, Sharma M, Miras AD, Mahawar KK. Copper Deficiency after Gastric Bypass for Morbid Obesity: a Systematic Review. Obes Surg. 2016 Jun;26(6):1335-42.
Seyfried F, Miras AD, Rotzinger L, Nordbeck A, Corteville C, Li JV, Schlegel N, Hankir M, Fenske W, Otto C, Jurowich C. Gastric Bypass-Related Effects on Glucose Control, ß Cell Function and Morphology in the Obese Zucker Rat. Obes Surg. 2015 Sep 17.
Behary P, Miras AD. Sir Cuthbertson Medal lecture: Food preferences and underlying mechanisms after bariatric surgery. Proc Nutr Soc. 2015 May 20:1-7.
Seyfried F, von Rahden BH, Miras AD, Gasser M, Maeder U, Kunzmann V, Germer CT, Pelz J, Kerscher AG. Incidence, time course and independent risk factors for metachronous peritoneal carcinomatosis of gastric origin - a longitudinal experience from a prospectively collected database of 1108 patients. BMC Cancer. 2015 Feb 19;1 5:73.
Chuah LL*, Miras AD*, Papamargaritis D, Jackson SN, Olbers T, le Roux CW. Impact of perioperative management of glycemia in severely obese diabetic patients undergoing gastric bypass surgery. Surg Obes Relat Dis. 2015 May-Jun;11(3):578-84. (*equally contributing authors).
Angelopoulos T, Kokkinos A, Liaskos C, Tentolouris N, Alexiadou K, Miras AD, Mourouzis I, Perrea D, Pantos C, Katsilambros N, Bloom SR, le Roux CW. The effect of slow spaced eating on hunger and satiety in overweight and obese patients with type 2 diabetes mellitus. BMJ Open Diabetes Res Care. 2014 Jul 2;2(1):e000013.
Miras AD, Seyfried F, Phinikaridou A, Andia ME, Christakis I, Spector AC, Botnar RM, le Roux CW. Rats fed diets with different energy contribution from fat do not differ in adiposity. Obes Facts. 2014; 7
Private practice