Human T-lymphotropic virus (HTLV)
Contact
General Enquiries

020 3312 1521
Visitor Information
Visiting restrictions are in place. Please call the ward to find out more. Find your hospital ward contact information:
The National Centre for Human Retrovirology is the national tertiary referral service for patients infected with human t-lymphotropic virus (HTLV).
We diagnose, treat and monitor all patients, throughout the United Kingdom, who have HTLV infection and associated conditions.
For more information about what to expect at your appointment, please visit our HTLV clinic patient information page.
Address
The National Centre for Human Retrovirology
Ground floor
Winston Churchill Wing
St Mary's Hospital
Praed Street
London W2 1NY
Hours
Clinics run on Monday, Tuesday and Thursday mornings, by appointment only.
Contact information
To book or re-arrange your appointment, please contact the HTLV secretary on 020 3312 6604.
For clinical information please contact the HTLV office on 020 3312 1521.
Or you can email us on imperial.htlv@nhs.net
Take our friends and family test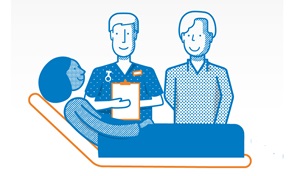 Would you recommend our services to your friends and family? Let us know by completing ouranonymous friends and family test. Your comments will help us to make changes and take action when there's a problem.
Additional information
Clinical trials and research
Treatment trials for these rare conditions are sometimes available and will be offered to patients if appropriate. Our clinical research focuses on ways in which this virus causes disease and how treatment might be improved. Much of this research is conducted through blood samples donated by our patients to a tissue bank. All patients are invited to participate but only if willing to do so and after giving written informed consent. Please do not hesitate to ask us about any research that may be taking place.
HTLV patient forum
The HTLV clinic has an active patient forum that is managed and chaired by patients. The forum meets three times a year, and gives patients, their relatives and carers the opportunity to share their experiences and views in order to improve the HTLV service. It has also enabled patients to support each other.
Please note the forum does not give clinical advice.
To find out more or to get involved, please ask the team or email HTLVpatientforum@gmail.com.