Contact
General Enquiries

020 3312 1225
Visitor Information
Visiting restrictions are in place. Please call the ward to find out more. Find your hospital ward contact information:
The Wharfside clinic at St Mary's Hospital is one of the largest HIV clinics in the UK. We offer those living with HIV a full range of general and specialist HIV services, including support services.
To maintain social distancing, we will be running emergency services only. As we continue to move out of the Covid-19 pandemic, we have removed many of our remaining Covid-19 measures in line with national NHS guidance. Please check our latest measures before coming to hospital.
If you have a problem related to medication or supply please call 020 3312 5253 during working hours.

Monkeypox - Update and advice (31 August 2022)
Recent reports show that there continue to be confirmed cases of Monkeypox infections in the UK, although the current risk to the general population is low.
Please inform the service immediately on arrival (at the reception desk) if any of below apply to you:
You are a man or transwoman who has sex with men and have had these symptoms in the last 3 weeks: a new rash on any part of your body, a fever, any new lumps in your neck, groin or under your arms (swollen lymph nodes), an intense headache or muscle aches
You've been in close contact with someone who has Monkeypox in the last 3 weeks
You have confirmed Monkeypox
You've returned from West or Central Africa in the last 3 weeks and have any of the symptoms above
Photos showing the different stages of Monkeypox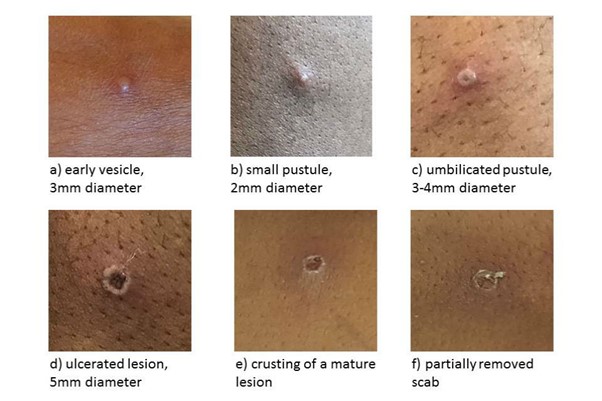 Person-to-person spread of monkeypox may occur through:
Direct contact with the skin lesions or scabs.
Contact with clothing or linens (such as bedding or towels) that have been used by an infected person.
Breathing in droplets from the coughing or sneezing of someone who has a monkeypox rash.
Can I get a vaccination for Monkeypox:
People who are at highest risk for monkeypox infection can be vaccinated at the service, but must meet the following criteria to be eligible:
Gay, bisexual or other men who have sex with men or transwomen who have sex with men AND one or more of below:
More than 5 sex partners or sex in a sauna, sex club or other sex premises in the last year
Chlamydia (or LGV), gonorrhoea or syphilis in the last year
On PrEP
If you meet any of the above criteria, please visit pad.millsystems.com to register an account and make an appointment.
Protecting you from monkeypox - information on the smallpox vaccination - GOV.UK (www.gov.uk)
Download the Monkeypox patient information leaflet
More information on Monkeypox can be found on the NHS website here.
COVID Vaccination
The Covid-19 vaccine is recommended for people living with HIV (PLHIV). More information is available on the British HIV Association website.

PLHIV HIV have been prioritised to have the Covid vaccination – but only if their GP is aware of your status.

If you do not feel comfortable disclosing to your GP, then you can have the vaccine at St Marys Hospital, organised by The Wharfside Clinic.
Call our Emergency line 020 3312 5253 for a referral.

HIV testing at the Jefferiss Wing
Our Jefferiss Wing sexual health clinics offer testing, treatment and advice for sexually transmitted infections (STIs) including HIV testing.
Our sexual health services are still here for you, but we have had to change the way we do things because of coronavirus.
To ensure social distancing, we are unable to operate a walk-in clinic. Access to our clinics is via a telephone assessment first. We are able to sort out many issues by phone consultation, but if you need to come in we can arrange an appointment.
To access services call our sexual health appointment triage line on 020 3312 1225 between the following hours:


Monday through Friday 09.00 - 16.30 (closed on Bank Holidays)
Our triage team will take your details and you will be given a time slot for a telephone consultation on the same / following day to speak with a doctor or nurse, or be given advice on other services better suited to your need.
Following your telephone consultation, we may advise that you:


attend the clinic to see us or to collect medication
receive postal medication
order an STI testing kit or get your contraception online from Sexual Health London or from another online providers
Wharfside Clinic services during the Covid-19 pandemic
Routine clinic appointments by video link (or phone):
Appointments will be over video link using NHS Attend Anywhere or by phone:
If you cannot use the video service, don't worry we will call on the number we have for you
You should not come to hospital unless we have asked you to
During the pandemic you may be seen by someone other than your usual doctor or nurse
Click the Wharfside video link
This link will only work on certain browsers. Please read how to use the video link here NHS Attend Anywhere leaflet.
Video clinic appointments
Make sure we have your correct mobile phone number. We need this to send text reminders about your appointment, these will include the link to the video clinic
If you need to update your postal address or mobile number call 020 3312 1225 (option 3) or email Imperial.wharfside.appointment@nhs.net
Give your name, birth date and hospital number (if you know it).
Booking an appointment
If you do not have an appointment booked with us, please call 020 3312 1225 (option 3) or email imperial.wharfside.appointment@nhs.net
Give your name, birth date, and hospital number (if you know it).
Face to face appointments
If we need to see you in clinic, we will give you a special appointment for this. Please try to arrive on time. A member of staff will ask about any recent symptoms and give you a mask to wear. You may have to wait outside if there are too many patients in the clinic.
Blood tests
Do not come to clinic for tests before your appointment.
We will only do blood tests once a year for anyone that it is safe to do so. This is to reduce the number of people visiting the clinic and help keep you safe. If there is a particular need to do a blood test, we will give you an appointment for this.
Medication
If you're able to please collect your medication from our pharmacy after your appointment. If this is difficult for you we can send medication by post.
Care Information Exchange (also known as Patient Knows Best)
This service allows you to see all your appointments, clinic letters and tests results online through a secure NHS system. You can also use it to contact your doctor or nurse confidentially. Follow this link to find out more: Care Information Exchange
Wharfside clinic appointment times
Wharfside clinic is open Monday to Friday at the following times, with the exception of bank holidays.
At the moment you should only come to clinic if you have an appointment
Hours
Monday, Tuesday, Thursday and Friday 9.00 to 17.00
Wednesday 13.00 to 17.00
Specialist services we offer for people living with HIV include:
Patients-focussed specialist HIV care
Young people's clinic
Peer support
Mental health services
Links to alcohol and drug services
Dietician
Pharmacy clinic
Sexual health
Contraception
Pre-conception counselling
Antenatal clinic
Clinic for parents and the children who are living with HIV
Screening for and treatment of Hepatitis B and C
Screening for and treatment of tuberculosis (TB)
Neurology clinic
Find us
Wharfside clinic
Jefferiss Wing
St Mary's Hospital
Praed Street
London W2 1NY
Contact
General enquiries
020 3312 1225 option 3 / imperial.wharfside.appointment@nhs.net
Emergency Clinic and urgent medication
0203 312 5253
Additional information
Many of our consultants are renowned experts in their field:
The clinic is closely linked with the Imperial College London Clinical Trials Centre for Sexual Health and provides opportunities for patients to participate in research into HIV treatments, complications and cure.
Education and elective placements
We offer elective placements for medical students interested in sexual health and HIV. For further information please contact:
Professor Graham Taylor, clinical lead
Email: g.p.taylor@imperial.ac.uk
Further online resources
From the first friendly and sensitive call with the staff nurse to the minute I stepped into the unit I have only experienced the best of service. Everyone is friendly, discreet and professional. I would certainly recommend this hospital to anyone.

Anonymous