Sleep services patient information
Find out what to expect when you come to hospital for your appointment.
Before your initial appointment
All patients should expect to have completed any necessary diagnostic tests and have received their treatment within 18 weeks of their referral being received by the hospital.
New patients will be offered an initial appointment with the sleep clinic which will be either over the phone or video. During this appointment we will take a full history to enable us to determine the nature and severity of the problem. Please have a list of your medications available at the time of your telephone or video appointment.
During your appointment
We always try to stick to the appointment times, but some patients need longer consultations than others and many of our patients have complex respiratory illnesses or have other testing performed which can cause delays.
Please note that we are a teaching hospital, so medical students may be present for some appointments. If you do not wish to have them involved in your consultation please let the nurse or doctor know and the students will not be involved. The sleep centre also takes students on work placement from the undergraduate Healthcare Science Degree and you may be treated by a student under supervision. Your permission will always be sought before this happens.
Outpatient consultations are typically 20 minutes long. You will see a sleep consultant or one of the team who will ask you about your symptoms, how long they have affected you and whether anything makes them better or worse. They will also ask you about any surgery you have had and any medications you are taking. You will be asked to complete a questionnaire about daytime sleepiness.
Next steps
Sometimes we are able to provide support and advice during that consultation and sometimes a sleep study might be required. If we suspect obstructive sleep apnoea hypopnoea syndrome, you will be offered an appointment for a sleep study at home. Some specialist tests will require an overnight stay in our purpose-built sleep centre. If you require a diagnostic sleep study please be prepared to attend within six weeks of your initial outpatient consultation.
Before your sleep study appointment
If you are having a test for obstructive sleep apnoea, this is usually carried out at home. You will need to attend the clinic to collect the monitoring equipment and return it the following day. Please watch the video for instructions on how to use the equipment.
If you need to have a sleep study as an in-patient, you will need to be prepared to stay overnight and in some cases, the following day. Please read the information you are given carefully to ensure you are prepared for the test. If your sleep study involves an overnight admission to the sleep centre, you will need to be prepared to attend and be tested for coronavirus three days before your admission and follow stringent social distancing prior to your test.
Please attend your appointment alone. Unfortunately, we are not able to accommodate relatives or visitors during the sleep study.
We do our best to accommodate individual needs and if you would prefer a member of staff of the same gender to look after you during your overnight sleep study, please inform us at the time of booking so that we can try to accommodate this request.
If you are referred for a sleep study, you will be asked to complete a sleep diary for one week prior to your appointment. This will be explained to you at the time of booking.
On the day of the sleep study, you should refrain from taking caffeinated beverages from 12.00 onwards. You should have your evening meal at home before coming to the hospital and take your medications as normal unless instructed otherwise by the sleep consultant. You should avoid taking sleeping tablets if you do not usually take these. Please remove any nail polish or false nails prior to attending for your sleep study.
For your overnight sleep study you will need to bring suitable night clothes, toiletries and a towel. Some tests will involve attaching electrodes to your scalp, which may leave a residue in your hair and we would advise you to bring shampoo. You may also wish to bring something to read as you may need to wait to see the doctor after your test. Further details will be provided when you book your appointment.
During your sleep study appointment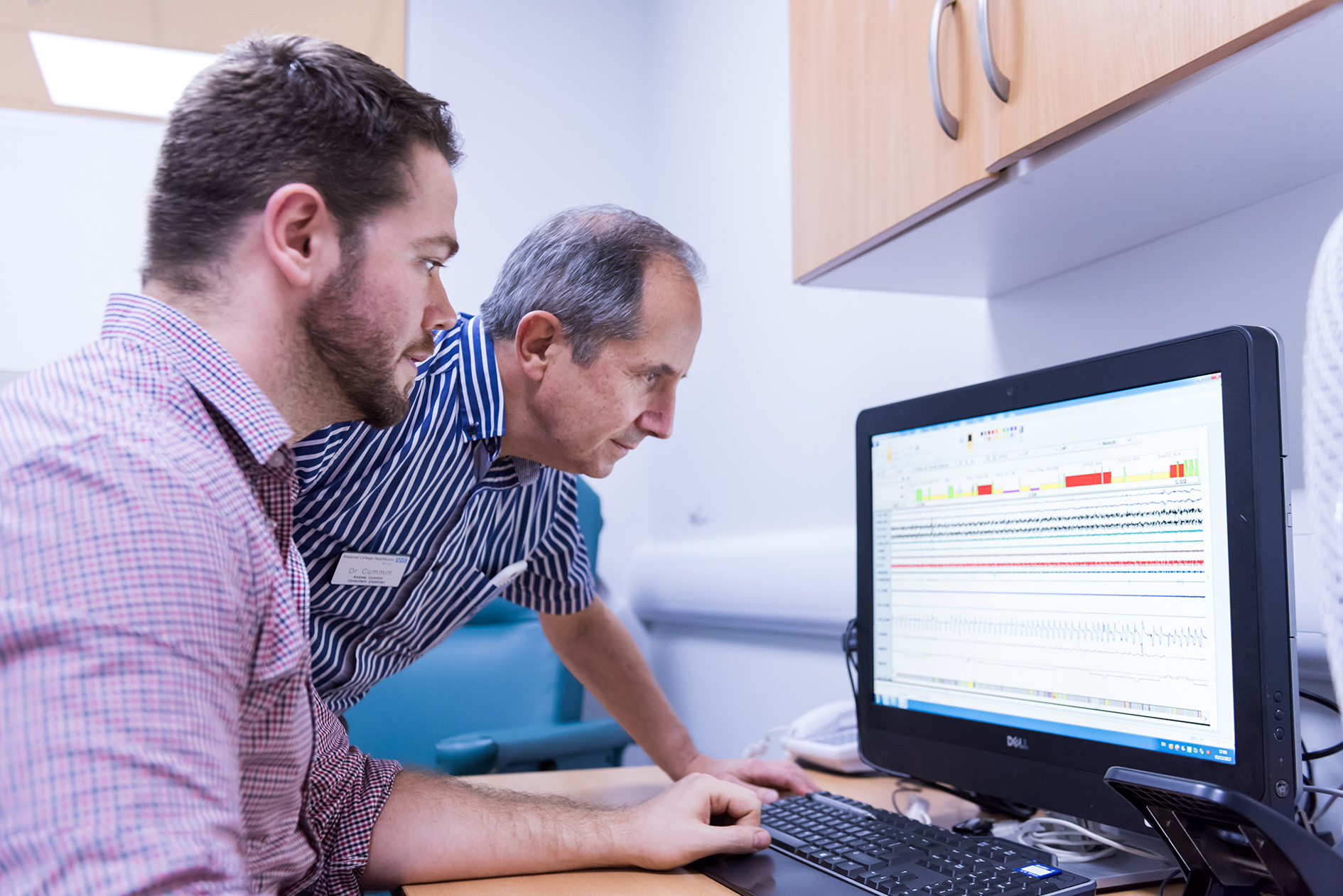 Overnight sleep studies and CPAP initiation are carried out in the Sleep Centre which is located on the fourth floor, at Charing Cross Hospital. Please report to reception on arrival. Please do not bring anyone with you to your appointment. If you need to bring an essential carer, please contact the sleep centre in advance.
Most of our sleep studies can now be carried out in your own home. However some studies may involve an overnight stay in the sleep centre. In addition to this some tests will require you to remain in the centre for part or all of the following day. You will be advised of the requirements for your specific test when your study is scheduled.

There are several different types of sleep study and the type you are referred for will depend on the nature of your sleep problems. If you are having an inpatient study then you will stay in a specially designed single bedroom with ensuite shower facilities.
Respiratory polygraphy
If the doctor suspects you may have obstructive sleep apnoea (OSA), you may be referred for respiratory polygraphy. This is an overnight test where sensors are attached to your body to monitor your breathing, oxygen levels, heart rate, sleep position and activity throughout the night. The equipment is lightweight and most patients report that it is comfortable to wear while sleeping. You will be free to move about and use the toilet if you need to during the night. Most patients are able to do this study in their own home.
You will come in to collect the equipment, wear it at home and return it the following morning. The below video explains what the test involves and how to set-up the equipment. If you feel you need further information or assistance with fitting the equipment please call us on 020 3311 71788 so that we can discuss this.
Transcutaneous CO2 monitoring
If hypoventilation is suspected, you may have transcutaneous CO2 monitoring. This test is similar to respiratory polygraphy but an additional sensor will be placed on your ear lobe. The sensor will feel warm, but not hot. In the morning you will be woken at 07.00 and offered a light breakfast. You will have a blood test called an arterial blood gas measurement and should be free to leave by 09.30.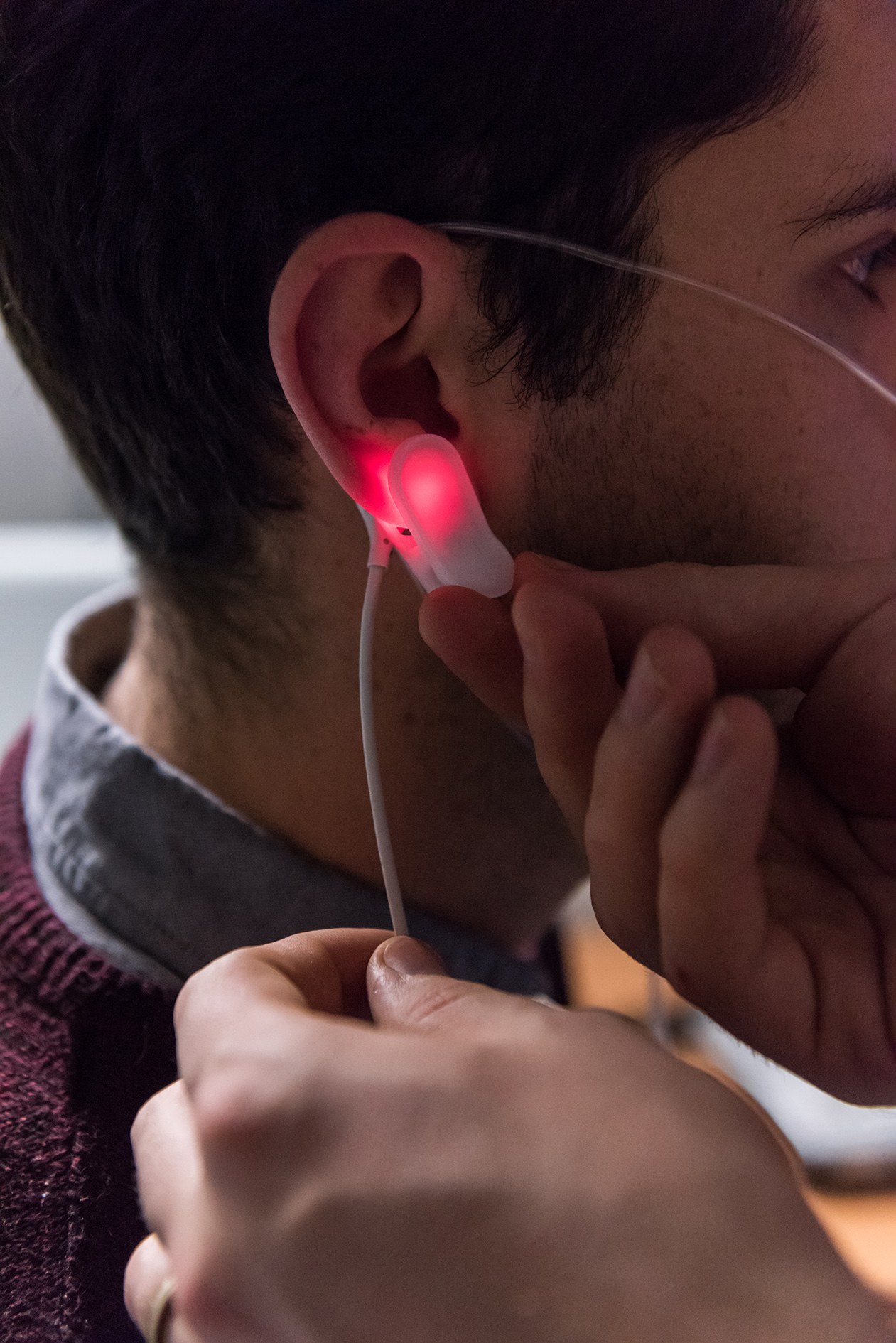 Polysomnography
For non-respiratory sleep complaints, polysomnography is sometimes carried out. This is a complex test involving measurement of brain activity (EEG) via small sensors attached to the scalp. Additional sensors will be placed on your face to measure eye movements and muscle tone. These sensors allow us to tell whether you are asleep or awake and to determine the depth and quality of your sleep. We also attach small sensors to your legs to look for limb movements at night, heart rate (ECG), breathing, and respiratory effort (movement of the chest and stomach). We take video recordings to help monitor your sleep. You will be woken at 07.00 and offered a light breakfast.
A multiple sleep latency test
Sometimes, polysomnography may be followed with further monitoring of sleepiness the following day. A multiple sleep latency test (MSLT) is often helpful in the case of unexplained daytime somnolence and can be useful in the diagnosis of narcolepsy. If you need to have a multiple sleep latency test, you will be monitored for one week before using an activity monitor (see section on actigrpahy below). You will then stay overnight in our dedicated sleep centre and throughout the next day, where you will have scheduled naps every two hours. You will not be allowed to have any caffeinated beverages during the daytime and will be asked to remain awake and stay out of bed between naps. The test is usually finished by 18.00 at the latest. After your test, you will have the opportunity to shower before you leave.
Actigraphy
Actigraphy helps to monitor sleep-wake cycles and is useful in the diagnosis of circadian rhythm disturbances. It may also be used to monitor your sleep in the time leading up to a polysomnography or MSLT test .If the doctor requests this test you will be invited to the centre and provided with a special 'Actiwatch'. The Actiwatch is normally worn on the non-dominant wrist and measures movements and light to determine whether you are awake or asleep. You will normally use the device for 1-4 weeks and will be asked to keep detailed logs of your sleep and activity during that time.
After your sleep study appointment
You can return to your normal routine as soon as the tests are finished.
The sleep study test procedure is non-invasive and it is highly unusual for anyone to suffer any adverse effects following it. Some sleep studies involve having electrodes attached to the body and occassionally, patients may experience slight reddening on the skin. This is usually mild and goes away within a few days. If you are aware that you normally react to medical tape, please inform staff when you attend your test so that arrangements can be made to minimise discomfort.
A letter will be sent to you and your GP explaining your results and any recommended treatment or lifestyle changes.
If it is felt that you would benefit from continuous positive airway pressure (CPAP) treatment then you will be invited back to the department so that we can provide you with a CPAP machine. Once on CPAP treatmentyou will be followed up by the scientific staff. If you give your consent we will be able to remotely monitor your machine to assess how well you are using the treatment and how effective it is at treating your condition.
We will be able to carry out most CPAP follow-up appointments via telephone/ Attend Anywhere. If this is not possible or if there is a problem with the machine that we can not deal with over the phone then you may be asked to come in to the sleep centre for an appointment. Please bring your machine and all accessories to the sleep centre for any face-to-face appointment.
Patient information
Actigraphy study
Collection CPAP
CPAP treatment (frequently asked questions)
Home studies
Parasomnias
Non-invasive ventilation
Sleep hygiene - A timetable for a better night's sleep
Your Polysomnography and multiple sleep latency Test
Your transcutaneous carbon dioxide study