We understand that getting to hospital can be difficult for some people. In line with Department of Health guidelines, we provide a non-emergency transport service for patients whose clinical condition or mobility makes it very difficult for them to attend hospital without transport assistance.
Transport assessment
If you feel you need support getting to and from hospital, call our transport booking team on 0330 678 1245 (Monday to Friday: 08.00 to 20.00, Saturday and Sunday: 10.00 to 13.00).
If you are unable to call, a friend, relative, carer or representative can call on your behalf.
One of our trained team members will assess your needs and ask questions about your medical condition and your mobility. This assessment is confidential.
If you need to attend hospital on a regular basis we will assess your transport needs every three months so that we provide the right type of vehicle for you each time.
What happens after I have been assessed?
If your request for hospital transport is approved, we will book your transport for you. This includes your return journey home.
The day before your hospital appointment, we will contact you to make sure:
you are still attending your appointment
you still need hospital transport
the correct type of vehicle has been requested for your needs
we have the correct address and have noted any special requirements
If your appointment is on a Monday, we will contact you on a Friday.
When we contact you, we will tell you the approximate pick up time. When the transport crew is 30 minutes away from your home, you will receive a text message to your mobile phone or a voice message to your landline telephone number so that you can get ready to leave. Please be ready when your transport arrives as our drivers cannot wait more than 10 minutes.
Please see the photo below to see the patient transport vehicle that will collect you.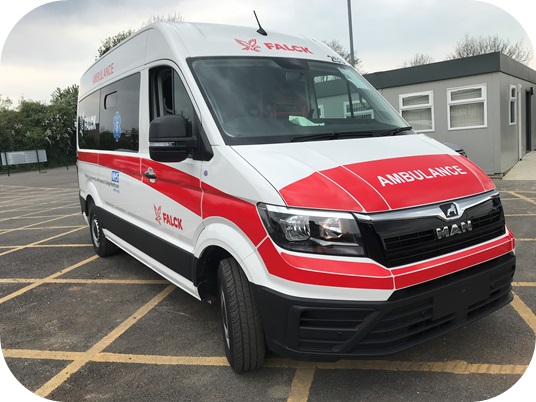 What can I do if I do not meet the eligibility criteria?
All five of our hospitals have excellent public transport links, including bus stops outside the front entrances. If you do not meet the assessment criteria, one of our trained team will discuss alternative ways to get to hospital. If you need help with travel costs we will talk to you about the Healthcare Travel Costs Scheme.
If you feel that the assessment decision is incorrect you can speak to a supervisor who will try to resolve your transport issue. If it is not resolved, you have the right to appeal by contacting our patient advice and liaison service (PALS). Your appeal will be reviewed by the service that is caring for you. You can find the contact details for PALS in the next section.
Can a friend or relative accompany me on the journey?
We use Department of Health guidelines to decide whether you need someone to accompany you. To discuss this, please call our transport booking team on 0330 678 1245.
What should I bring with me?
Please ensure you have:
any appointment letters or other paperwork you need
any medication you need
any walking aids or wheelchairs you need
suitable clothing for the weather conditions
your house keys
If you are diabetic, please bring some food and water in case there is any delay because of traffic.
There is limited space onboard so please only bring one small bag. Contact the helpdesk on 0330 678 1245 in advance if you need to discuss bringing any other items.
Who will collect me?
Patient transport is provided by Falck, a specialist provider of transport services working on behalf of Imperial College Healthcare NHS Trust.
Falck are a fully CQC-accredited organisation that provides non-emergency transport at a number of NHS trusts. For more information, please visit the Falck website.
Each crew member will be in uniform with an in-date photo identification badge. Please see the photos below.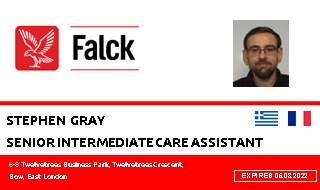 Going home after your appointment
If you are coming in for a planned appointment please let the clinic/department know that you are a transport patient when you arrive so that hospital staff can arrange for transport to take you home.
We work hard to make sure that patients have the shortest wait possible for their transport home. However, you should be prepared to wait up to 60 minutes.
If you need to leave the patient transport lounge while you are waiting for your transport, please tell a member of staff so they know where you are.
If you have a longer stay in hospital as an inpatient, transport will be arranged by the ward staff when you're ready to go home.
Cancelling transport
If your appointment has been rearranged or cancelled, please call the patient transport helpdesk on 0330 678 1245 to cancel your transport.
Questions, concerns or complaints
If you are having a problem with your transport booking please contact 0330 678 1245. You may also wish to make a formal complaint – please contact 020 3326 1326 (Monday to Friday, 09.00 to 17.00) or email PATIENTFEEDBACK@MEDICALSERVICESUK.COM Our staff are also being asked to record transport problems and delays for their patients in the way they would normally record an adverse incident so that we have a clear picture of the situation and can check on progress.