Clinical Academic Training Office (CATO)
CATO is part of the Imperial College Academic Health Science Centre (AHSC) and part of its mission is to educate and train the future generation of multidisciplinary clinical scientists and allied healthcare professionals such as midwives and nurses.
The Imperial Clinical Academic Training Office (CATO) was established in 2015. It is a clinical academic training hub, which provides advice and support on careers in academic medicine for doctors, nurses, midwives, pharmacists, allied health professionals and healthcare scientists.
It runs events on various aspects of research careers. These provide information on funding opportunities, advice on funding applications and personal insight into life as a clinical researcher.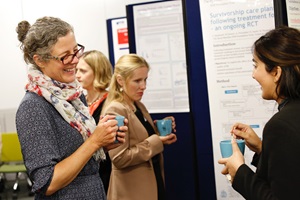 Jeremy Levy, Director of Clinical Academic Training Office
"CATO is the one-stop shop for current and aspiring clinical researchers at Imperial College Healthcare. We coordinate clinical research training activities across the AHSC, for example PhD programmes, ensuring all healthcare staff are aware of funding opportunities and routes into research, champion the development of new initiatives in research training for clinicians, run research skills courses, masterclasses and mentoring. We aim to support the roll out of research skills widely across the Trust."