Improving health and equity – everybody's business
For long-standing observers of healthcare policy, rising interest in population health and health inequalities may feel like Groundhog Day. But it has to be different this time, argue Dr Bob Klaber, paediatrician and Imperial College Healthcare director of strategy, research and innovation, and Dr Dominique Allwood, public health consultant and director of population health. They explain the approach they are leading across Imperial College Healthcare and call on everyone in the NHS – including in our acute hospitals – to be part of the change.

Covid-19 shone a stark light on inequalities within our populations, highlighting underlying disparities in health outcomes, especially between people from different ethnic and socioeconomic groups. There is a developing awareness that this is damaging for everyone and an increasingly powerful and diverse lobby for real change is emerging. Before the pandemic, we had already begun to put more focus on our role as an acute hospitals trust in helping to improve the health and wellbeing of our population, directed by our organisational vision of 'better health, for life'. Now, with a greater national policy focus on health and inequalities and our own learning from the pandemic, including from our deepening relationships with local community leaders, we are really stepping up our efforts.

One of the first things we have done is to be clear about what we are trying to achieve. While the NHS provides universal access to care it is not necessarily equal, nor equitable. By 'equal', we mean giving individuals the same resources or opportunities while, by 'equitable', we mean going further to address the fact that some individuals or groups may need additional help, due to their circumstances, to get to the same place.

We consider population health and health equity to be key aspects of quality – we pride ourselves on our ability to innovate and to learn but we will only provide truly high quality care if we reach everyone who needs us and ensure we deliver good outcomes for all the groups who make up our population. We are also developing a better understanding of the contribution we can make as an 'anchor' organisation in our community, exploring how we maximise our impact on local health and wellbeing in how we deploy our significant assets and 'purchasing power', such as providing more employment opportunities for local people or buying from local suppliers.
Our health and equity framework
To maximise our impact, we've engaged with organisational and lay partners across our health and care system to develop a health and equity framework to guide planning, prioritisation and evaluation of our work in this area (see figure 1).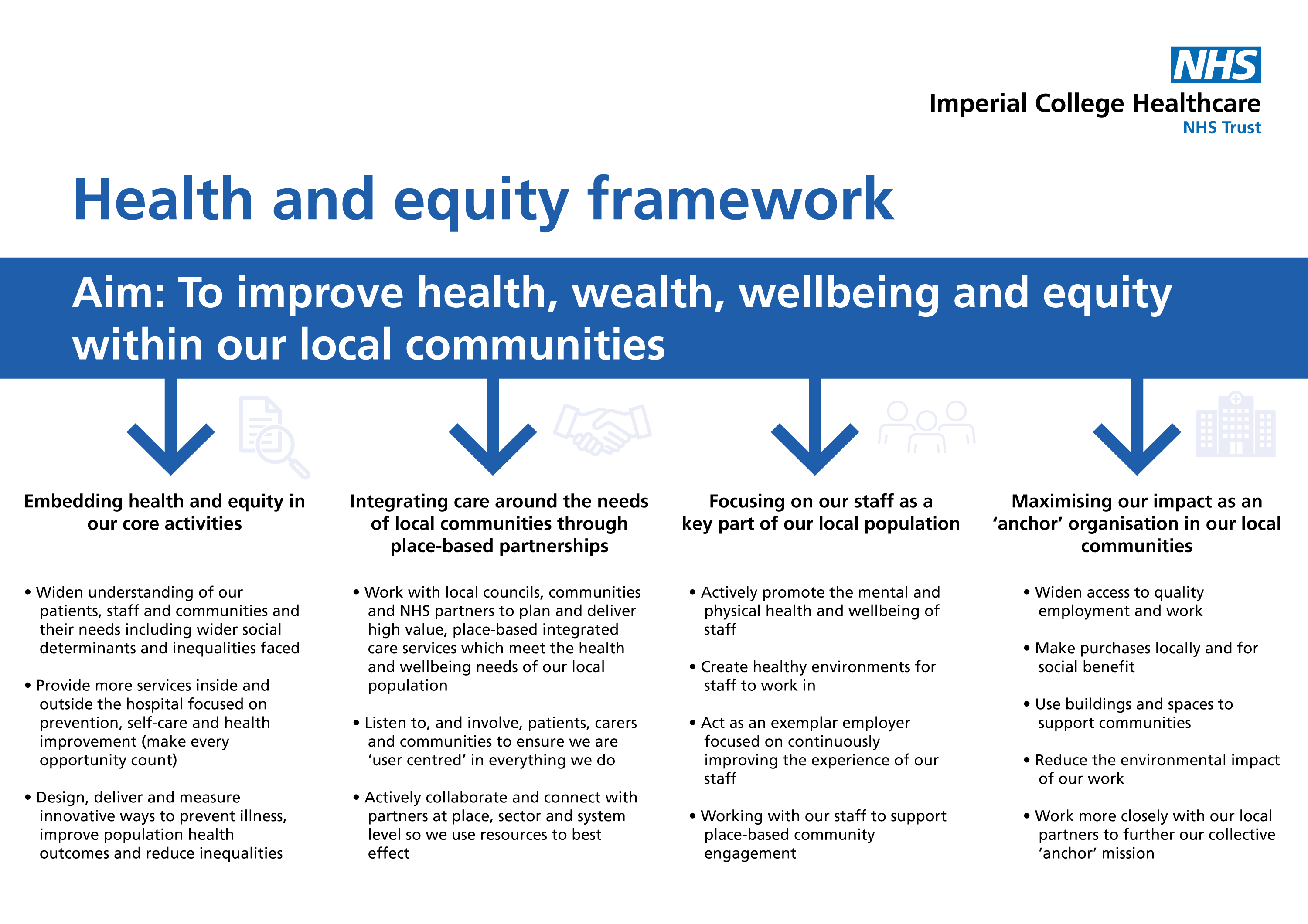 Figure 1

The framework is helping us to join up the dots between initiatives already underway and, importantly, to spot and address key gaps. We've also tried to get the right balance between actions to improve equity of access, experience and outcomes in our own, core activities (clinical care, research and education) and those that contribute to wider efforts to improve health and to reduce inequalities due to social determinants of health (such as employment, housing, literacy levels and structural racism).
Embedding health and equity in our core activities
We recognise that we need to do more to support ill-health prevention, self-care and health improvement, both inside and outside our hospital walls. This needs to be underpinned by a renewed commitment to understanding the experiences, needs and views of our patients, staff and local communities and working with them to identify and implement improvements. This means finding out what really matters to them, what would help them and their families to thrive and where they are facing barriers or inequity. To help us do this at Imperial College Healthcare, we are creating an integrated user insights and experience function to make the most of all of the data and feedback we already have and to identify and address gaps in our understanding.

We are also drawing on NHS England's 'Core20+5 reducing health inequalities' framework developed to help integrated care systems (ICSs) drive targeted action. It sets out the most deprived 20 per cent of the national population and encourages ICSs to identify additional local population groups who are experiencing the most significant health inequity. It also sets out the key clinical areas for health inequalities – maternity, severe mental illness, chronic respiratory disease, early cancer diagnosis, hypertension and smoking cessation.
As well as developing our strategic understanding and longer term plans, we are identifying and getting on with work in areas of national priority where we know we can make a significant difference straight away. This includes:
Working with voluntary sector and community partners to develop local health and wellbeing programmes with a focus on ill-health preventative. An example is our partnership with Chelsea FC Foundation where we are leveraging natural synergies between sport, health, wellbeing and the NHS to design new ways of engaging and supporting local communities.
A project just underway to analyse our own data on hospital appointment attendances and to work with patients and communities to understand why some groups are significantly under represented and then, importantly, to co-design solutions. More to follow on this.
Making the most of our relationship with patients who smoke by systematically encouraging them to stop smoking, connecting them to specialist support and advice wherever possible.
Embedding health and equity in the way we design, deliver and measure our services by building partnerships with groups such as Imperial College London's Self Care Academic Research Unit.
Integrating care around the needs of local communities through place-based partnerships
Over the last decade we have developed collaborations with local councils, communities and NHS partners to plan and deliver 'place-based' integrated care, joining up care and support around the needs and preferences of our local populations.

One long-standing example is Connecting care for children where our clinicians have teamed up with a wide range of other professionals in healthcare, education and the voluntary sector to bring specialist advice and care out to children and their families. This award-winning programme has shown that this improves patient experience and outcomes and uses our resources more effectively. Another, more recent success story is our partnership with social care teams to improve care for older people during the pandemic. This ensured that care home staff had timely access to advice and support from our doctors, nurses and therapists specialising in the care of older people.

We are committed to expanding these approaches, to connect with partners at local and sector levels so that we make the most of our collective resources.
Focusing on our staff as a key part of our local population
The third pillar of our health and equity framework is focused on promoting the mental and physical health and wellbeing of our own staff. Over half of our 14,500 staff live locally and many have active roles within their communities - thinking about them as a key part of our local population is essential.

Many of our buildings are old and in poor condition but, through our refurbishment work and our long term redevelopment plans, we are working hard to create healthy working environments for staff as well as high quality facilities for patients. We also want to act as an exemplar employer focused on continuously improving the experience of our staff.
Maximising our impact as an 'anchor' organisation in our local communities
While collaboration features across all aspects of our health and equity approach, the final pillar of our framework focuses on our role as an 'anchor' organisation where it's all about partnerships.

Access to quality employment is a crucial determinant of health and wellbeing and so we are actively accelerating efforts to expand work experience placements, opportunities for volunteering, apprenticeships and employment for local people. Examples of this include our new work experience approach, that is specifically targeting support on career choices to young people attending our local schools, and Project Search, which supports young people with learning disabilities into work.

Our procurement team is working hard to explore how we can make more of our purchases locally and for social benefit and, within our redevelopment plans, we will be exploring how we can better use our buildings and spaces to support local communities.

Another really critical aspect of our anchors mission is how we reduce our environmental impact. Through our bold Green Plan we have made a clear commitment to reduce our impact on the environment and to deliver sustainable healthcare.
We also supporting others as part of our collective 'anchor' mission. Two exciting examples of this are:
Compassionate communities – through this pioneering new funding initiative in partnership with Imperial Health Charity, we are helping to improve the health and wellbeing of local communities affected by the hidden impacts of Covid-19. We've awarded grants to support 20 local projects addressing major health problems deepened by the impact of the pandemic, such as mental health and wellbeing, food poverty and obesity, as well as to tackle related issues such as language barriers and misinformation.
Westminster Council's #2035 project – we're a key partner in this new programme that aims to halve the gap in life expectancy across the borough by 2035. It grew out of community-led research that asked local people what really mattered to them. We are now helping to co-design interventions in seven areas that local communities have said will affect the greatest change. This work also provides a brilliant opportunity to involve staff who are also local residents as change agents within their local communities, as well as leveraging the impact of companies based in the Paddington Basin who are working with us and the wider NIHR Imperial Biomedical Research Centre to expand life science research and innovation.
As countries across the globe struggle with rising costs of living, the growing impact of climate change and intense pressures on their health and care systems, we have to change our approach to how we think about health and care. Critically, we have to move the focus of our hospitals and the wider NHS from being almost solely a 'repair shop' to one where the health and equity of our local communities is always front of mind. And, even more importantly, and adapting the wise words of former US President Barack Obama, 'we need to be the change we seek'.
We'd love you to come and get involved in our change – please do get in touch to find out more and to share your ideas and experiences that will help us towards our vision of better health, for life: imperial.communications@nhs.net