'Compassionate communities' initiative supporting health and wellbeing for the most in need
Working in partnership with Imperial Health Charity, our pioneering new funding initiative – Compassionate communities - has helped to improve the health and wellbeing of people most affected by the hidden impacts of Covid-19.
We've awarded grants to support 20 local projects addressing major health problems deepened by the impact of the pandemic, such as mental health and wellbeing, food poverty and obesity; and language barriers and misinformation.
Over the last 12 months, these grants have enabled a range of charities, community organisations and local groups to break down barriers and help those most in need access vital care and support.
So far our funding has benefited over 5,000 of the most vulnerable people in north west London. Across a range of different projects, community champions have referred nearly 2,000 people to appropriate healthcare services, delivered over 1,200 food parcels to those experiencing food poverty and organised more than 350 training events and workshops.
Dr Bob Klaber, Director of Strategy, research and innovation at Imperial College Healthcare NHS Trust, said: "The pandemic has had far-reaching effects – not only in our hospitals but also in our local communities – deepening many complex health problems and exacerbating health inequalities. As an 'anchor' in the community we know our responsibility to improve population health, and equity in healthcare, extends beyond our hospital walls. Working together with Imperial Health Charity, we've been able to have a transformative impact on the health and wellbeing of the most vulnerable people, by building strong relationships with local organisations who really understand the needs of our communities."
Ian Lush, Chief Executive of Imperial Health Charity, said: "We're delighted to see Compassionate communities making such a big impact – and we hope this initiative is just the beginning as we work to strengthen links with our local community partners and create more opportunities to collaborate in the future."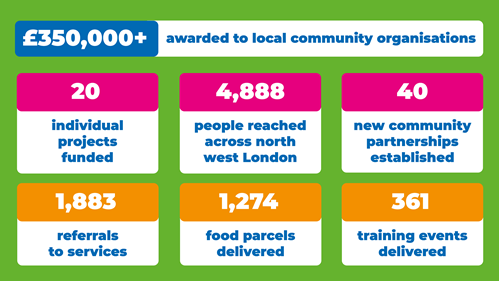 One of the groups that benefited from Compassionate communities was the Hammersmith Community Gardens Association, which used its grant to support local people struggling with mental health challenges through therapeutic gardening and cooking courses. The Grow Well in 2021 initiative helped participants spend time closer to nature by sowing seeds, propagating herbs and growing fruit and vegetables.
"The biggest step forward was going along to Grow Well," said Mandy*, who had been living in isolation for over two years before attending the sessions.
"It was as if I emerged from a chrysalis, slowly but surely regaining my previous confidence. It's been like a big, secure stepping stone to getting me out and about – being involved and feeling comfortable again talking to new people."
We worked with experts from the NIHR Applied Research Collaboration for North West London to evaluate how the Compassionate Communities programme has made a difference over the last 12 months. They found our work had helped connect people to appropriate services, improve their mental and physical health and help them build skills, as well as facilitating social cohesion and developing relationships in the local community.
Laura Lennox, Lead of Health Improvement and Improvement Science at NIHR ARC NWL, said: "While much of the work is still under way, the projects are making excellent progress in improving mental and physical health, building community skills and knowledge, and enriching social engagement."
You can read more about some of the extraordinary projects we've supported through compassionate communities.