Dr David James Pinato
Director of developmental therapeutics, consultant and clinical senior lecturer in medical oncology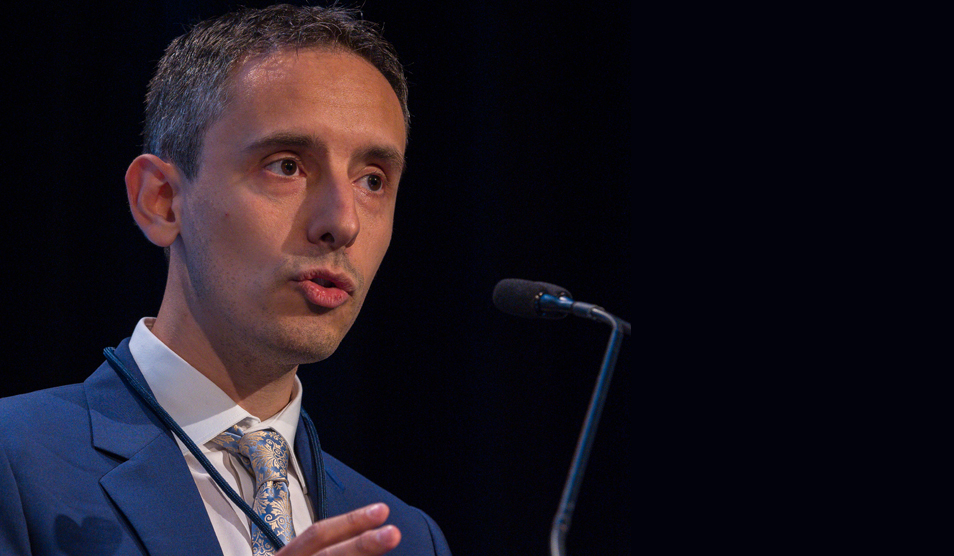 Patient age group

Adults

Consultant registered on

01/01/2010

Primary medical qualifications

MD MRes MRCP (UK) PhD

Foreign languages

Gender

Male

Services

Hospitals
Contact
Phone

020 3313 3059

Karen Querns
Background
Dr David J. Pinato is a clinician scientist and consultant medical oncologist supported by the Wellcome Trust Strategic Fund (IPPRF scheme) working within the department of surgery and cancer at Imperial College, London.

David leads a translational research program focusing on the early clinical implementation of novel experimental anticancer therapies to the clinic, with particular emphasis on anti-cancer immunotherapy. He has led the inception of a portfolio of first-in-class studies of immune checkpoint inhibitors in liver cancer, which has represented David's focus of research since graduation with highest honours at the University of Piemonte Orientale "A. Avogadro" in Novara, Italy.

David completed his research training being awarded a Masters of Research in translational medicine and a Ph.D. in clinical and experimental medicine. Whilst at Imperial as a research fellow and Ph.D. student he developed considerable experience in translational oncology within the specific setting of early phase clinical trials. As part of his ongoing collaboration with the academic pathology unit at Imperial, David devoted his research interests to the immune-phenotyping of malignancy.

Since his graduation, David matured his clinical skills attending several academic institutions in Europe including the University Hospital in Zürich, the Medical University in Vienna and the University of Ioannina in Greece. He completed his core medical training across some of the busiest acute hospitals in London, being elected member of the Royal College of Physicians (MRCP) in 2014. He has trained in medical oncology as part of the Royal Marsden Hospital rotation, having migrated to Imperial College in April 2015 to take up a Clinical Lectureship funded by the National Institute for Health Research (NIHR).

In 2018 David was awarded a Clinician Scientist fellowship funded by the Wellcome Trust Strategic Fund centered on the development of immunotherapy in liver cancer. Hepatocellular Carcinoma (HCC) is the most frequently occurring primary liver tumour that currently ranks 5th by incidence and 3rd by mortality on a global scale. David's studies, supported by international collaborations, have led to the qualification of novel prognostic and predictive biomarkers in HCC, which have been published in leading journals in the field including the Journal of Clinical Oncology, Annals of Oncology, Hepatology and many others.

David's research efforts on biomarker discovery have been recognized with the prestigious Merit Award from the American Society of Clinical Oncology (ASCO) three times in 2016, 2017, 2019 as well as a fourth Merit Award jointly awarded by ASCO and by the Society for Immunotherapy of Cancer (SITC) in 2019. In 2019 David was awarded the prestigious ASCO Global Oncology Young Investigator Award in recognition of his research on HIV-associated hepatocellular cancer. David was also awarded a prize by the British Society of Pharmacology in 2018 and the Sylvia Lawler Prize in Oncology from the Royal Society of Medicine in 2016.

David lectures internationally in the field of molecular oncology with a specific interest in HCC and acts as a reviewer for a number of peer-reviewed journals including Hepatology, Journal of Hepatology, Oncogene, OncoImmunology, Gut and many others. He has acted as peer reviewer for a number of grant awarding bodies including the MRC, Breast Cancer Now and Cancer Research UK.

He has been awarded the European School of Oncology fellowship in 2008 and the Fulbright Visiting Research Scholar Fellowship for 2010/2011.
Research & publications
Drug development
Liver cancer
Immunotherapy
Private practice