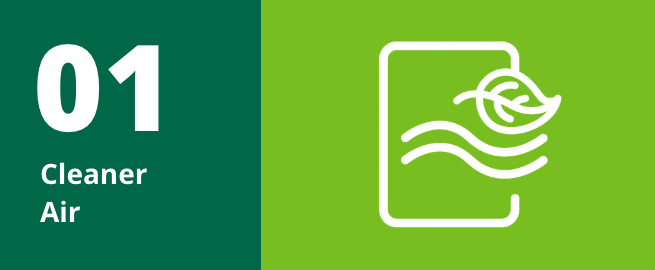 We will contribute to the reduction of harmful particle matter in the air around our hospitals sites and in our city, to create a greener and safer environment for our communities.
Air pollution has a devastating impact on the health of the population. It is associated with an estimated 40,000 premature deaths each year in the UK.
On average, 4 Londoners, including 1 child, are hospitalised everyday due to asthma caused by air pollution
1 in 4 primary schools in London are in areas with poor air quality, with four out of five of these in the most deprived areas
40% of reduced life expectancy in north west London is down to circulatory and respiratory illnesses
New heat pump at Charing Cross Hospital
Charing Cross hospital will be fitted with a new air source heat pump in 2021 to reduce carbon emissions, by extracting heat from the air to provide heating and hot water across the site, reducing the consumption of natural gas. The refit will be enabled through a £26.9 million grant awarded to the Trust, as part of the government's Public Sector Decarbonisation Scheme (PSDS), which also includes a range of other energy efficiency initiatives.
Find out more about the decarbonisation grant and reducing energy use at the Trust.
New air quality sensors at Charing Cross Hospital
Charing Cross Hospital has been fitted with new air quality sensors to measure local levels of pollution, as part of an air quality monitoring investment by Mayor of London, Sadiq Khan, and Bloomberg Philanthropies, and is backed by our research partners at Imperial College.
Members of the public can view real-time air quality data produced from these sensors on a new website for the Breathe London project - which brings together data from 195 new air quality sensors fitted across hospitals, schools and other priority locations across the capital - with data from London's existing monitoring network, to form a single comprehensive source of real-time, and historic air quality information.  
You can view the latest air quality data and find out more about the Breathe London project
Further reading and inspiration