The Fleming Centre: Driving the fight against antimicrobial resistance
In the relentless pursuit of global health, few adversaries loom as large as antimicrobial resistance (AMR). AMR poses a pervasive threat to both different disease areas and public health as a whole. It has the potential to undermine modern medicine, as previously treatable common infections and injuries may once again become life-threatening. As the gravity of this crisis intensifies, The Fleming Centre will stand at the forefront of a burgeoning global movement to combat AMR. On World Antimicrobial Awareness Week, Professor Ara Darzi, Chair of The Fleming Centre Initiative, writes about the pivotal role this centre will play in the fight against AMR and the far-reaching impact it promises to deliver.
AMR poses a significant threat to global health, making it one of the most pressing challenges of our time. Drug-resistant infections occur when the bacteria responsible for the adaption and evolution of infections, gain the capacity to withstand drugs intended to kill them. The overuse and misuse of antimicrobial drugs, such as antibiotics and antifungals, in both humans and animals is only accelerating this process. As a result, AMR has been linked to more than one million deaths worldwide each year; a sign common infections are becoming increasingly difficult to treat as the medicines we all rely on become less effective. With people across the globe already dying from drug-resistant infections, the threat of more drugs losing their potency, will put more lives at risk.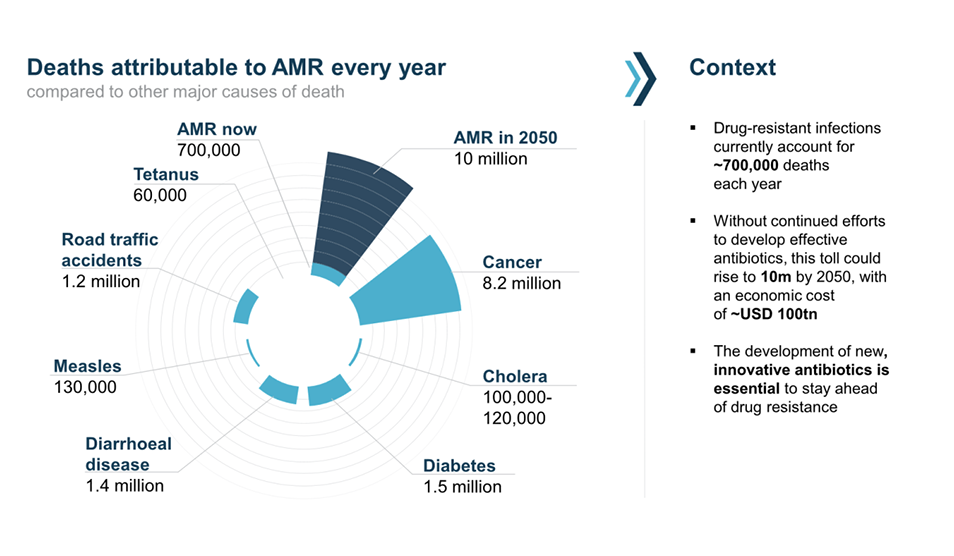 Source: Wellcome Trust (https://wellcome.org/sites/default/files/wellcome-global-response-amr-report.pdf)
Not just a health crisis
AMR is not just a health issue but a crisis that affects economies, societies, and individuals worldwide. Health economists predict that if current trends persist, AMR could result in £100 trillion loss in economic activity and up to 10 million deaths annually by 2050. If not mitigated in a meaningful and sustained fashion, drug-resistant infections have the potential to become a global humanitarian crisis affecting everyone. We may find ourselves heading for a post-antibiotic era, where a common infection or routine surgical procedure could become life threatening.

It is, however, possible to control the spread of drug-resistance and keep antibiotics working. But innovative research will be futile unless accompanied by collective behaviour change – by the public, practitioners and policy makers.

In the quest to combat AMR, The Fleming Centre, spearheaded by Imperial College London and Imperial College Healthcare NHS Trust, will be poised to drive a global movement to address this growing crisis. Located at St. Mary's Hospital in Paddington, the Centre takes a transformative new approach by putting society at the heart of solving this crisis. It also holds a special significance in the fight against AMR. It was here that Sir Alexander Fleming discovered penicillin, the world's first antibiotic, in 1928. The Centre aims to build on this legacy and raise awareness, meaningfully involve diverse public voices, drive behaviour change, and catalyse action to address AMR on a global scale.
A transformative approach
The Centre will bring science, policy, enterprise and public involvement together to scope, test and scale solutions that are ready for implementation. It will also strive to convene, educate, inspire and mobilise collective global efforts through exhibitions, engagement activities, and collaboration. Imperial College and Imperial College Healthcare NHS Trust have a long history of undertaking pivotal infectious diseases research, from Alison Holmes and Michael Levin with diagnostics, to Jose Penades with his work on bacterial virulence, to Graham Cooke with his work on eliminating viral hepatitis, to name but a few major players. The Fleming Centre will synergise with and support what is already going on, offering translational space and collaborative opportunities, as well as working with these scientists on novel innovations and solution-focussed endeavours, and involving the public to influence research.

However, this is a crisis that affects low- and middle-income countries in a far more devastating way than it does the UK. The transformative approach adopted by The Fleming Centre in London will therefore be designed to serve as a blueprint for similar initiatives across the globe, acknowledging the need for tailored and adaptive solutions that consider local contexts and the involvement of diverse voices. By working together, leveraging scientific evidence, and mobilising public engagement, the Centre seeks to develop comprehensive strategies that ensure the continued effectiveness of antibiotics for the benefit of all.
Royal support
Underlining the significance of the cause, Prince William has assumed the role of Patron for the appeal to create The Fleming Centre. His support over the next five years will aid in translating the ambitious plans and objectives of the Centre into tangible actions. Professor Dame Sally Davies, UK Special Envoy on AMR and Implementation Board Co-Chair for The Fleming Centre Initiative, has also publicly declared her support for the programme, stating:, "The Fleming Centre initiative is the global movement we need to kickstart the behaviour change required to protect our antibiotics. We need science but we also need people to change behaviours towards antibiotics. We've all got to change now or I predict we will wake up too late." With the backing of both of these influential figures, The Fleming Centre is poised to make a profound impact in the worldwide fight against AMR.
About The Fleming Centre
The Fleming Centre, based at St. Mary's Hospital in northwest London, stands at the forefront of the battle against antimicrobial resistance. Through its innovative and collaborative approach, it seeks to raise awareness, drive behaviour change, and develop evidence-based solutions to combat the growing threat of drug-resistant microbes. By engaging with the public, policymakers, and scientific experts, The Fleming Centre aims to pave the way for sustained efforts to mitigate the impact of AMR. The centre is also a key part of Imperial College Healthcare NHS Trust's Paddington Life Sciences development, which aims to create a thriving ecosystem for life sciences research and innovation in north west London. Let us join forces to ensure a future where antibiotics continue to safeguard our health and well-being. For more information on The Fleming Centre and its initiatives, visit our website at flemingcentre.org or watch our mission video below.
---
This post was originally published on Imperial College London's Imperial Medicine Blog.