Chestnut suite, W12 conference centre, Hammersmith Hospital, Du Cane Road, London W12 0HS
Renal nursing recruitment day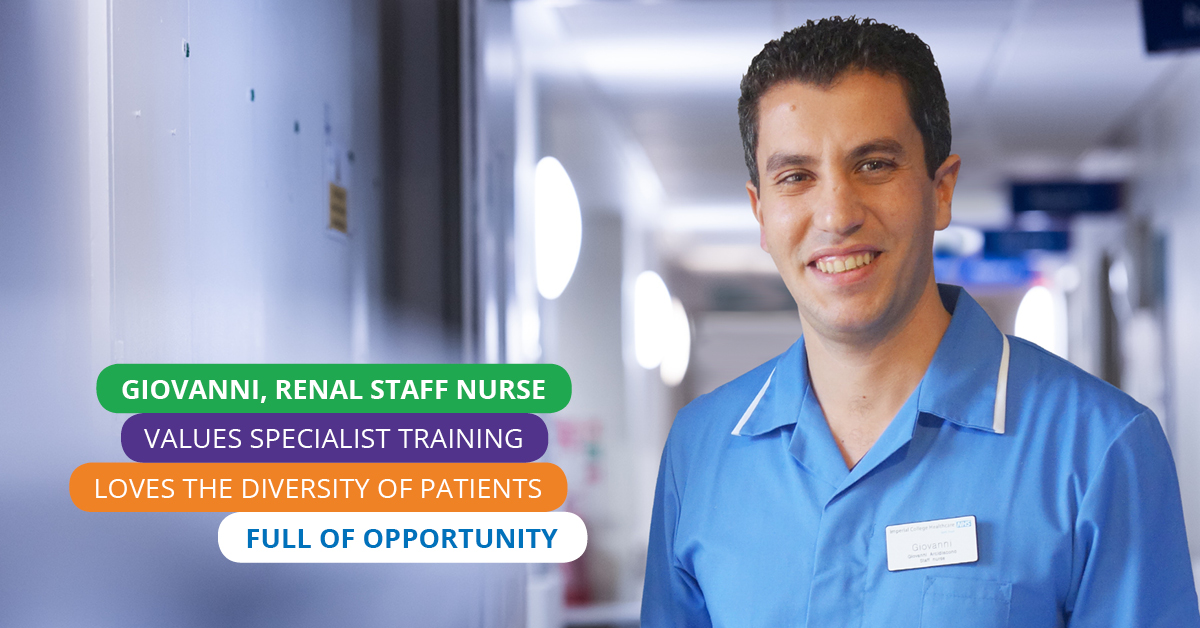 We are excited to be hosting an open day for nurses considering a career in the specialty of renal medicine on Wednesday 6 March 2019, from 10.00 to 15.00.
Imperial College Renal and Transplant Centre, based at Hammersmith Hospital, is the largest facility in Western Europe for nephrology, dialysis and transplantation, offering unrivalled patient care. Our ultimate goal is to provide clinical excellence and to work as a team in our endeavour to achieve the best possible care for our patients.
Our kidney and transplant service is a regional renal (kidney) and transplant medicine centre, looking after over 3,500 patients on renal replacement therapy and performing an average of 170 kidney transplants a year.
We provide clinical expertise in renal care for adult patients in all stages of their illness, from acute kidney injury to patients with established renal failure requiring different forms of renal replacement therapies such as peritoneal dialysis, haemodialysis and transplantation.
You will experience in-depth training to develop or extend your skills in the management and care of renal patients including those:
with acute kidney injury
with established renal failure
undergoing haemodialysis
undergoing peritoneal dialysis
undergoing kidney and pancreas transplantation
requiring conservative and end of life care
with other related problems such as cardiovascular, gastrointestinal, diabetes, and vascular complications
As a nurse with us, you will have the opportunity to develop your knowledge, skills and clinical expertise in a supportive environment. We are committed to continued professional development. There are many educational and training opportunities to help build your career in renal nursing. There is a dedicated renal education team to help provide you with the education and clinical support you require.
Previous experience in a renal setting is not a requirement. We welcome applications from those working in other acute specialties and from newly qualified nurses or those seeking part-time employment. Hammersmith Hospital is one of Imperial College Healthcare NHS Trust's five leading hospitals with career pathways that are full of opportunity.
On the day there will be refreshments, opportunities to meet the team, guided tours, interviews and we will be making job offers.
If you are unable to attend on the date but interested in joining our team, please contact us to arrange an alternative date.
For further details or informal visits please contact renal nursing education team on 020 3313 5243.
Alternatively please email:
San San Haddoub
sansan.haddoub@nhs.net
Catherine Ryan
catherine.ryan1@nhs.net
Margot Spratley
margot.spratley@nhs.net
Anastasia Lawrence
anastasia.lawrence2@nhs.net
Contact
Phone

020 3313 5243