3rd April 2023
Why diversity in clinical trials is essential to the future of UK life sciences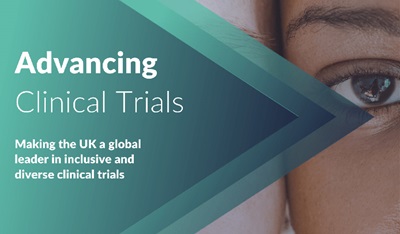 Report highlights reasons why incorporating equality, diversity and inclusion is essential in clinical trials.
Becoming a world leader in equality, diversity and inclusion (EDI) is essential if the UK life sciences sector wants to set itself apart from its competitors – particularly in the area of clinical trials. That is the finding of a new report from MedCity, the Faculty of Pharmaceutical Medicine and Imperial College Healthcare NHS Trust.
The report builds on a recent roundtable bringing together leading voices from across the pharmaceuticals, life sciences and health sectors to discuss EDI in clinical trials.
Dr Suki Balendra, Director of Strategic Partnerships for Paddington Life Sciences and one of the report authors, said: "This report charts a course to establish a diverse and inclusive clinical trial ecosystem as a key unique selling point, to strengthen UK life sciences, and ensure patients continue to benefit from world-leading life sciences research."
The report highlights three reasons why incorporating EDI is essential in clinical trials:
It leads to improved health for all communities, as UK clinical trials often fail to reflect the full diversity of the population.
It produces more robust data demonstrating more clearly either the universal benefit of a drug or treatment, or its differential effect in different communities.
It creates jobs, boosts local economies, and supports the life sciences sector as a key strategic pillar in the UK economy.
In order to embed EDI in clinical trials, the report calls for action at all levels of the life sciences research ecosystem, from funders and regulators, through companies and research teams, to individual researchers and into communities. It lays out specific recommendations to foster a clinical research culture in which EDI is the default.
Recommendations include embedding EDI in review and approval processes for clinical trials; a greater recognition of the commercial benefit of diversity in clinical trials, in order to fully close the gap between commercial and clinical priorities; and for measures which support increased diversity among the clinicians and research teams who design and implement studies. This can have a profound impact on the diversity of those studies.
Neelam Patel, CEO of MedCity and report co-author, said: "The UK has all the ingredients to deliver the most inclusive trials in the world, and EDI is an essential part of making UK life sciences stronger. It builds trust, it benefits the health of people from a wider range of communities, and it makes financial sense. It's good for everyone."
Read the full report and recommendations to understand how EDI can help the UK re-establish its global leadership in clinical trials, and ensure more patients can access the best treatments.
This article was adapted from a press release from MedCity.