25th July 2023
Appeal to build The Fleming Centre is launched, with HRH Prince William announced as Patron
Imperial College Healthcare NHS Trust and Imperial College London have today launched an appeal to build The Fleming Centre, which will drive a global movement to tackle antimicrobial resistance.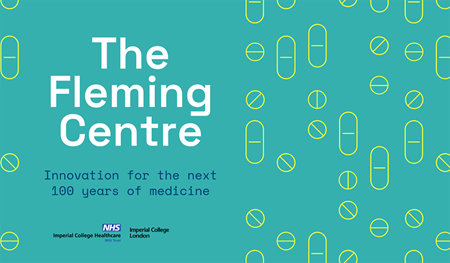 Due to open in 2028, the Centre will be based at the historic St Mary's Hospital in Paddington, London. His Royal Highness Prince William, The Prince of Wales will be Patron of the appeal.
The opening of the Centre in 2028 will mark a century since the discovery of penicillin, the first antibiotic, by Sir Alexander Fleming in 1928 at St Mary's. Fleming's original Laboratory is still housed there.
Antimicrobial resistance (AMR) is an urgent global public health threat. AMR already kills over one million people around the world each year, and is a growing challenge in treating infections such at tuberculosis.
It has been caused in part by the widespread misuse and overuse of antibiotics and other antimicrobials, in humans and livestock, which has led to the global spread of drug-resistant microbes. If the problem is not resolved, it is estimated that by 2050, drug-resistant microbes will lead to around ten million deaths per year.
In order to effectively tackle AMR, global awareness and behaviour change is needed alongside rapid scientific advances. The aim of The Fleming Centre– is to put society at the heart of solving this problem.
Professor Tim Orchard, chief executive of Imperial College Healthcare NHS Trust, said: "I'm delighted that Prince William has become Patron of the appeal to create The Fleming Centre. This is a hugely important initiative that will help to tackle one of the biggest challenges facing our healthcare system.
"St Mary's Hospital is a site of many medical breakthroughs, including the discovery of penicillin by Sir Alexander Fleming almost a century ago. Alongside our partners at Imperial College London, we are proud to be continuing this legacy with this world-leading centre.
"The Fleming Centre is also a key part of our Paddington Life Sciences development, which aims to create a thriving ecosystem for life sciences research and innovation in London. It will be a major asset for the UK and make a real difference to the global fight against antimicrobial resistance."
Chaired by Professor the Lord Darzi of Denham, the Fleming Centre will combine cutting edge research, public engagement, and work with policymakers to drive a global change. It will deliver both research programmes and public exhibitions and engagement activities to educate, inspire and take action. It will convene diverse global voices and build consensus for change.
Professor the Lord Darzi of Denham, Chair of the Fleming Initiative, said: "At the Fleming Centre, Imperial College London and Imperial College Healthcare NHS Trust are driving solutions to antimicrobial resistance that are co-designed with patients, the public and policy makers and underpinned by a rich and diverse evidence base. We are making behavioural science and public involvement the cornerstones of the radical change that's needed to influence individual behaviour and policy decisions."
At the Centre, scientists will work alongside patients, members of the public and policy makers to scope, test and scale solutions, so that antimicrobials can continue to keep the world safe.The ambition is that this transformative approach will act as a blueprint which can be shared and adapted to local contexts around the globe.
As Patron of the appeal to build the Centre, Prince William will support efforts over the next five years to make these ambitious plans to overcome global AMR a reality.
Find out more about the Fleming Centre.