24 October 2023
Swiss MedTech startups visit Paddington Life Sciences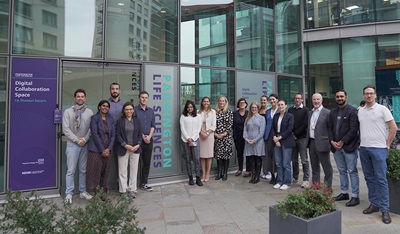 Paddington Life Sciences hosted 10 Swiss MedTech startups last week as part of a visit organised jointly by the Swiss Embassy London and the Department for Business and Trade, British Embassy Berne.
The aim of the UK inward mission for the Swiss startups was to provide the group with an insight into research collaboration with academia and running clinical studies in an NHS setting.
The group also visited Takeda UK, a member of Paddington Life Sciences Partners, to hear from Vanessa Ohlmeyer (Head of Medical Affairs, Oncology, Takeda UK) on clinical trials from an industry perspective.
Dr Suki Balendra who led the Paddington Life Sciences part of the visit, said: "We were delighted to welcome the Swiss medtech startups to Paddington. The delegation met some of our senior leadership across Imperial Healthcare NHS Trust and Imperial College London to provide an insight in running clinical studies in an NHS setting. Our partner Takeda hosted part of the visit and was a huge privilege to meet some of the team."
Professor Mark Thursz, Director of Research at Imperial College Healthcare NHS Trust and Head of NIHR Imperial BRC; Dr Paul Craven, Head of Research Operations; and Dr Sophie Molloy Consultant Neurologist also took part in the visit by sharing their expertise in clinical trials.
Helen Stubbs Pugin, Department for Business and Trade senior inward investment officer at the British Embassy Berne, said: "This was a great opportunity for our Swiss medtech startups to see how quickly this exciting area near St Mary's hospital is developing, and witness the depth of expertise at Imperial College Healthcare NHS Trust."
As well as visiting Paddington Life Sciences and Takeda, the three-day programme for the mission included the ABHI Conference in London, Leeds Innovation Pop-Up at Leeds General Infirmary, and Nexus at the University of Leeds.