22nd February 2023
Imperial College Healthcare opens new digital collaboration space to boost health data-enabled research as part of Paddington Life Sciences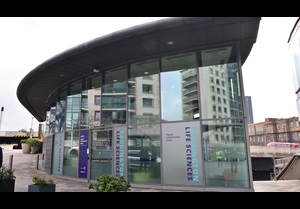 Imperial College Healthcare NHS Trust has opened the first new initiative within its Paddington Life Sciences development – a dedicated Digital Collaboration Space.

The space, next to St Mary's Hospital, houses the digital health team from the National Institute for Health and Care Research (NIHR) Imperial Biomedical Research Centre, a partnership between the Trust and Imperial College London. They provide state-of-the-art management and analysis of the huge amount of health data routinely collected across Imperial College Healthcare's five hospitals and collaborate with the wider North West London Integrated Care System on a complementary data set from our diverse population of 2.4 million people. The team is also using the facility to encourage and host research collaborations between clinicians, academics, data scientists and partners from industry and local communities.
Imperial College Healthcare launched its vision for a new life sciences cluster in Paddington in September 2022. Paddington Life Sciences aims to maximise local and global benefits of NHS, research, industry and community partnerships centred around St Mary's Hospital. The Digital Collaboration Space is an important part of the vision and its development was supported by a significant contribution from the Imperial Health Charity.
The NIHR Imperial BRC digital health team provides secure and managed access to de-identified NHS data. Specialist data scientists curate and organise complex, mixed data sets to answer research questions as effectively as possible. They can also build understanding of how clinical staff use new digital tools which is important for testing and evaluating their effectiveness. Access to the data is carefully governed and is only granted for research that has a direct public health or care benefit. A recent study using real-world clinical data from more than 250,000 patients admitted to hospital with a suspected heart attack found that a simple blood test measuring levels of a protein linked to inflammation would better identify those at high risk of dying within three years, opening the door to more targeted treatment for heart attack patients. The digital health team has also demonstrated that it can provide population health data monitoring across the 2.4 million north west London citizens in close to real-time, with the potential to improve diagnosis of conditions such as side effects from vaccines.

Dr Erik Mayer, NIHR Imperial BRC digital health team leader, said: "There is increasing demand for health data-enabled research but the challenge for researchers, clinicians and industry is how to navigate the NHS data sets available and at a speed that helps us rapidly to translate research into better care. Through our new Digital Collaboration Space, we want to build awareness and understanding of the power of data to improve health and healthcare, bringing in additional funds and ideas to create even more benefit for patients.

"Using real-world evidence from clinical settings ensures our research has direct relevance to the health needs of our communities. We can also tap into the extensive clinical research trial capacity of the North West London Clinical Research Alliance, within which Imperial College Healthcare has the highest patient recruitment to research trials. We are committed to increasing diversity and inclusion in clinical research, and in particular how digital tools can help facilitate this.
"What underpins all this work is instilling public confidence that personal data is protected which is why we only use completely anonymised data within our Secure Data Environment (SDE) and work closely with patient groups on scrutinising research projects. We also collaborate closely with patient groups to ensure we're responding to the most pressing local health needs, such as respiratory disease, infection, pregnancy and premature births, and cancer. "

Professor Tim Orchard, Imperial College Healthcare's chief executive, said, "Our hospitals have a long track record in research and innovation. As we embark on our biggest ever BRC five-year funding programme, we are now entering into a new era of discovery, powered by data and collaboration. We undertake hundreds of clinical trials and gather data from well over a million patient contacts each year. We are also deepening our relationships with local communities and organisations across the diverse population of north west London. The new Digital Collaboration Space, and Paddington Life Sciences more widely, are enabling us to improve not just healthcare but also health and wellbeing, creating synergies that will boost education, skills development and employment opportunities in some of the most deprived areas of the UK."

The Digital Collaboration Space is the first of three initiatives planned for the first phase of the Paddington Life Sciences development. Work continues on the creation of a new centre for clinical infection - a specialist clinical and translational research facility to complement Imperial College London's new Institute of Infection - and the establishment of Paddington Life Sciences Partners, bringing together NHS, academic, local authority and life sciences industry partners with a commitment to the area to help ensure the delivery of major social, health and commercial value as quickly as possible.

For the longer term, the Trust is progressing a full redevelopment of the St Mary's estate as part of the Government's new hospital programme. As well as delivering a new, state-of-the-art hospital, the redevelopment is intended to create an additional 1.5 million square feet of mixed-use commercial and lab space for life sciences businesses to start, develop and grow, as well as creating around 14,000 high quality new jobs.