Prepare for your inpatient stay by following our easy guide.
Inpatients
Click on the links to find the information you need:
| | | |
| --- | --- | --- |
| Before your stay | During your stay | After your stay |
You may need to stay at one of our hospitals to have a procedure or receive treatment, either overnight as an inpatient or during the day as a day patient. If your stay is planned you will receive a letter with the date you need to come to hospital (your admission date). If you have any questions about your admission date, please call the phone number on your letter.
If you need to cancel or rearrange your admission date please let us know as soon as possible by calling the number on your admission letter in the first instance. Alternatively you can call 020 3311 6611 or email admissions@imperial.nhs.uk. Our opening times are 8.00 to 20.00, Monday to Friday. We will try to arrange a new date, which is convenient for you.
Please do let us know as soon as possible if you can't make the date you've been given, or if a change in your circumstances means you need to cancel your stay. The sooner we hear from you, the greater the chance we can offer your slot to another patient and find a more suitable date for you.
If you don't contact us to change your admission date, it may affect your position on our waiting list and the date you receive treatment. If we don't hear from you, we may refer you back to your GP.
You have the right to start your treatment within a maximum of 18 weeks of being referred by your GP, unless you choose to wait longer or there are clinical reasons for you needing to wait longer. Some urgent procedures will happen sooner than this.

We make every effort to ensure procedures are carried out on time and on the date we scheduled with you. When we experience a high demand for our services, or when we have an emergency patient who takes priority, we may need to delay or reschedule your procedure. When this happens we will try to give you as much notice as we can and to make sure you receive the treatment that was planned within the next 28 days. We will call you to arrange a new admission date and send you a letter to confirm the details. If you have any questions, please call the number on your original admission letter.
Please read your admission letter carefully. It will give you advice on any instructions you need to follow before you are admitted. You may be asked to stop eating or drinking before your admission.

If you have been told to fast before coming to hospital, you will need to stop eating six hours before you admission time. You can continue to drink still, clear liquids until two hours before your appointment time.

If you take insulin because of diabetes you'll still need to avoid eating and drinking before surgery,but make sure your medical team is aware of your condition, so appropriate precautions can be taken.

Young babies who are breast-fed need to stop feeding four hours before they are admitted to hospital. Bottle-feed babies should stop feeding six hours before.

If you are coming to hospital to have a day case or inpatient surgical procedure, you will need to attend a pre-assessment appointment with a nurse before your operation. This may involve a hospital visit and usually takes place in the weeks or days before your admission date, and usually no later than a couple of days before your admission date.

If you do not attend your pre-assessment appointment, your surgery may be delayed, or you may be referred back to your GP until you are ready for surgery.

We will call you to arrange your pre-operative assessment. Your appointment will take 30-45 minutes and you'll be given a fixed time. Alternatively, when you come to your outpatient appointment and we discuss your operation with you, we will give you the option to attend a walk-in pre-operative assessment clinic that day.

The purpose of the pre-operative assessment is to find out more about your current health and medical history, and to conduct any tests we need to complete before your operation, like blood tests or MRSA screening.

During your assessment, we will ask you questions and it would be helpful if you could bring with you:
Your appointment letter
A list of all medications you are currently taking, including complementary medicine. Please tell us how often you take the medication and the dose you take
Any test results or information about other medical conditions you may have, or operations you've had before
During your assessment we'll aim to give you all the information you need and reassure you about your upcoming surgery. We'll let you know:
Whether you need to fast, i.e. stop eating or drinking, in the hours before your operation
Whether you should continue to take your normal medication before or after the operation
What to expect on the day you are admitted to hospital and how long we think you'll stay in hospital for
You may also see an anaesthetist during your pre-assessment appointment. Otherwise, your anaesthetist will visit you on the ward once you've been admitted or, if you are coming to hospital for day surgery, just before your operation
the pre-assessment clinic at Charing Cross and St Mary's hospitals
If you are coming to stay in hospital either overnight or as a day patient, please bring with you:
Your address and phone number
Your admission letter and appointment card
The name, address and phone number of your GP
A list of any medication you are taking, including non-prescription medicines and inhalers
Up-to-date details of your next of kin or emergency contact details
Payment for any prescriptions, or an exemption card
Pyjamas, toiletries and a towel if you are staying overnight
You may also want to bring:
Casual, loose-fitting clothes
Underwear, a dressing gown and slippers
A toothbrush, toothpaste and soap, bath towel, facecloth, tissues
A hairbrush or comb
Any glasses, hearing aids or dentures that you wear
Manual or cordless razor and shaving foam
A small amount of money for the hospital shop and for phones
Contact phone numbers for your relatives, friends and carers
Things to do, such as reading material, writing material, a personal music player (must be used with headphones)
Please don't bring:
Valuables or large sums of money
Large items - you will only have a small bedside cupboard to store your belongings in
An alarm clock - this may disturb other patients
We advise giving yourself plenty of time to get to hospital and to find where you need to go.
Do you need an interpreter?
If you need a foreign language interpreter or sign language interpreter, please contact us directly at least 48 hours before your admission on 020 3311 7697, or by emailing: imperial.interpreting@nhs.net.


Disabled access
Many of our buildings have disabled access and disabled accessible toilet facilities. Please view the maps/location information for each of our sites for more information. If you require a wheelchair, we will book for a porter to come and collect you when you arrive at our hospital reception.


Learning disabled patients
We advise all patients with learning disabilities to bring a carer or friend with them to their pre-assessment appointment and on the day of their admission.


If you need a chaperone
You are welcome to bring a chaperone with you to your appointment. Any intimate examinations you might have as part of your stay in hospital will automatically be chaperoned. If you request a chaperone, we will do our best to accommodate your request.
If you have had vomiting or diarrhoea, a cough, cold or skin infection in the past three days, please contact the number on your admission letter or call the ward where you are due to be admitted.
When you arrive at the hospital, please go straight to the ward or location indicated in your admission letter and let a member of staff know you have arrived. Our staff will check some of your details, such as your home address and next of kin. You'll be asked to complete some paperwork and receive an identity bracelet with your name on, which you need to wear at all times while you are in hospital.
Tell staff if you are taking medication or if you have brought any medication with you to hospital. If you need any special assistance while in hospital, let staff know or call the ward where you are being admitted in advance.
We want you to have a safe and comfortable a stay with us. Unfortunately accidents sometimes happen in hospital, so for your safety we'd ask you to follow these eight, simple guidelines:
Download pDF version of the guidelines
All of our staff wear name badges and will introduce themselves to you when they are involved in your care.
Doctors
During your stay with us, a consultant (senior doctor), will have overall responsibility for your care. A doctor will usually examine you and talk through your medical history, and you will be introduced to a nurse who will look after you on the ward or unit where you are staying.
You will see a doctor during their daily ward round and this is a good opportunity to ask questions about your condition or the procedure or treatment you are having.
If you feel particularly strongly about seeing a female or male doctor, please let one of the staff on the ward know.
Nurses and midwives
Each ward is managed by a ward sister or charge nurse who wears a blue uniform. Groups of wards are supervised by senior nurses called matrons who wear a maroon coloured uniform. Nurses on our wards work in shifts and you'll have a named nurse for every shift who'll introduce themselves to you. If you are pregnant and your pregnancy is uncomplicated, you will be looked after by a midwife. You may also meet other healthcare professionals such as healthcare support workers, physiotherapists and radiologists.
Medical students
Some of our hospitals are teaching hospitals. This means that doctors teach medical students on the wards and in our clinics. If you would prefer not to have medical students present during your procedure or during your discussions with your consultant or nurse, please inform a member of staff.
Before the procedure, your doctor will explain what it involves and answer any questions you may have. You will then be asked for your consent. If you do not understand what you are being told, let the doctor know so they can clarify. No medical treatment will be given without your consent.
Everyone working for the NHS has a legal duty to maintain patient confidentiality. Information about you and your care is kept strictly confidential. Further information can be found here:
Your friends and family are welcome to visit you on the ward at specific times of the day.
You will usually be cared for on a ward specialising in the treatment of the condition or illness you have.

Wards are made up of separate bays and we will make sure that everyone in your bay is the same sex as you, although there may be both male and female patients staying on the same ward. There are separate bathrooms for men and women, and there are curtains around each bed to ensure your privacy.

If you need to have a test or procedure, we will provide you with hospital gowns and make sure your privacy and dignity is protected at all times.

The daily schedule varies from ward to ward. A day on the ward will usually begin early, as many patients have to receive treatment or medication. Breakfast is often served from 8.00.

If you have any questions about your ward or special requests, speak to the ward sister or charge nurse who manages the ward.
how we are making sure patients stay in same sex accommodation
We screen all our patients for MRSA either before or within 24 hours of their admission to hospital. We can find out if you are carrying MRSA by taking a sample, using a swab, from your skin (generally the groin) and inside of your nose. A swab is like a cotton bud that is placed on the area to be tested. The test is painless and only takes a few seconds to complete.
We will provide you with a cupboard next to your bed for your personal belongings. Cupboards do not have a lock so we don't recommend using them for valuables or large sums of money.
Meals are provided free of charge. All our hospitals cater for a variety of dietary and cultural requirements, such as vegetarian, vegan, halal and kosher. Please let our ward staff know if you have any special dietary requirements.
Meal times
Meals are served at the following times:
Breakfast: 08.00 to 09.00
Lunch: 12.30 to 13.30
Evening meal: 17.45 to 18.45
In between meals, drinks are served at approximately 10.15, 15.00 and 18.30, and include tea, coffee, Horlicks, hot chocolate, milk and squash. Snacks, such as fruit, cakes and biscuits, are offered twice daily at 10.15 and 15.00.
Menus
Each patient has a copy of the standard and cultural menus at their bedside. Depending on the ward where you are staying you will have the option of two standard menus:
A la carte menu: a main menu where you can choose from a selection of 19 hot main dishes at each meal, alongside a range of salads and sandwiches
Alongside the standard menus, we provide halal, kosher, Asian and African Caribbean menus. We also offer vegetarian, vegan, gluten-free and allergen free meals, alongside low fibre and low fat meals.
Missed a meal?
Snack boxes are available for patients who have missed a meal because of treatment or tests or have been admitted or transferred and have not had the opportunity to eat. Speak to the ward sister or charge nurse if you have missed a meal. Details of the contents of snack boxes can be found in our menu.
Protected meal times
We operate a protected meal time policy on the ward, which means we encourage patients to eat their meals without disruption and we ask visitors not to come onto the wards at meal times. This allows patients to eat their meals calmly and without interruption and enables staff to focus on assisting patients who are not able to eat independently. Visitors are welcome at meal times to assist patients who need help with eating following agreement with the ward sister or charge nurse.
Need extra help at meal times?
If you need extra help at meal times please let a member of the nursing staff know. For example, you may need help:
choosing a suitable meal for your dietary requirements
cutting up your food
eating
Food brought in from home
For dietary and food safety reasons relatives and other visitors are discouraged from bringing temperature-sensitive food to the hospital for patients to consume.

Please discuss any special circumstances with a member of nursing staff in advance before bringing food onto the ward. Hospital staff are not permitted to reheat any food brought onto the ward and there is no obligation for our staff to store any food you have brought in. If we do agree to do this for you, please label the food with the patient's name, a description of the food and the date the food was brought in. All food stored will be disposed of after a 24-hour period.
We encourage all patients to wash their hands before eating. Please ask a member of staff if you need any assistance. A hand wipe will also be provided on your meal tray.
Charing Cross, Hammersmith and Queen Charlotte's & Chelsea hospitals:
Televisions are available in patient common rooms.
St Mary's Hospital:
Many wards have access to bedside television, radio and phone facilities, provided by Hospedia. There is a charge to access these services and you need to register to use them via the Hospedia website or by calling 087 0212 1234.
Once you've registered with Hospedia, radio is free as are all calls to BT landlines. However, calls to other landlines and mobiles cost between 25p and 30p a minute. Incoming calls are also charged for at a higher rate of 40p to 50p a minute depending on whether the call is made from a landline or mobile phone.
The cost of accessing TV and films depends on which package you choose. A day package costs £10 for 24 hours and can include up to 29 TV channels and 80 different films. A monthly package costs £75.
Western Eye Hospital:
Staff have a limited number of radios and audio cassettes that patients can borrow during their stay.
There are two main wifi options while you are in hospital:
WifiSPARK_FREE

–

our free wifi service which will allow you to browse the internet and use email, but you won't be able to access or stream video or audio content.
WifiSPARK_Premium – our premium wifi will allow you to access high-speed content including video and audio streaming in addition to web browsing and emails. Payment is required, please see price list below.
| | |
| --- | --- |
| Time | Cost |
| 4 hours | £4.50 |
| 24 hours | £7.50 |
| 1 week | £14.50 |
| 1 month | £19.50 |
| 6 months | £110 |
| 1 year | £198 |
Wifi support
Wifi is provided by Wifi Spark. If you have any problems accessing our free or premium wifi service, please call Wifi Spark on their 24/7 support telephone line 034 4848 9555.
Please note wifi is only available inside Trust buildings.
Smoking is not permitted at any of our hospitals or in the grounds.
Alcohol is not permitted at any of our hospitals. If a patient is found with alcohol or illegal drugs, we reserve the right to withhold treatment. For illegal drugs we will also immediately inform the police.
We have a team of chaplains, and multi-faith representatives who can provide you with spiritual, emotional and pastoral support and advice.
You will stay on a specialist, acute ward while you are acutely ill or having an operation. Once you are recovering and no longer need acute care, you may be moved to another ward where you can focus on getting better and preparing to go home. The recovery ward you move to will be in the same hospital or in another hospital within our Trust. Moving wards means you'll be in the best environment to recover. It allows us to free up an acute hospital bed for another seriously ill patient who needs urgent treatment or surgery.
Recovery wards

Rehabilitation for Trust surgical patients at Albert ward, St Mary's
Albert ward is for patients who have just had surgery at one of Imperial College Healthcare's hospitals – St Mary's, Charing Cross or Hammersmith – and need a period of recovery and/or rehabilitation before they go home. You may stay on Albert ward at St Mary's Hospital for a few days or weeks to help you recover and prepare to leave hospital.
Contact Albert ward


Rehabilitation for Trust medical patients at Lady Skinner ward, Charing Cross
Lady Skinner ward is for patients who have just had medical inpatient care at one of Imperial College Healthcare's hospitals – St Mary's, Charing Cross or Hammersmith – and need a period of recovery and/or rehabilitation before they go home. You may stay on Lady Skinner ward at St Mary's Hospital for a few days or weeks to help you recover and prepare to leave hospital.
CONTACT LADY SKINNER WARD
When you are well enough to return home, we will talk to you, your family, friends or carer about your arrangements for leaving hospital. We will give you an estimated date for your discharge from hospital so you can begin making plans. Sometimes this date changes depending on your condition or treatment, and if this happens we'll talk to you about it.
Once you have an estimated date for your discharge from hospital, you will need to make arrangements to travel home. You may need to ask a friend, relative or carer to collect you from hospital. Some patients are eligible to use hospital transport – find out more here.

We have specialist discharge teams at each of our five hospitals, available seven days a week to support patients who are being discharged from hospital. The discharge team can support with organising:

• Transport home
• Medication
• Follow-up care from the hospital or community services
• Social care

Our discharge teams look after the care of patients who have complex needs to make sure all the arrangements are in place to support their discharge.
At Charing Cross and St Mary's hospitals we provide discharge lounges, run by nurses, to provide you with a safe and comfortable environment to wait on your day of discharge for medication, patient transport or to be picked up by your family. There are refreshments in our discharge lounges and nurses there to support you up until you have been discharged. A nurse from the discharge lounge will meet you on the ward and make sure you know you are coming to the lounge. They will make sure you have all your belongings and, if needed, contact your relatives and friends and let them know you're being discharged.
If your doctor decides you need to take any medication after you have been discharged, the ward and pharmacy staff will give it to you before you leave. They will discuss your medication with you and any possible side effects.
Your discharge summary
When you are discharged, you'll be given a paper summary of the care you've received with us, the results of any tests you've had, and any medication you've been prescribed. We will send a copy of your summary electronically to your GP so they have an updated record of your condition and care, which will help them plan any follow up care you need. Your GP will be able to give you any further prescriptions of medication you need. Please contact your GP before your medication runs out and ask for a new prescription.
Many people need extra help from community social services or their local authority when they leave hospital. Before you leave hospital, a social worker or care manager may carry out an assessment of your needs – asking you about yourself and what you may need support with once you are discharged. The hospital ward staff or a member of our discharge team will liaise with social services or local community services on your behalf to put arrangements in place for when you leave hospital.
Feedback, compliments and complaints Read more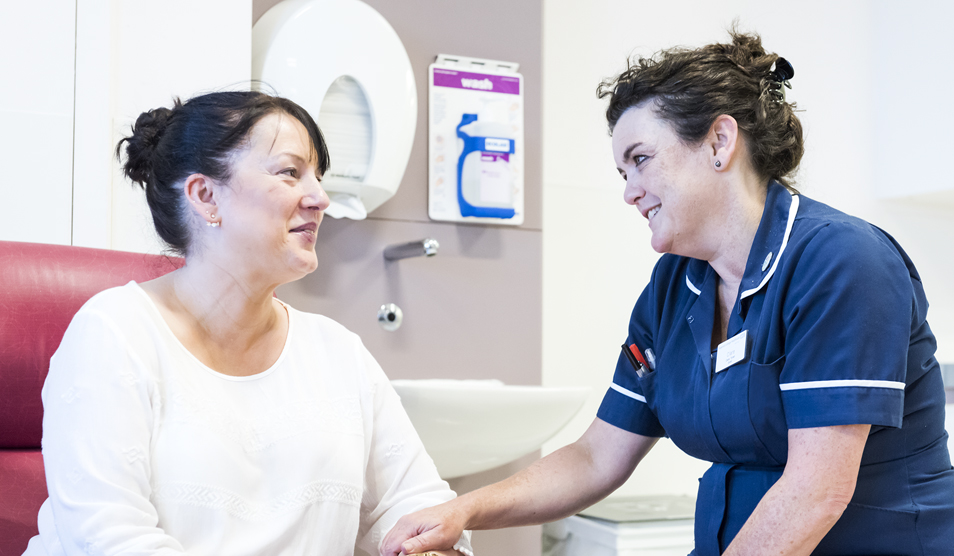 Tell us about your positive experiences and raise your concerns to help us to make improvements to our services. You can feedback by: