If you've had a positive experience with one of our members of staff who has made a difference to your time in hospital, you can nominate them for an award.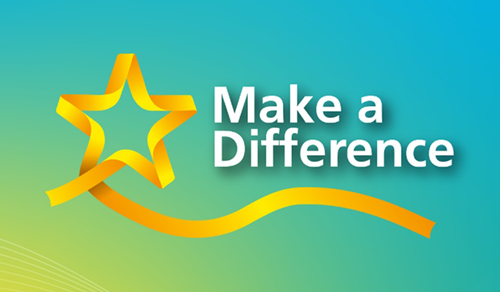 'Make a Difference' is our staff recognition scheme. It rewards the hard work, dedication and achievements of those individuals that go out of their way to exceed your expectations. So if someone's made a difference to you, why not show them!
Instant recognition awards
If you nominate one of our staff for an instant recognition award, we'll tell the nominee's manager who'll give a personalised thank you card to the winner and a badge they can wear at work to show they've been recognised. The winner will receive their card and badge as soon as possible after you've nominated them. Usually the winner's manager will do a short speech in front of their team about the nomination and the contribution the individual has made. We'll make sure each winner feels valued and your nomination will help us to reinforce positive behaviours at work.
Why nominate someone
There are lots of reasons why you might nominate someone. For example, you may notice your nominee has a great rapport with patients or visitors, or that he or she is supportive and kind to their colleagues. You may feel your visit or stay in hospital was improved by the personal care this person provided to you. Or you may notice how your nominee takes particular pride in their job, or visibly wants to exceed the expectations of those around them. Whatever it is that makes one of our staff special to you, we want to hear about it.
How to make a nomination
The Make a Difference award scheme is funded by Imperial Health Charity. If you have any comments or feedback on our recognition scheme please email: imperial.MakeADifference@nhs.net