Contact
General Enquiries

020 3312 1225
Visitor Information
Visiting restrictions are in place. Please call the ward to find out more. Find your hospital ward contact information:
Monkeypox - Update and advice (31 August 2022)
Recent reports show that there continue to be confirmed cases of Monkeypox infections in the UK, although the current risk to the general population is low.
Please inform the service immediately on arrival (at the reception desk) if any of below apply to you:
You are a man or transwoman who has sex with men and have had these symptoms in the last 3 weeks: a new rash on any part of your body, a fever, any new lumps in your neck, groin or under your arms (swollen lymph nodes), an intense headache or muscle aches
You've been in close contact with someone who has Monkeypox in the last 3 weeks
You have confirmed Monkeypox
You've returned from West or Central Africa in the last 3 weeks and have any of the symptoms above
Photos showing the different stages of Monkeypox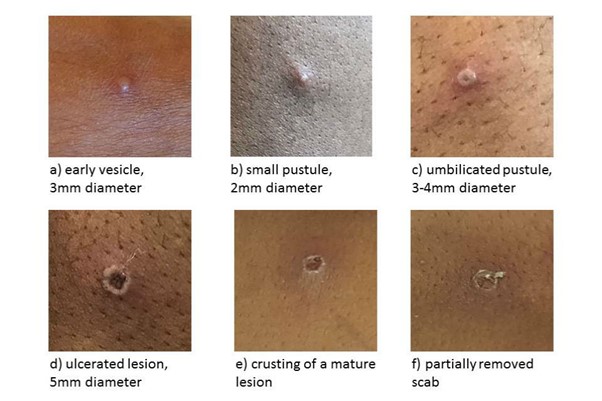 Monkeypox does not spread easily between people. Person-to-person spread may occur through:
Direct contact with the skin lesions or scabs.
Contact with clothing or linens (such as bedding or towels) that have been used by an infected person.
Breathing in droplets from the coughing or sneezing of someone who has a monkeypox rash.
Can I get a vaccination for Monkeypox:
People who are at highest risk for monkeypox infection can be vaccinated at the service, but must meet the following criteria to be eligible:
Gay, bisexual or other men who have sex with men or transwomen who have sex with men AND one or more of below:
More than 5 sex partners or sex in a sauna, sex club or other sex premises in the last year
Chlamydia (or LGV), gonorrhoea or syphilis in the last year
On PrEP
If you meet any of the above criteria, please visit pad.millsystems.com to register an account and make an appointment.
Coronavirus update for sexual health services
We're making changes to our sexual health and HIV services to help respond to coronavirus and protect our patients, staff and visitors. Learn more on our sexual health page.
About PROUD@JW
The PROUD@JW is a free confidential sexual health service, which provides sexual health testing and treatment for all members of the LGBTQ+ community and anyone requiring PrEP.
The PROUD@JW clinic offers the following services:
Rapid HIV testing with results within five minutes
Testing and treatment of sexually transmitted infections
Post-exposure prophylaxis for HIV (PEP)
Pre-exposure prophylaxis (PrEP) support, advice and provision
Hepatitis A and B vaccinations
Human papillomavirus (HPV) vaccinations
Safe sex advice
Chemsex advice and support
Free condoms
Initial assessment and signposting for sexual function issues
Proud clinic is for members of the LGBTQ+ community who are experiencing symptoms, need treatment or vaccinations – book here
Click clinic is for patients already receiving PrEP from the Jefferiss wing and require a repeat prescription – book here
If you are not experiencing symptoms and do not require PrEP
If you are not experiencing symptoms and don't need PEP or PrEP advice, you can get an online sexual health check-up with Sexual Health London. If you live in a borough where the Sexual Health London service is not available, you can find your local service either through SH24 or the NHS website.
How to book appointments
If you are already registered with the Jefferiss Wing, call us on 0203 312 1225 to ensure we have an up-to-date email address so your records can be linked.
The Proud clinic runs daily except Monday, for those experiencing symptoms, wishing to start PrEP @ Jefferiss wing, need treatment or vaccinations. Please book an appointment online, if no on-line appointments available call us on 0203 312 1225
Follow our 5 easy steps for online bookings:
Login and register here
Click on the link in your registration email and enter the code you receive by text to activate your account
You need to review and update your account details to allow you to make a booking
Then "Make New Appointment" by selecting the Sexual health button
Select appointment required Proud or click
If you need advice about what type of appointment to book please us on 0203 312 1225.
If you are having trouble registering, please read the step by step guide.
If you cannot see a green bar to select your appointment type, this is because there is no availability.
Please check again. Appointments are released on a daily basis.
Pre-Exposure Prophylaxis (PrEP)
Pre-Exposure Prophylaxis (PrEP) is medication that people who are at very high risk of catching HIV can take to prevent HIV and is now available on the NHS.
Depending on the type of sex you have and your medical history there are different ways that you can take PrEP, and it is extremely effective when taken correctly.
Not everyone can take PrEP, for example people who are not at very high risk for HIV or who are already living with HIV.
It is important to remember that PrEP will not protect you against the other sexually transmitted infections (STIs) such as gonorrhoea or syphilis.
People who take PrEP are recommended to have 3-monthly check-ups for STIs and regular kidney function checks.
You can read more about PrEP here.
If you would like to find out more about PrEP, discuss starting PrEP, or be monitored while taking PrEP, please book an appointment online or call 0203 312 1225 to arrange to speak to one of the team.
If you are experiencing symptoms
If you are a member of the LGBTQ+ community and are experiencing symptoms, need treatment or vaccinations, please book an appointment online or call us on 0203 312 1225.
Contact details
Address
PROUD@JW clinic
First floor
Jefferiss Wing
Praed Street
St Mary's Hospital
London W2 1NY
Contact
020 3312 1225
Hours
This clinic is on:
Tuesdays 13.00 to 16.00
Wednesdays 17.00 to 19.10
Fridays 09.00 to12.00
What to expect at your appointment
When you arrive please check in at the reception on the ground floor who will direct you to the appropriate waiting area. If you are a new patient you will be asked to complete a short registration form.
You will receive some results during your visit and any others will be sent via a text message within a week.
Referrals
Entry to the clinic is by self-referral through the online booking service or telephone number above.