Find out what to expect from your maternity care at Imperial College Healthcare NHS Trust with our list of maternity frequently asked questions.
Your maternity care at Imperial College Healthcare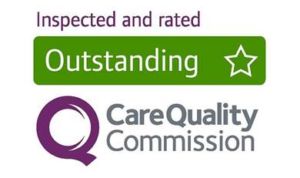 Thank you for choosing Imperial College Healthcare NHS Trust for your pregnancy care. We provide care for women planning to have their babies at both St Mary's and Queen Charlotte's & Chelsea hospitals.
Our most recent inspection by the Care Quality Commission, published July 2019, rated our maternity service at Queen Charlotte's & Chelsea and St Mary's hospitals as 'outstanding', the first such rating for a maternity service in London.

On this page, you'll learn more about using our maternity services — where to go for your appointments, how you check in, and what to do if you are experiencing pain or are concerned about your symptoms.
If English is not your first language, scroll to the bottom of this page and select your preferred language from the Google Translate menu on the right-hand side.
Where do I go for my first midwife appointment?
Your appointment letter gives you the address of the clinic that you should attend. Your appointment will be held at one of the following locations:
I have had some bleeding or I've been experiencing pain. What should I do?
You shouldn't wait for your first midwife appointment to report this as the midwife will not be able to scan you during the appointment. You need to see your GP to be referred to the early pregnancy department for a scan. If you cannot see your GP, or you are bleeding heavily or experiencing pain, you should attend an urgent care centre or A&E. They can also refer you to the early pregnancy department.
Visit our women in labour page to find out what to do if you think you might be in labour.
What is the check-in process when I arrive for my appointments?
When you arrive at the clinic, please let the reception staff know. If you are attending appointments in the hospital, you can use the self check-in kiosks when you arrive.

If you would like online access to results, appointments and letters from Imperial College Healthcare through our secure patient portal, the Care Information Exchange, please provide your email address and mobile number when you check in at the kiosk. Visit the Care Information Exchange's website to learn more.
What happens if I am running late?
We might not be able to see you if you arrive more than 15 minutes late for an appointment, as this might impact on other women in the clinic.
How long will appointments take?
The first midwife appointment takes about one hour. Follow-up appointments take about 20-30 minutes. Sometimes, we may need extra time to explain procedures or answer any questions you have. If women booked in before you have extra questions or more complicated needs, their appointments might run over time so you might have to wait longer to be seen. We are grateful for your patience.
Does my partner need to come?
You do not need to bring your partner to any appointments but they, or friends/relatives, are very welcome to join you if you want them to. The important thing is that you feel comfortable and emotionally supported.
When will I have a scan?
You will typically have a scan between 10 to 14 weeks, and a second scan at around 20-21 weeks. More information on the scans is available in the Public Health England's Screening tests for you and your baby leaflet.
How do I know when my next appointment is?
Your next appointment will usually be a first trimester ultrasound scan appointment, followed by a midwife or doctors' appointment at 16 weeks. The 16-week appointment should be attended without your partner, as this gives you some dedicated time alone with a healthcare professional. If you have more complex medical problems, you may have some extra appointments in addition to the routine appointments. See our antenatal care section for more information.
Why are some appointments in the hospital and some in community or children's centres?
If you live within the Imperial College Healthcare geographical catchment area, you should be seen at a community or children's centre near your home, where it is more convenient for you to attend midwife appointments. If you live outside of the geographical catchment area, you will see a midwife in the hospital's antenatal clinic.

There are exceptions and women who need one-to-one midwife care may be asked to come to the hospital's antenatal clinic to see a named midwife who will look after them throughout their antenatal period.

Appointments with the obstetricians (maternity doctors), ultrasound department, fetal medicine department, obstetric medicine department and the anaesthetic clinic will be in the hospital.
Who will be looking after me during my pregnancy?
Most women will be looked after primarily by midwives. However, there may be times when you may benefit from seeing an obstetrician (maternity doctor). Your midwife will arrange this.
If the midwife would like an opinion from the obstetric team, we will send you an appointment in the doctor-led clinic. This may be in relation to:
medication you are taking
results from any of your tests
how you are feeling
other factors that might need more discussion
You may be offered extra tests after seeing a doctor, have a plan of care made for the rest of your pregnancy and delivery, or be advised to go back to midwife-led care.

You will always be directed to a consultant if there are any complex factors to address.

If you would like to see a doctor for any reason during your pregnancy, please let your midwife know and they will arrange one for you.
Who is the consultant in charge of my care?
You may be assigned a consultant at your first midwife appointment, depending on a) which community team you are associated with or b) your medical history. We would aim for you to then attend this consultant's antenatal clinic if you ever need a doctor's appointment during your pregnancy. Some consultants work in teams and cover for one another, so you may not see the same consultant each time — you may see a member of their team instead.
Where can I find more information about keeping myself healthy during pregnancy?
Our physiotherapists run a healthy pregnancy class aimed at women between 12 to 20 weeks. This class will teach you exercises to help you manage common aches and pains in pregnancy, as well as strengthen your pelvic floor. To book onto the class please phone the therapies administration team on 020 3313 3072 between 08.00 and 16.45 Monday to Friday, or email imperial.womens.physiotherapy@nhs.net
Maternity services across north west London worked together to develop information to support you throughout your pregnancy and after you give birth. These booklets cover your antenatal care, birth options, labour and birth, postnatal care and more. They are available in English, Arabic, Gujarati, Polish and Punjabi — visit Healthier North West London's website to download these resources in the language of your choice.
We recommend the Mum and Baby app for women in north west London, which is available for download on Apple and Android devices — just search 'mum & baby' in your app store. You can also download the north west London Your pregnancy booklet.
The Royal College of Midwives and Royal College of Obstetricians and Gynaecologists also endorse an app called Baby Buddy: www.bestbeginnings.org
How do I change a scan appointment?
Visit our maternity ultrasound section for more information about scans.
What do I do if I cannot speak or understand English?
Our policy is that we must have official interpreters rather than family members or friends to help us communicate with you. Interpreters will either work face-to-face or over the phone. Please visit our outpatients section for more information about our interpreters service.
Is there parking available?
Did you know we also offer private services?
We offer private maternity services at Queen Charlotte's & Chelsea Hospital, and all profits are reinvested in NHS and private services at the Trust. Visit www.imperialprivatehealthcare.co.uk for details.

We also offer private room upgrades for NHS patients – please speak to the maternity team for further information.