This is for patients who have had a transplant and will receive life-long follow-up care.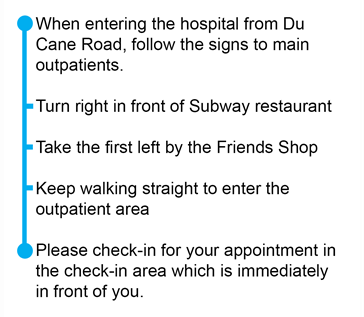 Clinic runs every Monday, Wednesday and Friday at Hammersmith Hospital. This service is now running virtual clinics as well as face-to-face appointments.
Renal Outpatients
Ground Floor
A block
Hammersmith Hospital
Du Cane Road
London W12 0HS

If you need to change your appointment, please call the clinic on 020 3313 8333.
Meet the Transplant Outpatients team
Consultant Nephrologist:
Neill Duncan
Andrew Palmer
Adam McLean
Marina Loucaidou
Rawya Charif
David Thomas
Philip Webster
Emma Salisbury
Marie Condon
Michelle Willicombe
Richard Corbett
Information on diet and exercise