Find out how you can volunteer your time at Imperial College Healthcare.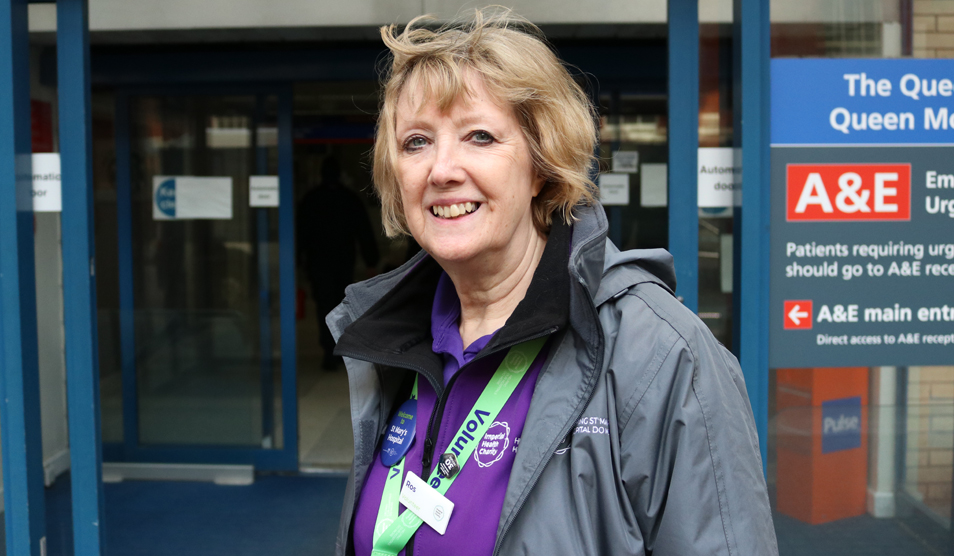 There are several ways you can volunteer to help our hospitals.
Volunteer in our hospitals
Volunteers are a valued part of our NHS family and play an essential role in helping our hospitals do more for patients in our care across the Trust.
Pointing patients in the right direction, assisting staff or offering an ear to listen, volunteers are a helping hand to everyone who visits our hospitals.
Many of our volunteers take part to support their local community or to give back to hospital staff after experiencing outstanding care. Others get involved to develop their personal and professional skills or gain experience in a healthcare environment.
Imperial Health Charity manages volunteering on behalf of the Trust, offering a variety of roles within each of our hospitals. These include helping patients find their way, giving out information and supporting staff and patients on wards.
To find out more about the latest volunteering opportunities in our hospitals, visit Imperial Health Charity's website.
Become a lay partner
At Imperial College Healthcare, a lay partner is a member of a project or programme who regularly attends meetings about strategic issues at the Trust, offers feedback and collaborates with Trust clinicians and managers to implement projects. This includes working in specific services and specialties as well as working on Trust-wide programmes.
Lay partners are asked to commit to attending regular meetings – usually once a month. Meetings are currently held during business hours. We usually distribute some reading materials prior to and following meetings to give you a working knowledge of the project at hand. Lay partners are reimbursed for reasonable travel via public transport.
Lay partners have been involved in:
developing the Trust's membership programme
providing feedback about the development of new services
consulting on the proposed developments at St Mary's Hospital
Registering your interest to be a lay partner
Please find below information on becoming a lay partner.
Before registering to apply to become a lay partner please see our role and expectations framework document for lay partners.
Please note that you must be over 16 to become a lay partner.
Lay partner form (for over 18s)
Lay partner form

(for under 18s)
Once completed please send the form to our email address imperial.involvement@nhs.net. Next step is an informal chat with someone from the involvement team.
Learn more about our patient and public involvement strategy, how we're developing lay partnership, and meet our lay partners.
Training and support
We have introduced a buddy system to support new lay partners, help them become more familiar with the role, Trust and NHS and strengthen our lay partner community. An established lay partner who has been involved in projects will be paired with a new lay partner so they can communicate regularly, share ideas and reflect on experiences. This system enables stronger relationships within the lay partner network and progresses the overall lay partner programme. If you would like to find out more about this please see here.
Give your time from home
If you want to give your time to the Trust but cannot attend regular meetings, consider joining one of our reference groups to provide feedback from home:
Patient communications reference group
The patient communications reference group provides feedback via email about letters to patients, web content and more patient communications.
To find out more or to register your interest in this group please contact imperial.involvement@nhs.net.
Digital reference group
Many of us already use smartphones and computers to stay in touch with friends and family, do the shopping and book holiday. But using this technology to interact with our hospitals is still relatively rare. We are adopting some of these communication methods as part of our correspondence and seek input to get it right.
The digital reference group provides feedback and guidance via email about digital initiatives at the Trust, including the Care Information Exchange.
Our digital reference group gives you the opportunity to influence how we use digital technology in healthcare and how we communicate and engage with our patients.

This group meets face-to-face every three months with virtual communication between meetings.
If you are interested in joining this group, please email Paul Harrison, electronic patient records communications manager.
Keep in touch – receive our e-newsletter Community Matters
You can also sign up for our e-newsletter to find out about news and events at our hospitals and ways to get involved.
Additional opportunities
In addition to the opportunities listed above, there are a number of small patient groups that help shape individual services, as well as some short-term project groups or events that may be of interest to you.
If you are interested in helping shape our services and the way we run our services, but you don't see an opportunity here, email imperial.involvement@nhs.net to register your interest.