Friends of St Mary's Hospital
Friends of St Mary's Hospital is an independent voluntary organisation providing support and raising funds for St Mary's and Western Eye hospitals.
Cafés and shops
Prior to Covid-19, the Friends of St Mary's Hospital ran the hospital's shop on the ground floor of the Queen Elizabeth Queen Mary (QEQM) building and the outpatient café with a mixture of paid staff and volunteers. These services are now run by the Trust and former paid staff have been transferred under the TUPE regulations and continue to welcome and serve staff and visitors.
We are hoping to resume sales of memorabilia and non-food items, such as second-hand books and greetings cards, in the coming months, but a limited range is currently available for online purchase.

Browse merchandise
Current projects and volunteering opportunities
Many fundraising events had to be cancelled during 2020, but we were able hold our annual raffle and to sell Christmas Cards. We hope to re-introduce flag days, book sales and our Annual Christmas Bazaar in 2021.
Membership subscriptions and donation and charity collecting tins in local shops and pubs having continued to boost our finances and have enabled us to make limited grants to wards and departments to improve patient experience. We are very grateful to everyone for their support.
We look forward to restarting our activities and other similar local events resuming in 2021 so that we can continue to support the services at St Mary's and Western Eye hospitals.
How you can help
Volunteering at the Friends of St Mary's Hospital shop and café
Volunteers are recruited through the Imperial Health Charity. You can find details of how to apply on their website.
Flag Day collections
We hope to be rattling collection tins (at Marylebone Station in July, Paddington Station in October) to raise funds to support the hospital. Exact dates will be confirmed nearer the time. If you would like to volunteer to help collect donations on these days, or know someone else who would, please get in touch via the contact details below.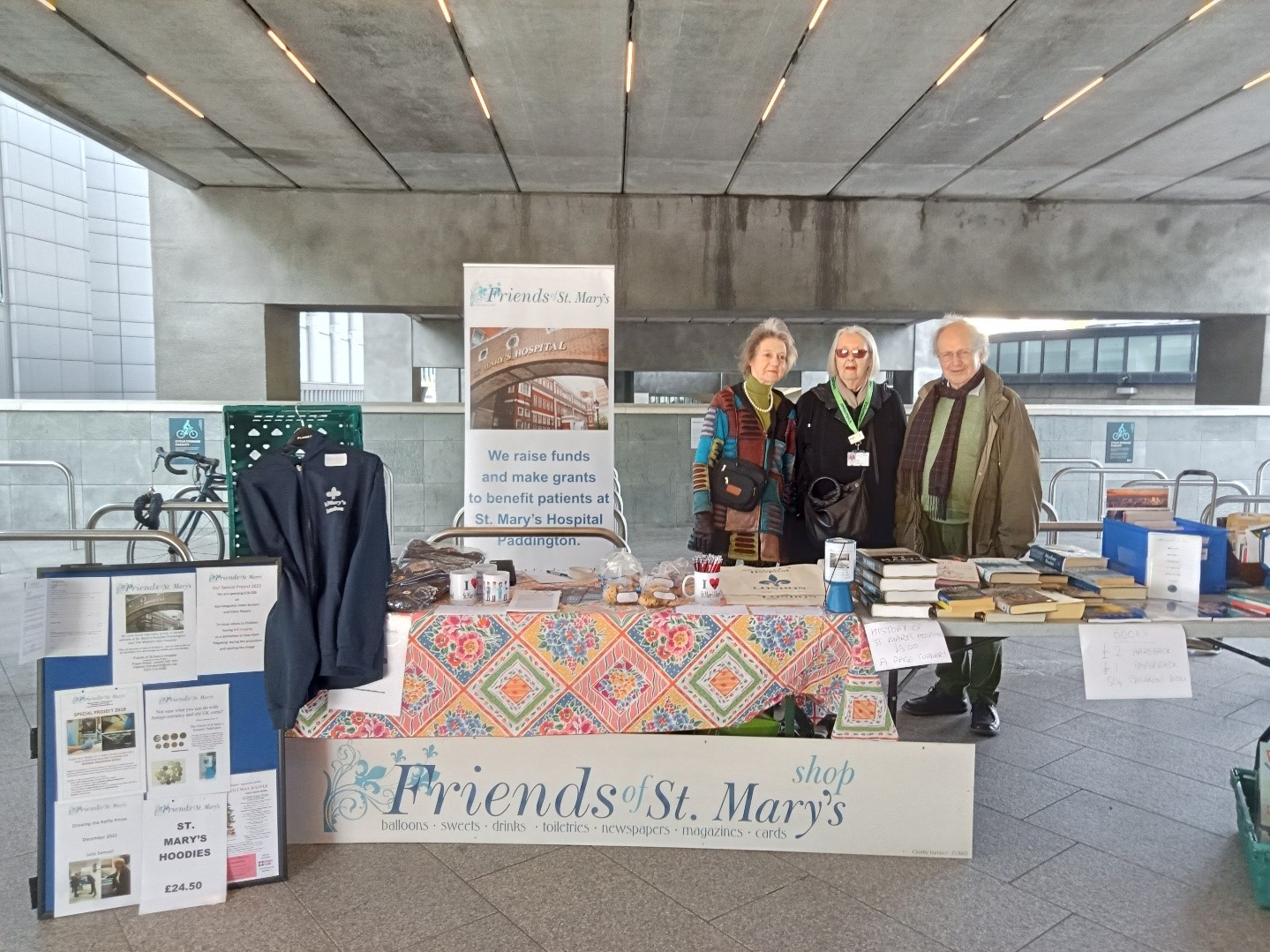 Contact information
Friends of St Mary's Hospital
Acrow Building, St Mary's Hospital, Praed Street, London W2 1NY
Phone: 020 3312 6586
Email: imperial.friendssmh@nhs.net
The office is open on Tuesdays and Thursdays between 10.00 and 14.00.
To join
Please complete and return this form, with a minimum annual donation of £10.