The proposed phase one redevelopment of St Mary's Hospital would see the creation of a brand new building on the eastern side of the estate at the location of Salton House, the Dumbell, and Victoria and Albert buildings.
St Mary's Hospital redevelopment phase one
The Trust has brought forward a first phase of the redevelopment of St Mary's Hospital. This initiative forms part of our wider estates strategy to develop facilities that support major improvements in the quality and sustainability of our services across all of our three main sites.
The proposed phase one redevelopment of St Mary's Hospital would see the creation of a brand new, eight-storey building on the eastern side of the estate – at the location of Salton House, the Dumbell, and Victoria and Albert buildings. We will be looking to house most – but not all – of the St Mary's outpatient services in the new phase 1 building, together with ophthalmology services relocated from Western Eye Hospital in a modern, flexible and welcoming facility.
Why a new building is so important
Our proposal is driven by three main needs:
To support better care – healthcare and other advances are allowing us to live longer, often with a number of long-term health conditions. It is really important to provide integrated care, tailoring and combining different specialist services to meet each individual's needs. We also want to do more to help our patients to recover quickly and to stay well.
To improve patient experience – we want to provide our services in ways that will make it as easy and as stress free as possible for our patients, their carers and families, as well as ensuring our staff are able to work safely and effectively too.
To replace ageing buildings – a third of the buildings on the St Mary's site are over a hundred years old and are expensive to maintain and to run. Our new building will be more efficient, using the best practice in design and technology, to enhance patient and staff experience.
Our presentation explains the five key benefits the proposed new building will deliver for patients:
About the proposed design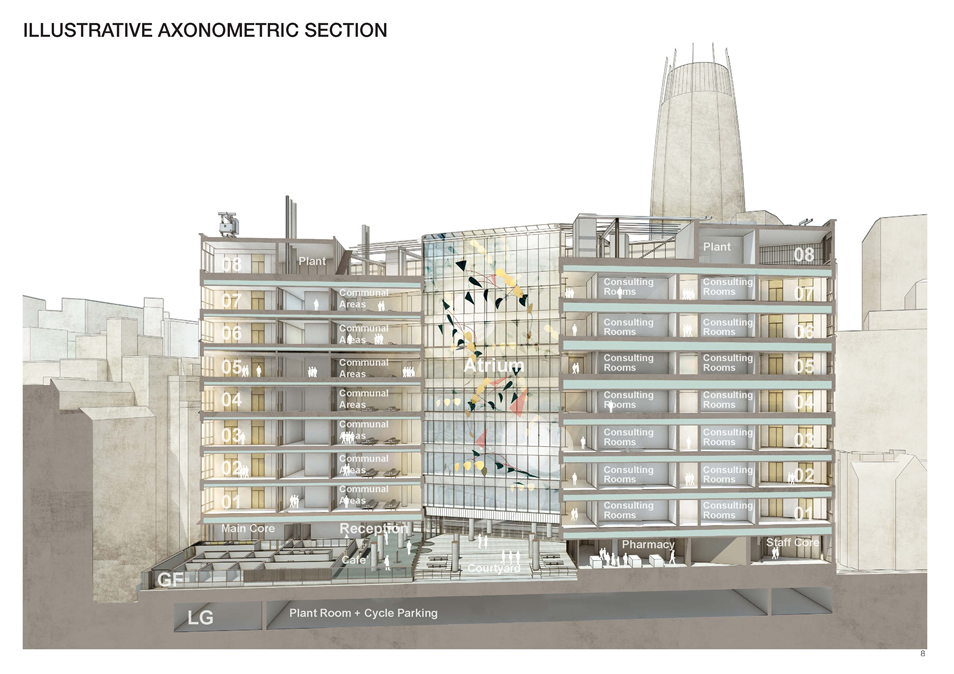 Features of our proposed building include:
Eight storeys
Open and inviting walk-in entrances from Praed Street and South Wharf Road
Public courtyard linking both streets
Atrium at the centre of the building, drawing in light to create a welcoming environment
Pick up/drop off spaces on South Wharf Road, including hospital transport for patients
Ground floor reception, cafe, pharmacy and blood tests areas, for convenience
Flexible design, allowing space for specific clinics to be increased or decreased in response to need and enabling multiple uses where possible, including for research, teaching and health and wellbeing sessions
The basement of the proposed building will accommodate cycle parking, changing facilities and a plant room, whilst the ground floor level will provide a dispensing pharmacy for patients of the hospital, along with a café, reception, group room and Phlebotomy facility.
The remaining seven floors will provide space for a range of services such as:
Adult outpatients / adult therapies
HIV / staff hub
Sexual health clinic
Procedures
Diagnostics
Women's outpatients
Paediatric outpatients
Orthopaedic clinic

Ophthalmology
There will be a further level of plant at roof level.
Our public consultation presentation from September 2016 provides more information on the proposed phase one redevelopment, additional images and our indicative 'masterplan' for the whole of the St Mary's site. You can download this here.
Public consultation
Prior to submitting our planning application we carried out a major engagement and consultation programme to make sure that patients and local residents helped shape our plans. A number of elements have been included in our proposal based on this feedback.
The public consultation process is detailed in our statement of community engagement.
Planning permission
In September 2017, Westminster City Council considered the Trust's application and gave approval in the form of a 'resolution to grant planning permission' subject to the agreement of detailed planning obligations with the Council's planning team. Full planning permission was granted in early 2018 through a 'section 106' agreement with the Council following stage two Mayoral approval.
Paddington Cube development
St Mary's Hospital plays a vital role in the local community, as well as for the wider population of north west London, and we are conscious there is already a significant amount of development activity in the Paddington area.

In December 2016, Westminster City Council gave its approval, with conditions, to the development proposals for the 'Paddington Cube' at 31 London Street, the former Royal Mail sorting office adjacent to St Mary's Hospital. The scheme was put forward by Great Western Developments Ltd, a subsidiary of Singapore publicly listed Hotel Properties Limited, and its development partner Sellar Property Group.

While we are very supportive of the regeneration of the Paddington area, the NHS in London has serious safety concerns about proposals for a new access road to St Mary's Hospital as part of the Paddington Cube development. The new road will cause delays in access to the hospital, including for 'blue light' ambulances.

Together with the London Ambulance Service we have raised concerns at every stage of the planning process – with the developers, Westminster City Council, the Mayor of London and the Secretary of State for Communities and Local Government.

We believe the Trust's proposal for an alternative, new access road on Winsland Street would bring significant benefits, especially for emergency and other patient transport, and would allow the full closure of London Street to support major improvements to the public realm.

Westminster City Council granted full planning permission for the Paddington Cube development in August 2017 following signing of the 'section 106 agreement' with the developers, Transport for London, Network Rail and London Underground. The agreement sets out final planning conditions, including for all aspects of a new access road that forms part of the development. Our safety concerns over the new access road were still not resolved.

We were disappointed that our application for a judicial review of the planning approval process for the Paddington Cube development was refused. We will continue to raise our safety concerns about the proposed new access road with the Council and the developers to try to ensure further mitigation.