Public Health Minister Visits African Well Woman Clinic
Public health minister Jane Ellison has met with service users of the African Well Women Clinic in Acton run by Imperial College Healthcare NHS Trust and London North West Healthcare NHS Trust, to discuss the mental health effects of undergoing female genital mutilation (FGM).
The minister met the women ahead of the International Day of Zero Tolerance for FGM on 6 February, which aims to raise awareness of FGM and promote its eradication. During the visit, the minister heard the personal stories of a number of women who have been treated at the clinic about how FGM has affected their lives both mentally and physically.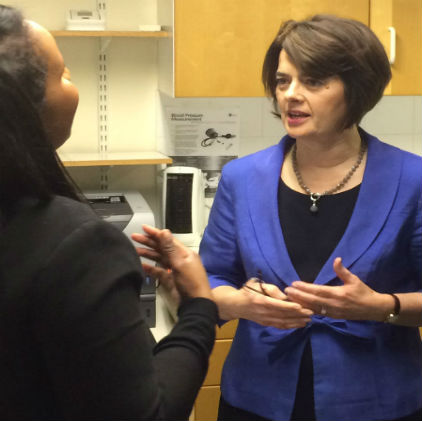 Jane Ellison, Public Health Minister, said:
"FGM is an abusive and illegal practice that can devastate lives and cause extreme and lifelong physical and psychological suffering to women and girls.
"This Government is committed to ending FGM in a generation in the UK. We have taken bold action so that for we now know how many FGM survivors we are treating in the NHS. We are also training thousands of front line professionals to play their part caring for women and protecting girls from FGM.
"The next step is to make sure that survivors are aware of and have access to the right mental health support. So we are working with professionals, campaigners and survivors to plan how to deliver and embed these services in the health system.
Scott Johnston, Head of Midwifery at Imperial College Healthcare NHS Trust, said:
"The physical damage caused by FGM is obvious but it is the mental scars that are harder to treat. Many of the women who spoke to the minister are still traumatised by the day they we cut and live with the memory of that experience daily.
"I welcome the minister's commitment to helping survivors overcome the psychological harm of FGM as well as the physical. Emotional support and counselling is a key part of the service that midwives and health advisers at the African Well Woman Clinic offer to women."
The African Well Woman Clinic is a self-referral, community-based and mid-wife led service which provides a FGM reversal, counselling and support. It is especially targeted at younger women to give them help and support before or during pregnancy but also sees a number of older women who have problems of long term pain, incontinence, fistulas and prolapses. These women are referred on for specialist uro-gynacology services. Since opening in 2007 the clinic has seen around 900 women from all over London and the UK.
The African Well Woman Clinic operates from the Hillcrest Surgery in Acton. For more information please contact 0208 383 8761.