Improvements across the board in our latest NHS national staff survey, with more work to do
Imperial College Healthcare NHS Trust achieved its highest ever staff engagement score in the latest national NHS staff survey, published today. The Trust's engagement score – at 7.2 out of 10 – is up from last year's score of 7.0 and above this year's average score for all acute trusts which was also 7.0. This score incorporates the results of questions on recommending the Trust: 67.4 per cent of staff said they would recommend the Trust as a place to work, up 6.5 per cent on last year and 4.9 per cent above the average; and 75.8 per cent of staff said they would be happy for their family or friends to receive our care, up 4 per cent on last year and 5.3 per cent higher than the average. The Trust was the most improved of all NHS trusts in London.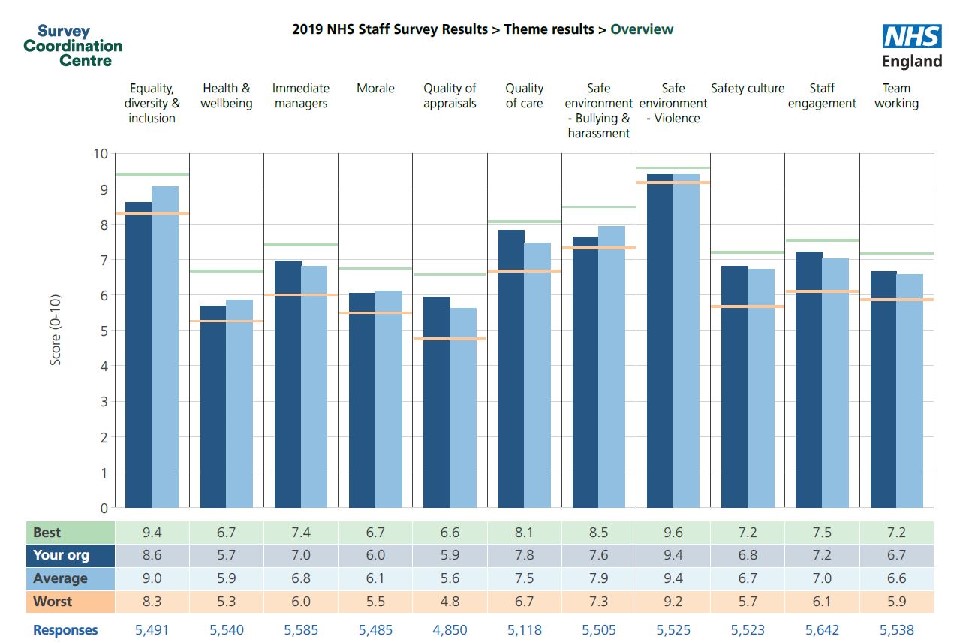 We received improved scores across all areas surveyed, with our results now above the national average in six out of eleven categories: immediate managers; quality of appraisals; quality of care; safety culture; staff engagement; team working.
You can view our results - and all the national results - at this link.

The results, drawing on feedback from over 5,600 staff (52 per cent of the workforce), show significant improvements in seven of the eleven areas surveyed when compared to the 2018 results. These are for: equality, diversity and inclusion; immediate managers; morale; safe environment – bullying and harassment; safety culture; staff engagement; team working. However, our scores remain below the national average for: equality, diversity and inclusion; health and wellbeing; morale; safe environment – bullying and harassment.
Professor Tim Orchard, Trust chief executive, said: "I'm really pleased that staff are telling us they are seeing and feeling improvements across the board. Since I became chief executive, my top priority has been to ensure we develop a values driven culture, reflected in the behaviours we demonstrate to our patients and colleagues. This will make our Trust a better place to work and a better place to get care, and today's results show we are on the right path. There is still much more to do and I particularly want to see much more progress on improving equality and diversity and tackling bullying and harassment – both areas where values and behaviours are key.

"It's also fantastic that so many colleagues took time to complete the survey – there's been an 18 per cent increase in the response rate since 2015, 10 per cent in the last two years alone. Only by hearing from staff about what it's really like to work here can we identify and focus on the right areas for improvement. The whole Board is committed to learning from this feedback so that we can make Imperial College Healthcare a really great place to work and to get care."
The divisional and directorate management teams have had their tailored survey results and so will now be reviewing with their teams and planning for further action. We are building on a significant programme of action already in place, including:
rolling out our vision, values and behaviours programme, including our values workshops and active bystander training
embedding networks for BAME, LGBTQ+, women and disability staff, supported by a dedicated equality, diversity and inclusion lead and executive director sponsors
further changes to our staff disciplinary processes to make them simpler, fairer and more supportive
improving staff health and wellbeing through workplace refurbishments, tailored training for line managers and expanded occupational health services
investing further in security across our sites.