Imperial College volunteers find innovative 'Hackspace' solution to supply visors for the Trust
Volunteers at Imperial College London are making more than 50,000 disposable visors for Imperial College Healthcare NHS Trust hospitals.
In partnership with the Trust and our infection prevention and control (IPC) team, the project is led by Imperial's Advanced Hackspace, which is designed to facilitate collaboration, innovation and experimentation, and the NIHR Health Protection Research Unit in Healthcare Associated Infections and Antimicrobial Resistance.
The Trust IPC team have worked closely with the Hackspace team to develop, optimise and evaluate the visors, ensuring they are of the highest quality and therefore safe and appropriate for use. The project will help to ensure a sustainable and ongoing supply of equipment for Trust staff as part of the continuing response to coronavirus.
Dr Bob Klaber, director of strategy, research and innovation at the Trust said: 'The amazing spirit of innovation, volunteering and collaboration between Imperial College and the Trust has produced a very high-quality piece of personal protective equipment at a significant scale and outstanding value. This innovative engineering-led project has certainly provided us with a sustainable local supply chain that we can continue to develop in order to help with our ongoing response to the coronavirus pandemic.'
Professor Alison Holmes, Director of Infection Control at the Trust and Director of the NIHR Health Protection Research Unit in Healthcare Associated Infections and Antimicrobial Resistance at said: 'This project is an outstanding example of collaborative working across Imperial College London and the Trust to increase supplies of critical PPE.'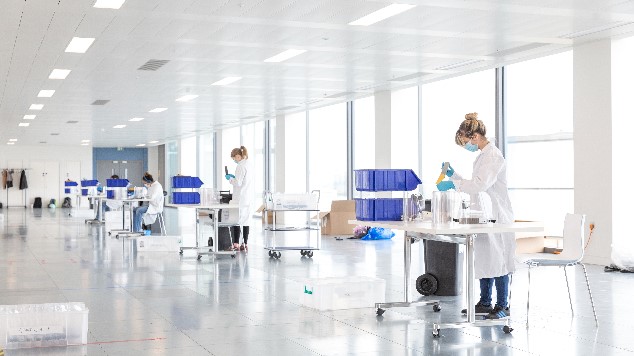 More than 6,500 have already been delivered to Charing Cross Hospital and tens of thousands more will be distributed across Trust hospitals in the coming weeks. They will be in use across all five hospital sites, delivered via the central operations team, who look after the supply and distribution of PPE across the Trust.
An entire floor of Imperial College London's Translation & Innovation Hub (I-HUB) in White City has been converted to allow a small group of volunteers to safely assemble the visors whilst recognising social distancing guidelines.
Materials for the assembly of the first 7,000 visors were provided by Rolls Royce Motor Cars.
Professor Nick Jennings, Vice-Provost (Research and Enterprise) said: "This is a remarkable effort which shows the power of institutions coming together at a time of great need. It shows great speed of action and the willingness of volunteers to rally to a common cause. Imperial has committed to doing all we can to help to respond to the pandemic, and I am proud to see our community and our NHS Trust colleagues rise so admirably to this challenge"
Head of Hackspace, Graham Hewson said, "The Advanced Hackspace team are well positioned to support this project, enterprising in their efforts to rapidly develop and assemble the early stage prototypes and plan for scaling. I am extremely proud of all the team for their continued collaboration, hard work and dedication to this project."
The demand for PPE during the coronavirus pandemic will continue as the NHS moves into the next phase of response and some urgent non-covid services start to resume. Clinical and leadership teams at the Trust are currently reviewing a detailed set of recommended actions from NHS England and these include the provision of PPE.