£7.2m A&E expansion at Charing Cross Hospital boosts winter planning
A £7.2 million refurbishment and expansion of Charing Cross Hospital's accident and emergency department (A&E) has been completed as Imperial College Healthcare prepares for winter.
The improvements will combat overcrowding and long waits at times of peak demand, providing more space for patients to be assessed and treated. They include:
• three more cubicles for patients with serious illness or injuries (from 12 to 15) and three additional resuscitation bays (from 5 to 8)
• more space for patients to be assessed and treated including two additional urgent care centre rooms(from 7 to 9)
• two new dedicated rooms for patients with mental health conditions providing them with a calm, quiet and safe space away from the busy A&E environment
• an expanded 'ambulatory emergency care' unit with additional treatment areas, consulting rooms and more staff, allowing patients with a wide-range of urgent health problems get the treatment they need without being admitted to a ward or having an overnight stay
• a new common entrance and waiting area for all patients who walk-in, allowing a better patient experience and more joint working across the urgent care centre, ambulatory emergency care unit and emergency department.
The refurbished A&E sits alongside a number of measures the Trust has introduced at Charing Cross Hospital and its other hospitals - St Mary's, Hammersmith, Queen Charlotte's and Chelsea and the Western Eye - to help respond to increasing demand and continue to provide the best possible care for patients. This will be especially important over the upcoming winter period.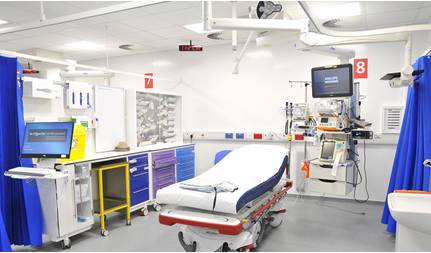 Clinicians specialising in caring for frail, older patients will be based permanently in Charing Cross - and St Mary's - A&E from January, enabling our most vulnerable patients to receive an immediate 'comprehensive geriatric assessment'. Around a third of patients attending Charing Cross A&E are aged over 65 years. The multi-disciplinary team will include a consultant geriatrician, nurses and allied health professionals such as therapists. They will be able to route patients to a range of service to meet their specific needs, helping many to avoid unnecessary hospital admissions.
Research shows that patients who receive an early comprehensive geriatric assessment have better outcomes and are more likely to be in good health within their own homes six to 12 months later. There's also much evidence that this group of patients recover faster at home than in a hospital bed, where they are more vulnerable to infection and losing their ability to live independently.
The outpatient parenteral antimicrobial therapy (OPAT) team is also in place to enable medically stable patients requiring intravenous antibiotics to receive that treatment within their own homes. This service helps patients avoid unnecessary admissions or prolonged hospital stays - saving 7,000-8,000 bed days each year.
Chief executive Professor Tim Orchard said:
"Our investment in Charing Cross Hospital's A&E department is the latest in a line of developments to ensure we continue to provide great care for a growing number of patients. It builds on improvements in previous years to expand hospital capacity, enable patients to get acute and specialist care without being admitted to hospital and ensure that patients who are admitted get the care they need as quickly and smoothly as possible and are able to be discharged promptly and safely.
"While winter is always a challenging time in the NHS, I'm confident that the work we have put in to developing our services, alongside the expertise and commitment of our staff, means we are in a good place to provide the best possible care for patients through the months ahead."