Meet the team - episode one
In this week's episode of Hospital on BBC Two, our staff respond to the 22 March Westminster Bridge terror attack. Meet staff who work in our major trauma and A&E departments providing world-class care to our patients every day.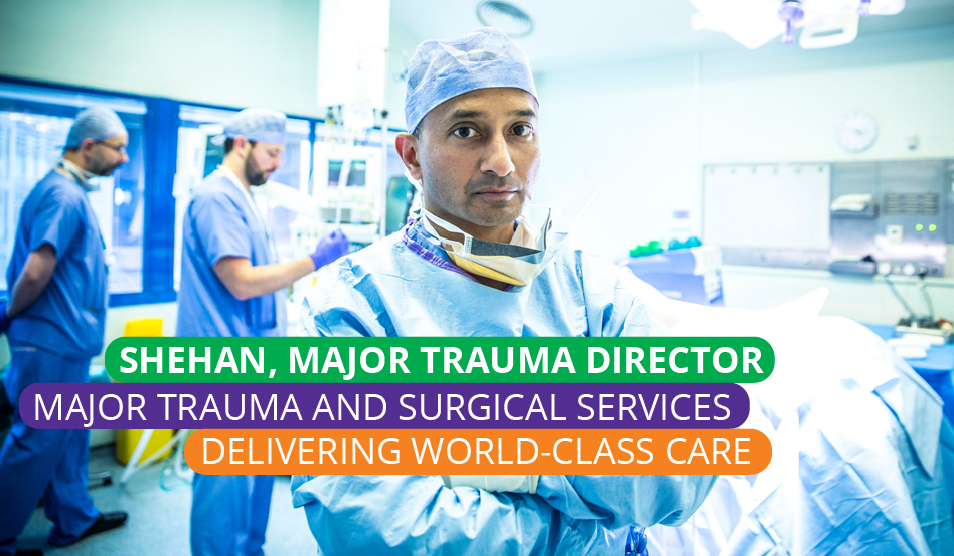 What I do
I've been with the Trust for nine years now. As the lead surgeon and major trauma director, I'm responsible for the major trauma service as well as the delivery of surgical services across the organisation.


A memorable moment
I take pride in delivering world-class care to patients, both directly, as part of a surgical team, and indirectly by establishing and running services that help people get well. One of my most memorable moments was having one of my patients receive a gold Duke of Edinburgh award. Just six years earlier, when she was 12, she nearly lost her leg to a severe injury but our team was able to save her leg and allow her to get on with her life.
When I leave work
When I'm not in theatres or working with my colleagues to develop services, I enjoy paddle boarding on the Thames or running – often after one of my four children. I'm also an Army reservist with the Airborne forces, so that takes up a fair bit of my time outside the Trust. I feel quite lucky to work in such an amazing city – it's beautiful, vibrant, cosmopolitan but proudly British.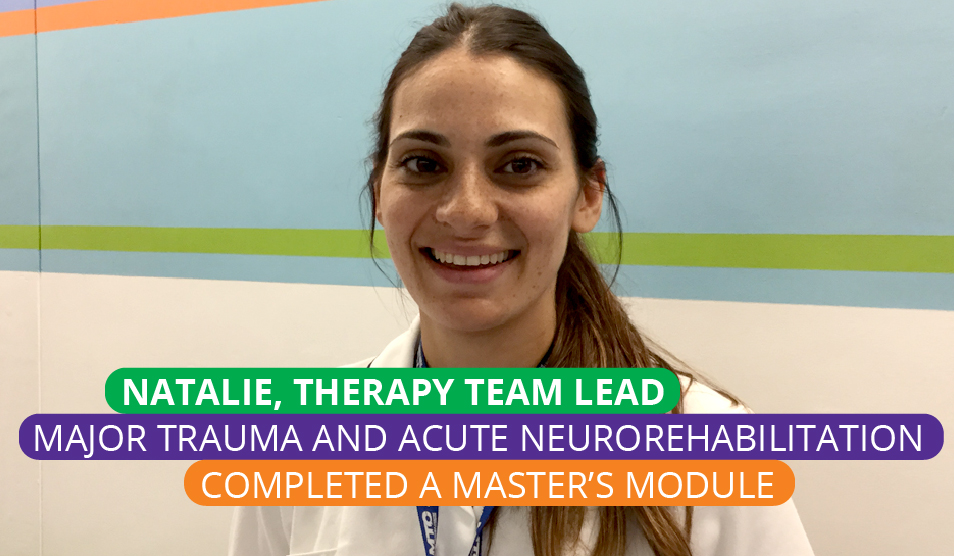 What I do
I've worked at the Trust for over five years. I'm responsible for the therapists that work on the major trauma ward as well as some patients on other wards with neurological injuries and conditions. I'm thrilled to be able to work with an amazing major trauma team. My colleagues are experts in their field, but there's never any doubt that we're all in this together – everyone is so respectful of the opinions and assessments of their colleagues and we're able to achieve incredible things together.
Opportunities I've had
I've had a great experience at Imperial – I've been promoted twice since I joined and I've had the opportunity to do a master's module funded by the Trust. I've just passed my course and I'm thinking of going further.
My proudest moment
I love having the opportunity to get to know my patients and be a part of their recovery milestones – getting out of bed for the first time, taking their first steps. I'll never forget the smile on one patient's face as he wheeled himself out of the ward – his life changed overnight as a result of a spinal cord injury, but he was so thrilled to be able to do something on his own.
When I leave work
I really enjoy tennis and running – though this year's marathon was my first and last! I also love to travel, and attend the theatre and exhibitions here in London. The city has such a diverse mix of cultures that all come together and really get along, which is so inspiring. Whether I'm on the Tube or on the ward at work, I love being able to see and meet people from so many different backgrounds and learn more about their experiences.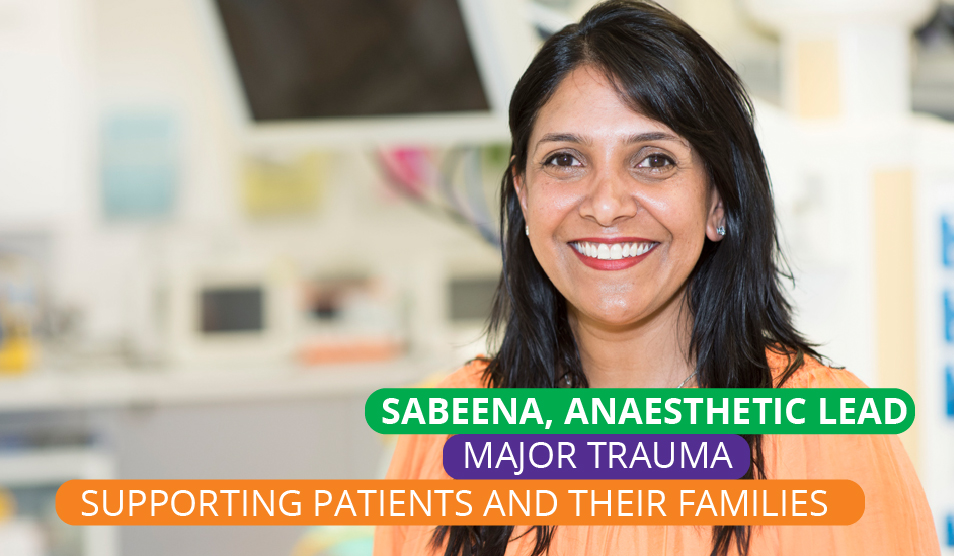 What I do
I'm a consultant anaesthetist and I work in major trauma and the children's intensive care unit. I'm also the education lead for major trauma. Clinical work is by far the best part of my job. There's no substitute for being with patients. I'm in the stage in my career where I can advise on something out of the ordinary and be able to view the whole picture, without fear.
Opportunities I've had
While working at the Trust we became one of four major trauma centres in London. I had previous major incident training experience and wrote the major incident plan for theatres and recovery at St Mary's, developing details and perfecting our performance to ensure we have clear and effective protocols to respond to a major incident. This has included patient continuity to make sure that the team looking after a patient stays with them throughout to oversee their care. Also, working closely with different areas and departments such as blood bank, pharmacy, pathology, intensive care and porters to ensure we communicate well, everyone's supported and prepared.
My biggest challenge
The biggest challenge I find is being part of a team with amazing forward-thinking ideas, but not always having the time to implement and action the ideas quickly enough.
My proudest moment
There are two patients that come to mind where I was the team leader on both cases. Both were young trauma patients who separately, against all odds, survived their injuries. One of the patients is still seen in our outpatient department and his mum keeps me updated on his progress. I gave a talk about the case a while back and both mum and the young boy came along to talk about the experience from their side – it was a tear-jerking experience.
Working in London
I have a lovely family so pretty much everything I do outside of work involves spending time with them! The best thing about working in London is the diversity and types of people we see on a daily basis, as well as the volume of work. It's a privilege to serve the population of London.
What I do
I've been a nurse at St Mary's Hospital since 2004, before the hospital became part of Imperial College Healthcare NHS Trust. As the lead nurse, I am responsible for 236 nursing and allied health professionals across two emergency departments, two urgent care centres and a ward area. Our matrons are extraordinary and provide excellent leadership to the teams providing care to patients in A&E.
Opportunities I've had
Since I joined the Trust, I've done my nurse practitioner training and I'm in the process of doing my MBA as I develop as a manager. This is a great place to develop a career. The Trust is a really supportive environment, and I've had the chance to really push myself and work with colleagues who are constantly developing new ways of practicing and pushing the boundaries of nursing.
It can be difficult to make sure our staff have opportunities to develop their skills while making sure we have enough day-to-day cover, but it's absolutely worth it – developing staff and improving processes in the department really builds our team.
A memorable moment
My first shift as a senior charge nurse remains a fond memory. The joy at being promoted, along with the desire to ensure I provided the right quality of care with the team over the night shift made it one of the most stressful and at the same time rewarding experiences of my career to date.
When I leave work
I'm an officer in the Army reserve, so I have a number of responsibilities that keep me busy outside of the Trust, whilst also enhancing my development. I also enjoy climbing and running – it's a great way to release energy when I'm not working in A&E.