"Working as a nurse in the NHS is hard, but I think it is an honour to do this role"
Nurses Day is celebrated internationally on 12 May each year. It's a great opportunity to reflect on and show appreciation for the work nurses do. This year we've brought together a senior, newly-qualified, and student nurse to chat about their experiences - what their career paths have been like, how they discovered nursing was their vocation, and what we can all do to support student and newly qualified nurses at the Trust. In conversation we had deputy divisional director of nursing for stroke and neuroscience Katharine Brown, staff nurse Jeff Somers, and student nurse Lulu Mohammed.
What is your background in nursing?
Katharine Brown (KB): I qualified as a nurse in March 1991, having studied for three years as a state registered nurse, which was the traditional route into nursing at the time. Nowadays training has changed significantly as you're expected to train at a degree level. I initially wanted to do midwifery so I enrolled in the 18-month conversion course, but it wasn't what I expected it to be and I soon discovered midwifery wasn't for me.
Lulu Mohammed (LM): I'm currently completing an Adult Nursing Undergraduate Degree at Buckinghamshire New University (Bucks) which is a two-year course, and before that I did a foundation degree. I've had a number of placements over the past two years to get a feel for different wards, and they've been largely based here at Imperial College Healthcare which has been great – I hope to stay here once my final placement is up and I graduate.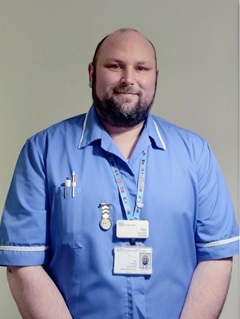 Jeff Somers (JS): My journey into nursing isn't quite so straightforward. After leaving school I decided I wanted to pursue a career that would allow me to be active and outdoors, so I did some mountaineering and worked for the Scout Association for a number of years.
Following an injury in 2004, a friend of mine who was a mental health nurse suggested I consider nursing – it was still largely demonstrated as a female profession back then, but my friend was male so it gave me confidence.
I went to the job shop at my local hospital, the Bristol Royal Infirmary, and within a week I had an interview and was accepted as a healthcare assistant. The role involved on-the-job training so it didn't matter that I didn't have certain qualifications. I moved around and worked across several trusts across England, even doing a stint in Aberdeen, and throughout my friends and family encouraged me to train as a nurse.
When I came to Imperial in 2014 and found out they did paid secondments for nurse training I decided to go for it. I needed a university offer in order to be eligible so, like Lulu, I applied to Bucks and, following lots of tests, was accepted in. I then applied for the secondment and was accepted onto that also, and in October 2018 I became a qualified nurse.
Why did you choose a career in nursing?
LM: The drive for me is getting to meet lots of different people from different backgrounds and walks of life. I really enjoy meeting new people and knowing that no two days are the same.
I've known for a while that I wanted to do nursing, but it took me a long time to get onto the course as I kept failing the maths entrance exam for university. I didn't stop trying though and I'm proud I persevered!
KB: I have a similar story actually. I knew I wanted to be a nurse from the age of 14, and after seeing how brilliantly healthcare professionals interacted with a family member of mine who has autism I was able to organise some work experience at a mental health institution when I was 15. Whilst I realised mental health wouldn't be my specialty, from that point on everything I did was aimed at becoming a registered nurse.
I didn't do as well as I needed to at my O Levels – I needed five to go on to the state registered nurse training but I got three – and I remember a career advisor at the time telling me to do a different type of nurse training instead. I felt really indignant at not being able to do the course I wanted so I stayed on at school for another year to get the outstanding two O Levels, and once I had them I said "right, now I've got my qualifications I want to do state training". And I did it.
JS: When I was at school I struggled with dyslexia/dyspraxia, but back in the 80's these things weren't diagnosed so easily so I didn't realise, and training to be a nurse didn't even cross my mind as a realistic option. I've always had friends and family tell me I should consider working in healthcare however, as I'm a good listener and I tend to be a shoulder to cry on. When I was a healthcare assistant I really enjoyed the nursing side of the role, and it confirmed to me that this was something I wanted to pursue. Being caring and talking with patients really fed to my personality.
"Quite often what's a difficult day for me is a difficult day for somebody else, so we work together to resolve it."
In your opinion Katharine, how has nursing changed since you began your career?
KB: I think the most fundamental thing that has changed is the impression and perception that people have of nurses. When I think back to when I was training in 1987, a nurse's role was really task-driven. It was almost like there wasn't a level of expectation from you other than to carry out the manual side of caring for patients, but over the years people have come to see nursing as a respected profession. This shift has a lot to do with education. Compared to 20 years ago, there are a number of activities we do now that would have been deemed as extended practice because it was only completed by the doctor, including the insertion of catheters and performing ECGs. Before you would have waited to follow instructions from your clinician or lead nurse before doing those kinds of tasks, whereas now you're expected to be proactive.
How do you find being a nurse at Imperial?
JS: I worked as a healthcare assistant on the Jefferiss wing before my secondment, and the team were very supportive about education and training, which is why I've come back to them in my nursing role. There is a lot of stress when you're newly qualified as you're learning the role as well as all these new treatments, and it's quite an eye-opener. But I feel lucky because I have very supportive senior nurses who have helped me to settle in.
LM: I've also had a good experience so far and everyone I've met has been very friendly. My previous placements have been in fast paced wards with a high turnover of patients, and I learnt a lot but I'm hoping to get some more experience working on wards where I will have a chance to get to know patients better and care for them longer.
I have no idea what I want to do when I qualify, but I know I'd like to be involved with my patients and be with them at the bedside. Overall however, I'm very open to opportunities and getting lots of experience.
KB: I think it's so important to take all the opportunities you can. Like Lulu I didn't necessarily know what I wanted to do when I was starting out, but I knew the areas I didn't want to work in such as mental health and midwifery. I remember I applied for a registered nurse position in acute medicine at Hammersmith Hospital in 1993, and I was so ecstatic when I found out I was successful as it was the first hospital to give me the opportunity to prove myself in general medicine. But when I got the contract it said 'elderly medicine' and I thought "that's not what I've applied for!" In my mind I automatically equated elderly medicine to a nursing home, so I rang up to correct the mistake but was told it was correct. I was a little bit disappointed but knowing this hospital had taken a chance on me moving from maternity to general I stuck with it, and it was the best move I ever made. It was hard work but I progressed within the department, and then in 2000 I was asked to move to Charing Cross Hospital and I was exposed to different specialties, working my way up the ranks and eventually landing in the role I have today.
What techniques have you picked up over the years to help you cope with a difficult day at work?
KB: Always lean on your team for support. Quite often what's a difficult day for me is a difficult day for somebody else, so we work together to resolve it. We air our issues and it really helps as there are no walls up. As a senior nurse I make it clear that anyone can come and speak to me and there are no barriers between the team, regardless of your position. If I had a bad day 20 years ago I wouldn't be speaking to my team because there was a hierarchy where you had your place and you didn't blur those lines, whereas I think nowadays bad days aren't really that bad because I can talk to my general manager and get things off my chest.
LM: If I'm having a tough week or shift I just remind myself that I'm working towards a goal and I look towards the future. The fact that I will be a qualified nurse at the end of this is enough to motivate me.
Jeff and Lulu, what advice would you give your colleagues in senior positions that you think would help the development and experience of student and newly-qualified nurses?
LM: Be welcoming and friendly. It's easy to be intimidated as a student and if you don't see a smiling face in front of you when you have a problem, you'll feel like you can't share it. You don't know what people are going through, so it's important to treat people how you would want to be treated.
JS: I agree. There can be a defensiveness and unapproachable attitude among nurses and it needs to stop. Be patient and understand that we are all different when it comes to confidence levels, skills and knowledge. I have been supported by my team which is amazing, and really helps with settling in, but I have been on the receiving end of unhelpful senior nurses in the past, and it makes you feel stressed and apprehensive. I think senior nurses need to realise that they are in this position because they have demonstrated advanced knowledge and communication skills, and they should be demonstrating this to newly qualified nurses and students, and be the role models they are employed to be.
And Katharine, what advice would you pass on to Jeff, Lulu and all junior nurses alike?
KB: The truth is working as a nurse in the NHS is hard, but I think it is an honour to do this role and I would advise you to take every opportunity as a learning experience, whether it be negative or positive. I've had experiences over the years that have been less positive, but I've always learnt from them. Just remember that you're part of a team and you're not on your own. There are people around you who want to help and support you, and you should always take it. Don't see it as a weakness.
It is okay to not know what you want to do straight away, just be sure to make the most of any opportunities you're given. And most importantly enjoy yourself!
Share this post on social media to celebrate Nurses Day #InternationalNursesDay #IND2019
Are you a nurse looking to take your next step? Visit our website to find out more about our offer for both newly qualified and experienced nurses.
Keep an eye out for any upcoming recruitment days by visiting our events page.