Working together to deliver Covid-19 tests at home 
In 2020, we established an in-house Covid-19 testing programme so staff could get tested and back to work quickly. To help us reopen our elective services, we expanded the testing programme and it now includes a home PCR testing service for patients and staff. Patricia Bourke, deputy general manager of our testing programme, explains how we set the service up with help from colleagues at Falck UK Ambulance Service and North West London Pathology.
How did you expand the Covid-19 testing programme to include home testing?
Patricia: "In the spring of 2020, the Trust established a Covid-19 testing programme with North West London Pathology. This programme enabled us to offer PCR tests to patients and staff to help keep everyone safe.

Now that planned care has resumed, all patients are tested about 72 hours before coming to hospital for an inpatient stay. Our staff testing programme continues seven days a week, offering tests to staff who have symptoms of Covid-19 - as well as members of their households - with results in approximately 12 hours. It's been a tremendous amount of work, but I'm very proud of what we've achieved.

Since the programme launched, we've been looking for ways to improve across the whole testing pathway. I'm proud to say that staff have taken the initiative to propose improvements to our approach that have helped make the programme more responsive.

Our patient transport service, run by our partner Falck UK Ambulance Service, offers at-home PCR testing to patients who cannot come to hospital on their own. We trained some of the ambulance care assistants to take Covid-19 swabs, so they can visit patients who cannot otherwise come to hospital, take their samples, and return them to our lab for processing ahead of each patient's inpatient stay."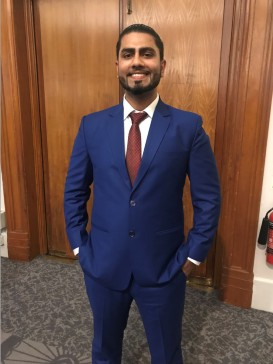 North West London Pathology provides Covid-19 testing for staff and patients at Imperial College Healthcare. How has the team there helped streamline home testing?
Patricia: "We've developed a fantastic working relationship with North West London Pathology. They provide batch testing to help us monitor and prevent potential Covid-19 outbreaks on our wards, ensuring groups of tests can be turned around in a few hours rather than a few days. The specimen reception team in our labs has also identified some ways to streamline our service."
Jayesh Sangwan, specimen reception manager, North West London Pathology: "Initially, the Covid-19 testing programme relied on volunteers to deliver swabs to patients, so we weren't able to offer a consistent service. Occasionally I'd hop on my motorbike during my lunch break to deliver swabs – I was happy to do it, but it wasn't sustainable!

Now, we work with Falck ambulance care assistants to deliver swabs to patients and help them take samples. The central testing team sends us orders, we print labels for each patient test kit, and we hand the printed labels and batches of PCR test kits to the ambulance care assistants to deliver. Each day, they drop off completed swabs for testing and pick up a new set of labels for the test kits that need to go to patients. My team are proud that we've helped to create a streamlined testing system that, at this point, almost runs itself. We have one job: caring for patients. If we can get patients tested and get their results quickly without them having to leave home, we're happy."

Falck swab team: Alina Mahmood, Daniel Ivey, Anthony Martin, Paul Haslam, Steven Dowthwaite, Michael Jaunai
Tell us about Falck UK Ambulance Service's 'swab team'.
Natasha Vukic, hospital operations manager, Falck UK Ambulance Service: "Working in partnership with the Trust, the 'swab team' is made up of colleagues who work for Falck on contract with the Trust. The team deliver swabs to patients and Trust staff at home so they don't need to come into hospital for the test – reducing the infection risk. Since the start of this programme in July 2020, we've delivered over 6,000 swabs. It's great to see how we are able to further support the NHS during this pandemic and play a small part in helping NHS staff get back to work safely."

Paul Haslam, senior ambulance care assistant, Falck UK Ambulance Service: "I find the interaction with patients the most enjoyable and rewarding part of the work. Patients are generally appreciative, invariably polite and often humorous."

Anthony Martin, ambulance care assistant, Falck UK Ambulance Service: "I have been working on the swab team since June 2021. I enjoy driving to patients and carrying out the tests at their homes, and meeting people of different cultural backgrounds."

Alina Mohammed, intermediate care technician, Falck UK Ambulance Service: "Being a part of this team has made me more confident and has enabled me to engage with the patients on an inter-personal level."
What makes you proud of the home testing programme?
Patricia: "Home testing saves time and ensures our transport service is more efficient and offers a better experience for our patients. It's been nearly two years since the start of the pandemic and we've had to make so many changes to the way we work. We've only been able to do this through listening to each other, understanding everyone's needs, and collaborating to find better solutions. It's been a very difficult time, but we need to reflect on what we achieve through working together."